A simple way to understand community leadership is to see it as leadership in, for, and by the community. In the case of this year's EVENT honorees, leadership and community go hand in hand. Rochelle and Marshall Baltuch, Jeni Buchholz, and Warren Zinn are four extraordinary individuals who have given so much to our community, our lives, and to our Beth Torah community. They have each dedicated their lives to teaching, learning, giving Sedaka, and being role models to everyone around them. 
This year as with many other years, the common interest is Beth Torah Benny Rok Campus. Each of THE EVENT's honorees has grown up at Beth Torah and has a deep commitment to the many values we all share. We are grateful to have enjoyed a spectacular evening together celebrating these well-deserved honorees as pillars of our community. 
We are thankful to our friends and sponsors who are always so generous with their spirit, and support. By standing with us, we remain and continue to be stronger together. We could not do it without you.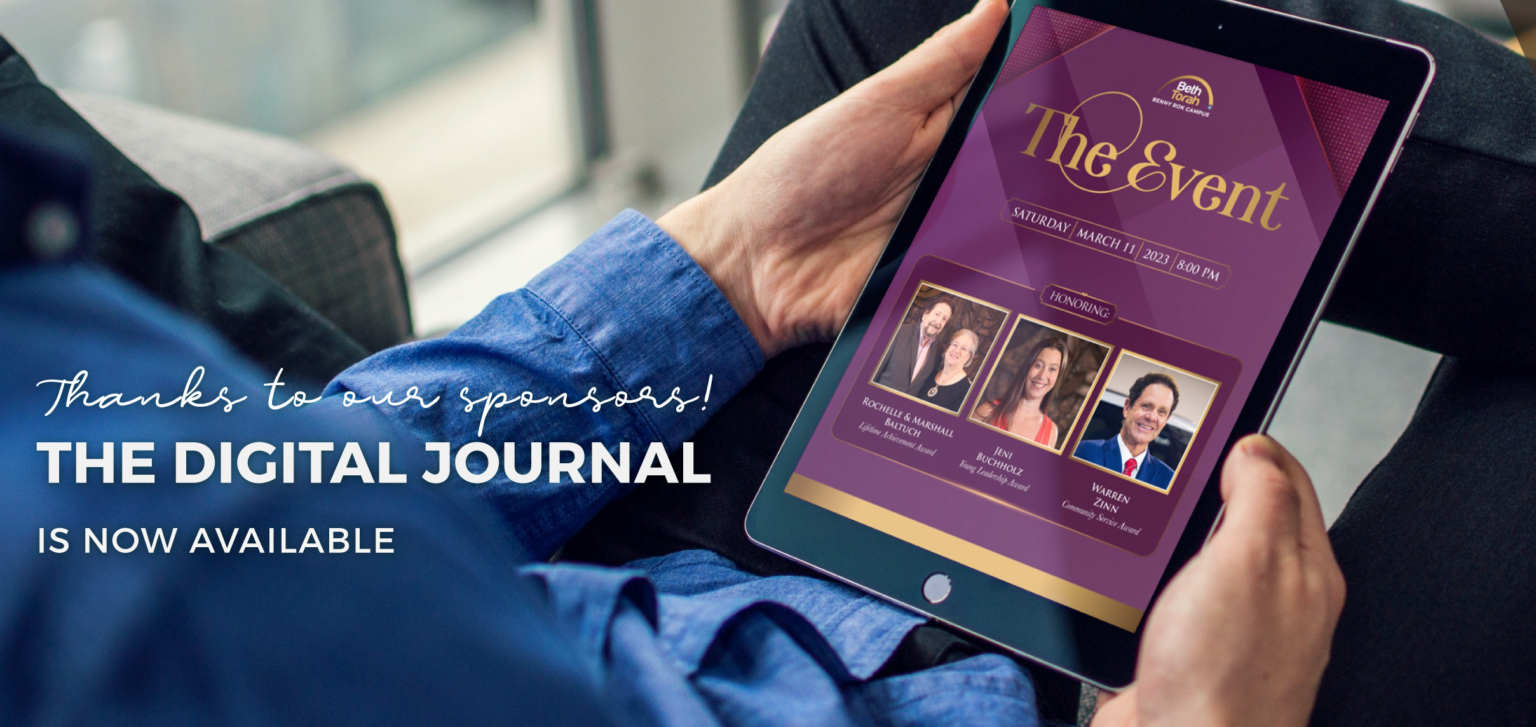 ROCHELLE & MARSHALL BALTUCH
Lifetime Achievement Award
JENI BUCHHOLZ
Young Leadership Award
WARREN ZINN
Community Service Award
Event Chairs
Marcia & Jeff Frantz 
Carla & James Spector 
Hedy & Daniel Whitebook 
Journal Chairs
Susan Koslovsky 
President
Michael Cotzen 
Ways & Means VP
Dr. Michele Scheck
Executive Director
Jill Koch
Honorary Chairs
Henni Golden
Marcia & Joel Hochberg
Cheryl & Ruben Kloda
Judith & Franklin Kreutzer           
Shelly Lipson     
Rosa Rok
Alan Rosenthal
Raquel & Michael Scheck
Ronni & Robert Whitebook
Marilyn & Dave Zinn
Host Committee Chairs
Ely & Marcos Morjain
Evelyn Rok Moskovitz & Robert Moskovitz
Sergio Rok
Host Committee Coordinator
Etta Birenbaum Epstein
Melissa Epstein & Jason Amaris
Janie Hirschberg Appelbaum
Joanna & Cantor Marcos    
      Askenazi           
Sue Slavicek & Ilana Baltuch
Robyn Baltuch
Dr. Andrea Beck
Julie & Jason Berkowitz
Judi & Robert Billig
Donna Winton Bloomberg
Elise Scheck Bonwitt & Gil Bonwitt
Matt, Kayla & Dylan Buchholz
Amy & Howard Chafetz
Marla Cohen
Dr. Marla & Michael Cotzen
Jennifer Desarro
Ellen Elias
Laurie & Rabbi Ed Farber
Judy & Joel Feinman
Nancy & Elan Feldman
Seymour Feldstein
Cheryl & Nelson Ferreira
Bette Joy Field
Sandra & Dr. Eric Friedman
Avra & Dr. Joel Glicksman 
Susan & Richard Golden
Barbara & Robert Goldfarb
Carol Greener
Adriana & Edgar Halac
Edgardo Imar
Michelle & Steven Kabak
Penny Kay
Robin & Brian Kettler
Jill & Brian Koch
Sandra & David Kopp
Susan & Sid Koslovsky
Marian & Paul Kruss
Mindy & Mark Kurkin
JoAnn & Roni Laskin
Blair & Larry Laster
Jessica & Jorge Linkewer
Adrienne Weinstein Lowy
Ariela & Gary Mars
Alison & Dr. Rick Mars
Vicki Miller
Celia Mussman
Fernanda & Michael Newman
Stephanie Nichol
Sherri & Jeffrey Niefeld
Lori & Robert Norris
Jenn & Alex Peysakhovich
Sheryl & Robert Podgorowiez
Adrienne & David Promoff
Dr. Gabriela & Adolfo Rascovsky
Mona Reis
Dr. Julie & Andy Rodman
Gisela & Rabbi Mario Rojzman
Marilyn & Leonardo Santiago
Adrienne & Jeffrey Scheck
Dr. Hili & Martin Scheck
Dr. Michele & Steven Scheck
Diane & Howard Schilit
Gabrielle & Bernardo Schpilberg
Hon. Caryn & Larry Schwartz
Dr. Rhea & Leo Schwartzberg
Ronna & Mike Segal             
Phyllis & Dr. Steven Sheinman
Carolina & Daniel Sheir
Geniene & Hon. Bob Shelley
Joanne Solomon
Terri & Jeffrey Sonn
David Winton
Fayanne Kuttler & Mitch Zidel
Craig Zinn
Katy Zinn
Courtney & Larry Zinn