The Event on April 30 celebrated the best of Beth Torah:
Our outgoing president, Jill Koch, and Brian Koch completed a successful, one-of-a-kind term in office that faced challenges with determination and grace and helped Beth Torah stay #strongertogether
Our incredible partners in the community, highlighted by Bonnie Reiter-Lehrer, this year's Distinguished Service Award recipient, who are our partners in so many ways, embracing the mantra that when we work toward a common goal, we are #strongertogether
Our incredible members who are the driving force behind everything we do. You challenge, inspire, and elevate what we do as a synagogue community. Because of you, we are #strongertogether.
And our friends and sponsors who are generous with their spirit and support. Because you are standing with us, we remain and continue to be #strongertogether. 
We know better things are to come … please join us for every exciting moment.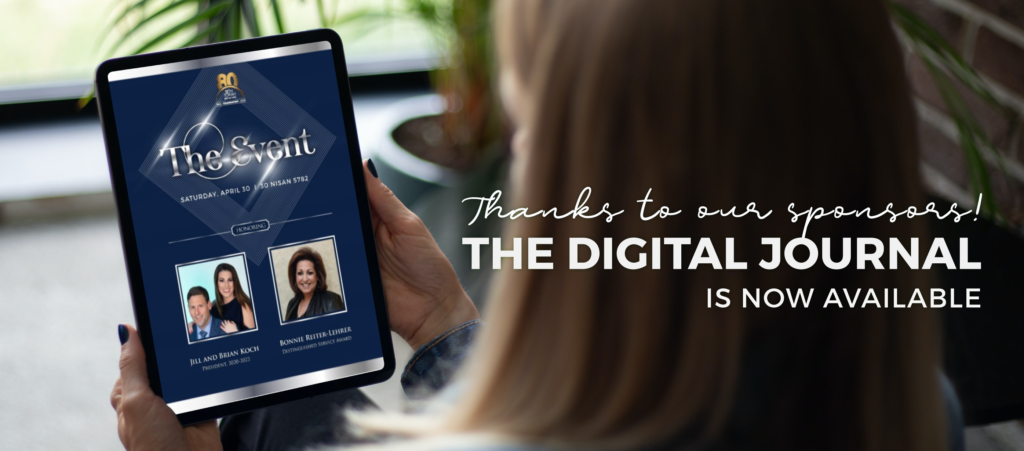 Event Chairs
Amy and Howard Chafetz
Marla and Michael Cotzen
Barbara and Robert Goldfarb
Journal Chairs
Barbara and Robert Goldfarb
Alison and Rick Mars
Rochelle and Marshall Baltuch
Andrea Beck
Julie and Jason Berkowitz
Jeni and Matt Buchholz
Marla Cohen
Laurie and Rabbi Ed Farber
Adriana and Edgar Halac
Michelle and Steven Kabak
Alan Kluger and Amy Dean
Brooke Koch
Eileen and Charles Koch
Hailey Koch
Tara Koch
Sandra and David Kopp
Sherry and Gene Krug
Mindy and Mark Kurkin
Sharon and Jason Lewen
Evelyn and Robert Moskovitz
Gabriela and Adolfo Rascovsky
Gisela and Rabbi Mario Rojzman
Adrienne and Jeff Scheck
Raquel and Michael Scheck
Lizette and Josh Weingard
Phyllis Sheinman
Vice President, Ways and Means
Matthew G. Halpern
Executive Director