Beth Torah Benny Rok Campus
THE MISSION
is to provide an interactive environment for its members which supports the Congregation and Schools. Its members serve to enrich our Jewish traditions through ties to Israel, education in Conservative/Masorti Judaism and national participation in the Women's League of Conservative Judaism.
Dr. Brent lectures and publishes widely on Jewish East European history and particularly its relevance to us today.
YIVO is one of the world's most important resources on Jewish life and history. Its treasures are shared through its programs, publications and websites.
There will be Q&A and refreshments will be served.
There is no cost but reservations are requested. Text to 305-332-7479 or email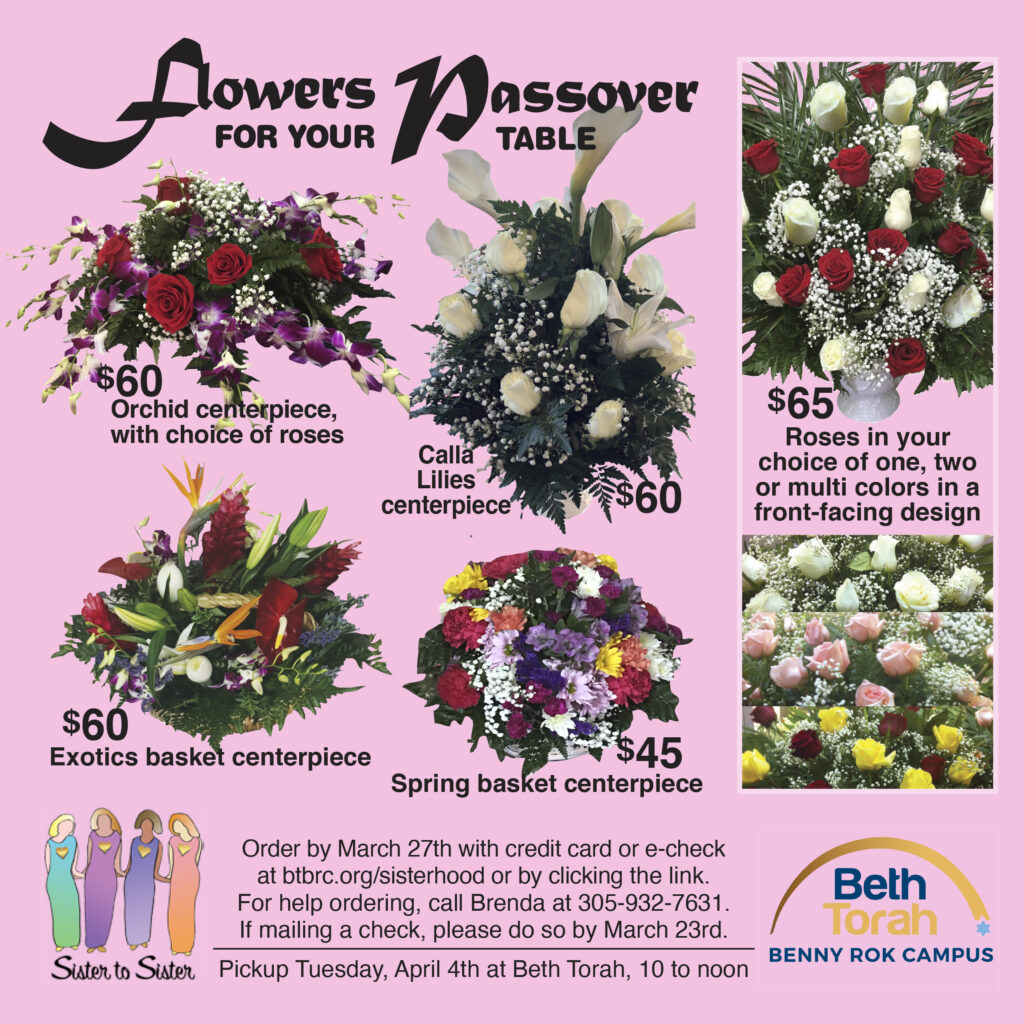 Support Sisterhood while enjoying beautiful flowers for Passover.
Orders must be received no later than March 27th. Pickup is at Beth Torah on Tuesday, April 4th For help ordering — or if you prefer to use a printed form and mail a check — call Brenda at 305-932-7631.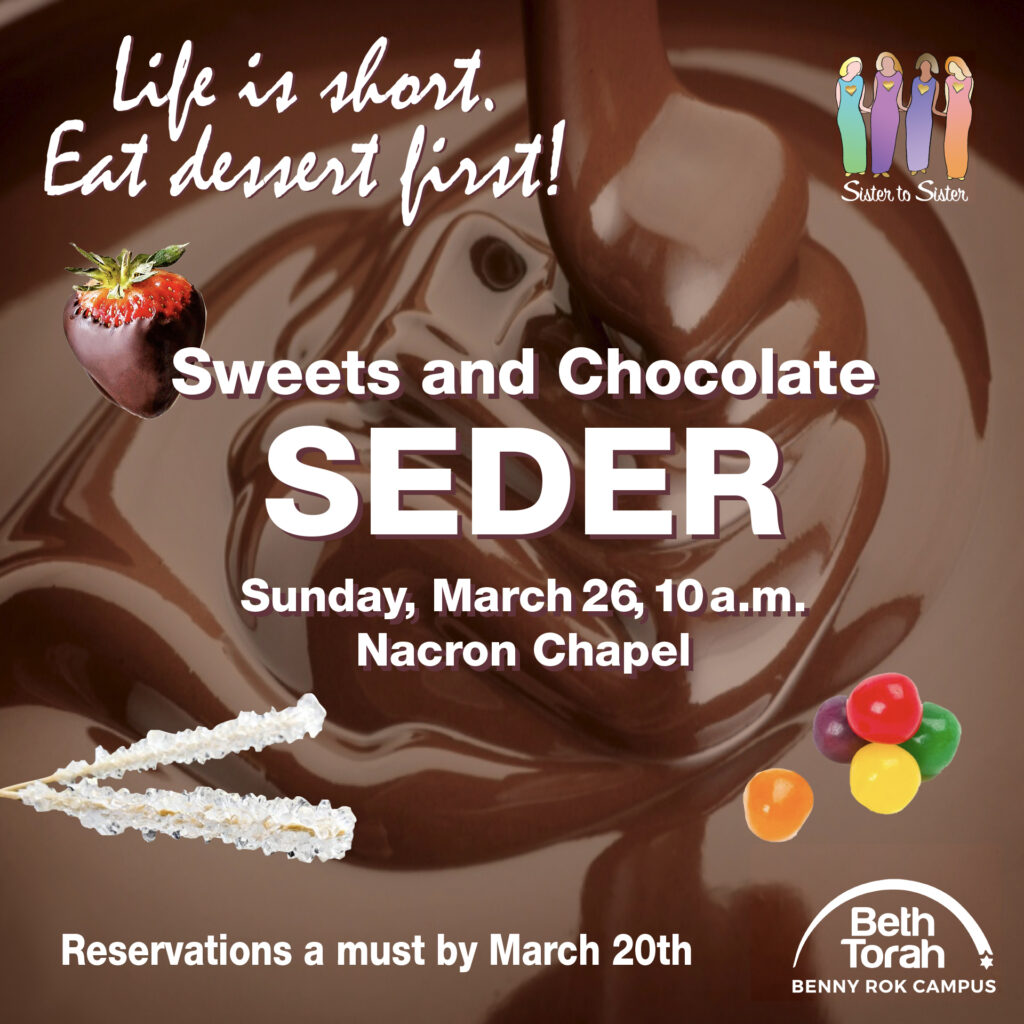 Join your Sisters for the story of Passover with chocolate!
Celebrate with song, dance and chocolate martinis. Make your own charoset with yogurt, fruits, nuts, m&m's and chocolate sauce. Experience with licorice the whipping of our ancestors. Re-live the plagues and eat candies and chocolate from your own bag of plagues. Interactive participation — as much or as little as you like. Take-home Haggadahs provided.
We invite children 12 and over to join mothers or grandmothers at no charge.
Beth Torah Sisterhood members no charge.
Spouses and other guests are welcome at $10.
For questions contact Terry at 954-448-5662 or termar4751@yahoo.com
The Special Mitzvah Seder for Jewish adults with developmental or physical challenges will be held at Beth Torah on Monday, April 10th. Volunteers are needed to make this a success. Participants are partnered one-on-one with a volunteer, while others help set up the Seder tables, greet participants, or plate and serve the Kosher-for-Passover dinner.
Past volunteers have expressed how much their involvement in this mitzvah has meant to them. We are confident you will feel the same.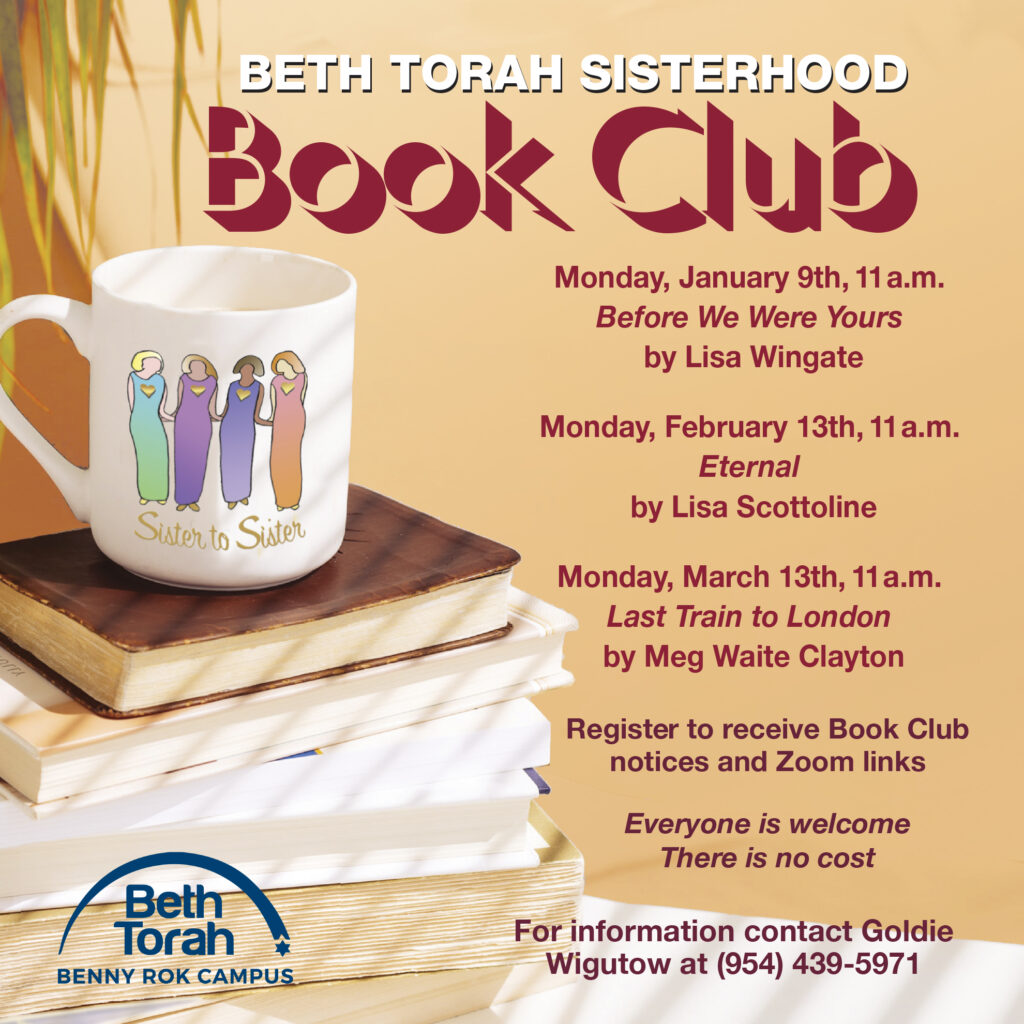 Sisterhood Book Club meets the second Monday of most months. All Sisterhood members receive notices. If you are not a member, register to receive notices.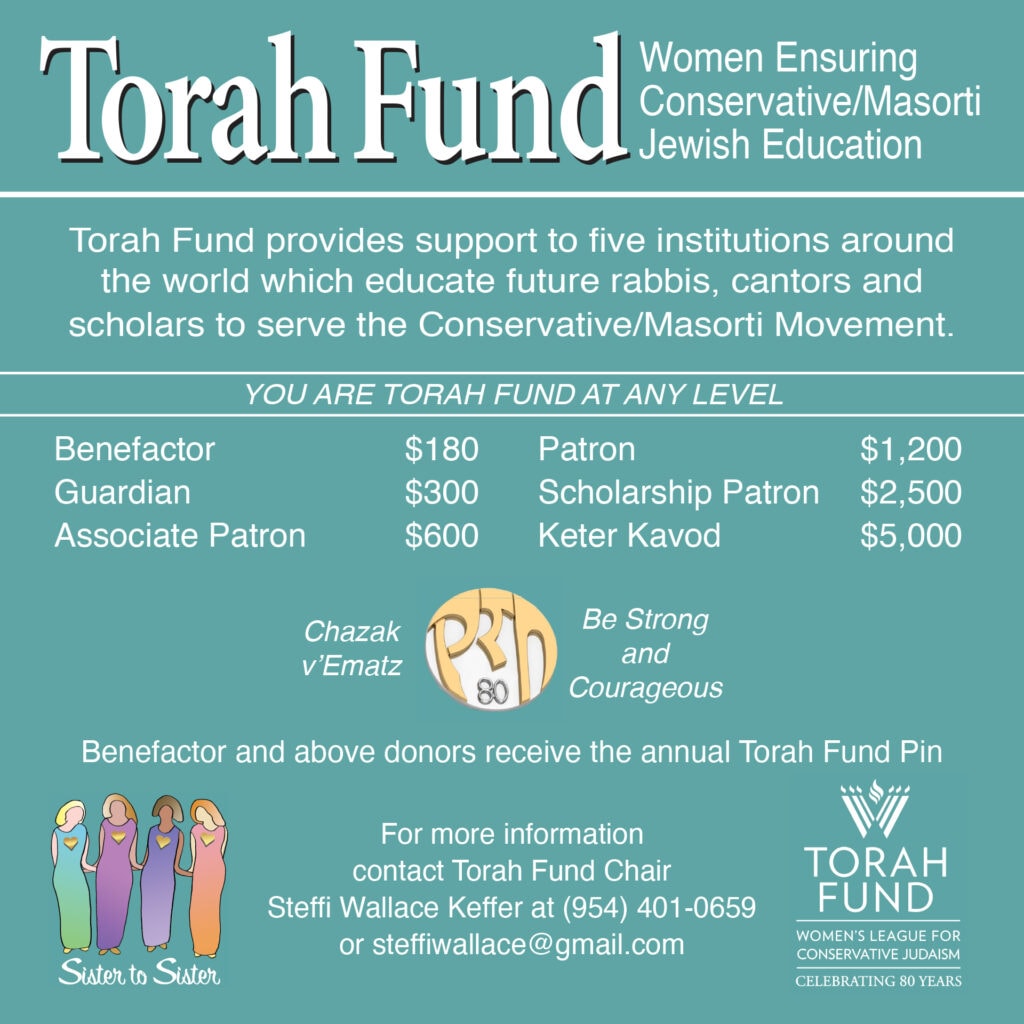 Torah Fund helps sustain Conservative Judaism by supporting the ­institutions that educate future rabbis, cantors and leaders. 
Contact Steffi Wallace at (954) 401-0659 or click the link below to find out how you can participate in this vital effort.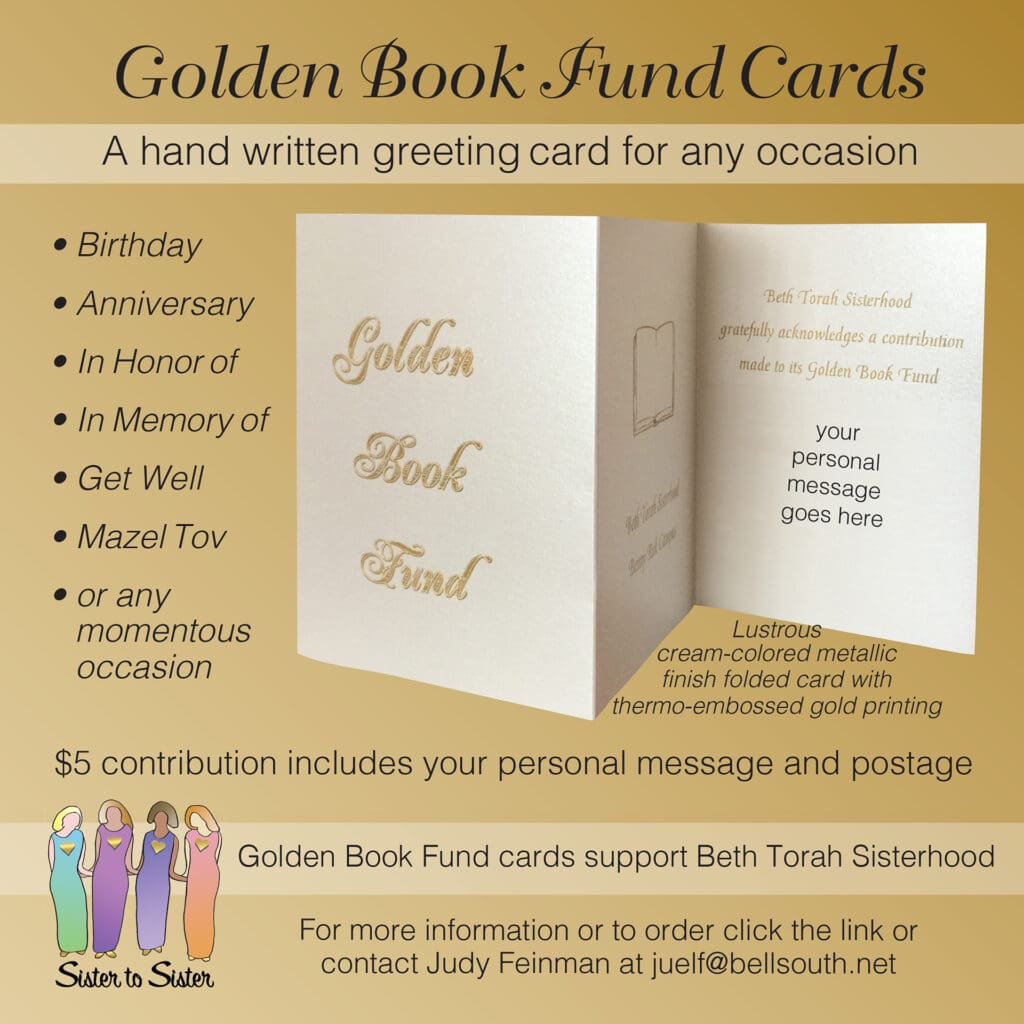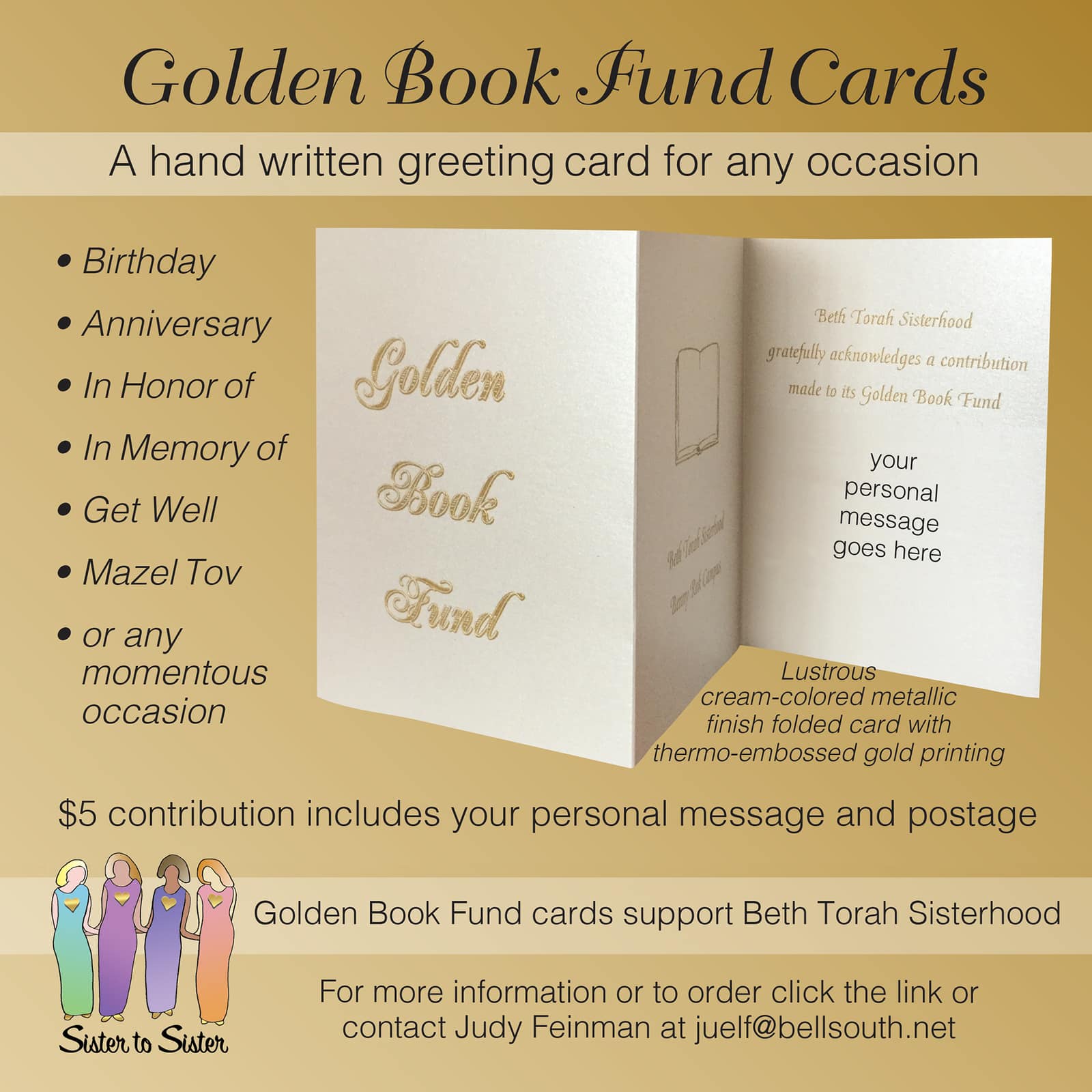 Next time you need to say Thank You or Happy Birthday, or to offer condolences or congratulations, consider a Golden Book Fund card. Your message will be beautifully handwritten on an attractive card. The cost of $5 includes postage. Payment can be made online or by mailing a check.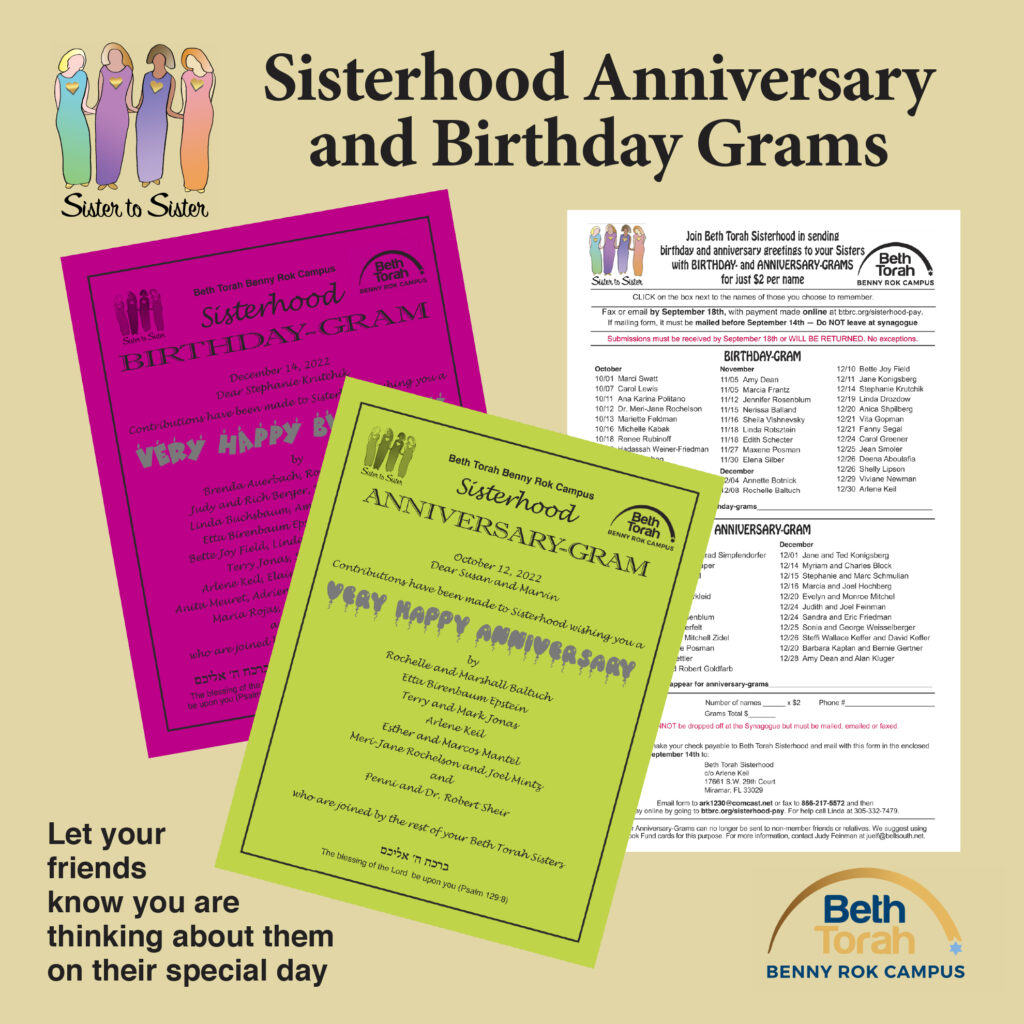 Birthday and Anniversary Grams are an easy and worthwhile way to acknowledge friends on their special day— at a cost of just $2 each. Order forms are sent quarterly. Grams are sent individually naming everyone contributing on that person's behalf. For more information, call Arlene at (954) 433-0895, or 
Renew or join today! Everyone is welcome. You need not be a Beth Torah member to join Beth Torah Sisterhood. For questions, contact Adrienne at (305) 761-8189.
WHY JOIN SISTERHOOD?
Beth Torah's Sisterhood is a diverse and vital group within the congregation providing enjoyment and fostering friendships while strengthening our bonds to Judaism.
• Meet and connect with others
• Create a sense of purpose, friendship and involvement
• Perform mitzvot
• Enhance synagogue life
• Raise funds for synagogue and youth programs
BE A PART OF SOMETHING VERY SPECIAL!