Beth Torah Benny Rok Campus
THE MISSION
is to provide an interactive environment for its members which supports the Congregation and Schools. Its members serve to enrich our Jewish traditions through ties to Israel, education in Conservative/Masorti Judaism and national participation in the Women's League of Conservative Judaism.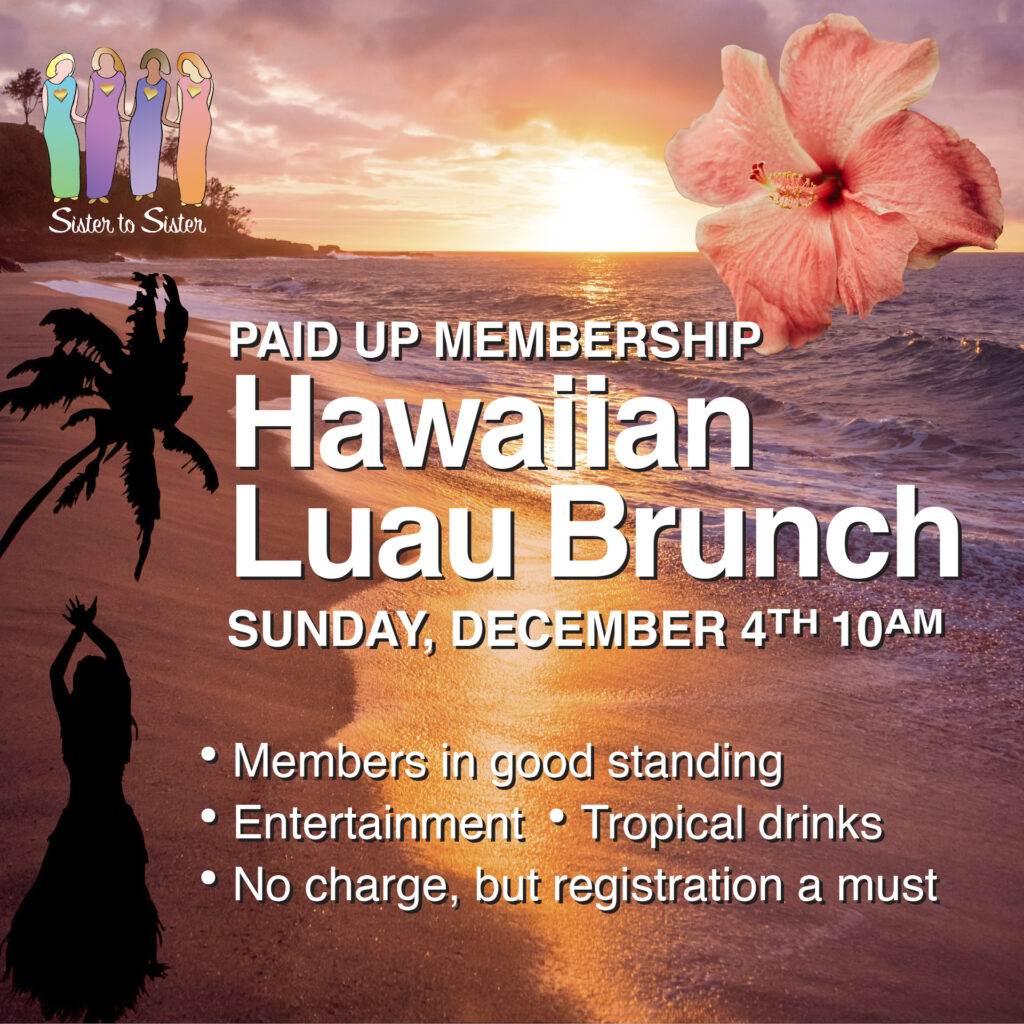 Don't miss Sisterhood's exciting Hawaiian Luau Brunch on Sunday, December 4th at 10 a.m.
Your membership must be paid up to date and — although there is no charge — registration is a must. 
If you have not yet paid 22-23 dues, please do so before registering. First year members are, of course, "paid up."
For questions, contact Adrienne at (305) 761-8189.
Sisterhood's Culture Club is pleased to welcome renowned Florida historian and speaker Seth H. Bramson presenting "L'chaim! the History of the Jewish Community of South Florida" at Beth Torah Benny Rok Campus Thursday, December 22nd at 7:30 p.m.

Seth will entertain us with the incredible history of Jewish South Florida and how the importance and influence of the Jewish population have been both profound and outstanding, beginning with the arrival of Jacob and Ida Schneidman in 1895.

Beth Torah groups member $10. Community member $15. Includes refreshments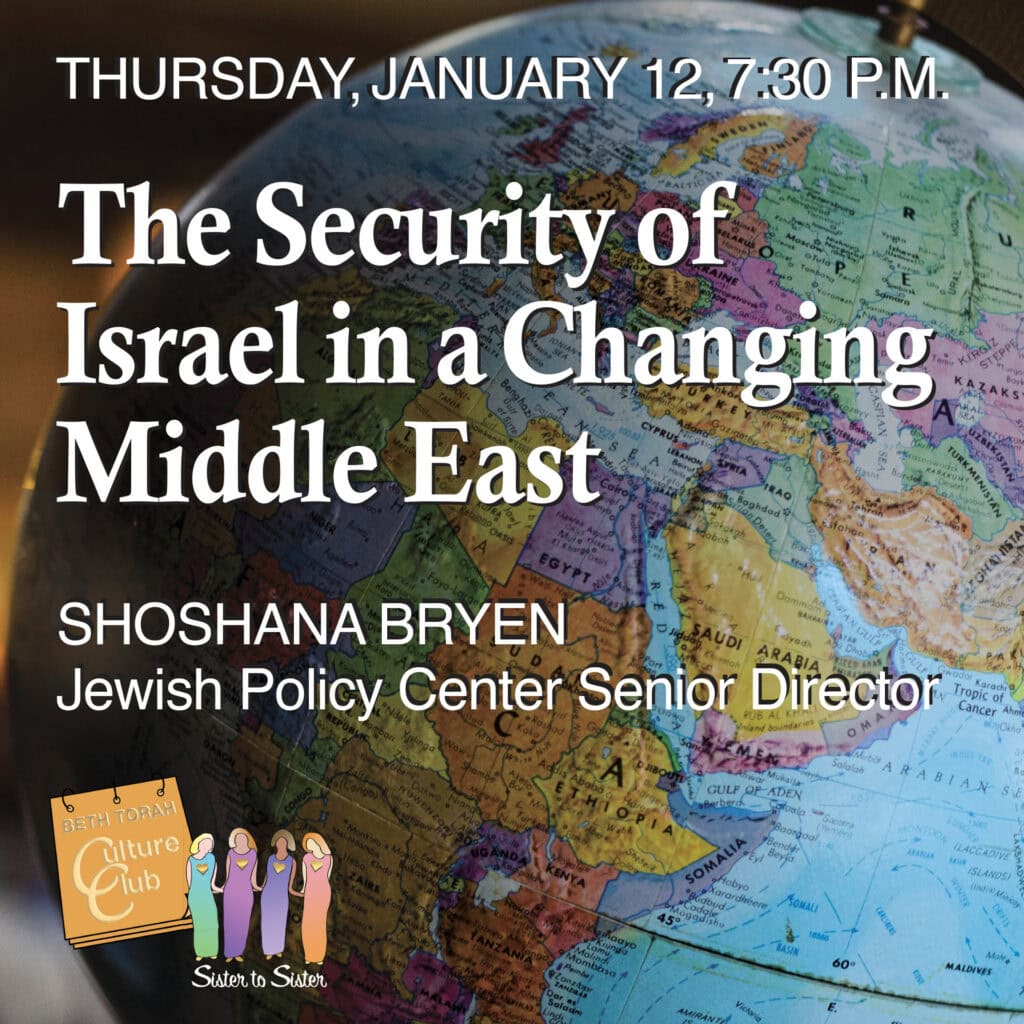 Sisterhood's Culture Club is pleased to welcome Shoshana Bryen, Senior Director of the Jewish Policy Center in Washington, to speak on "The Security of Israel in a Changing Middle East" on Thursday, January 12th, at  7:30 p.m. at Beth Torah Benny Rok Campus.
While Bryen is a leading specialist in Middle East affairs she is also a down-to-earth speaker whose presentation will be relevant to anyone with an interest in — and a love for — the State of Israel.
Beth Torah and Sisterhood members $10. Community members $15
Refreshments will be served
The annual tradition of Sisterhood Shabbat will continue in 5783!
Sisterhood members will participate in Saturday morning services on January 21st at Beth Torah Benny Rok Campus.
Join Sisterhood at Beth Torah on Sunday, January 29th at 10 a.m. for fun and games and a scrumptious Sunday brunch!
Play Mah Jongg, Scrabble, Yahtzee, Canasta, Poker, Monopoly, Banana Grams, Rummikub — or your choice of board or card game. Bring your group or ask to be connected with one. Ask about available instruction.
$36 includes brunch. Registration required by January 23rd.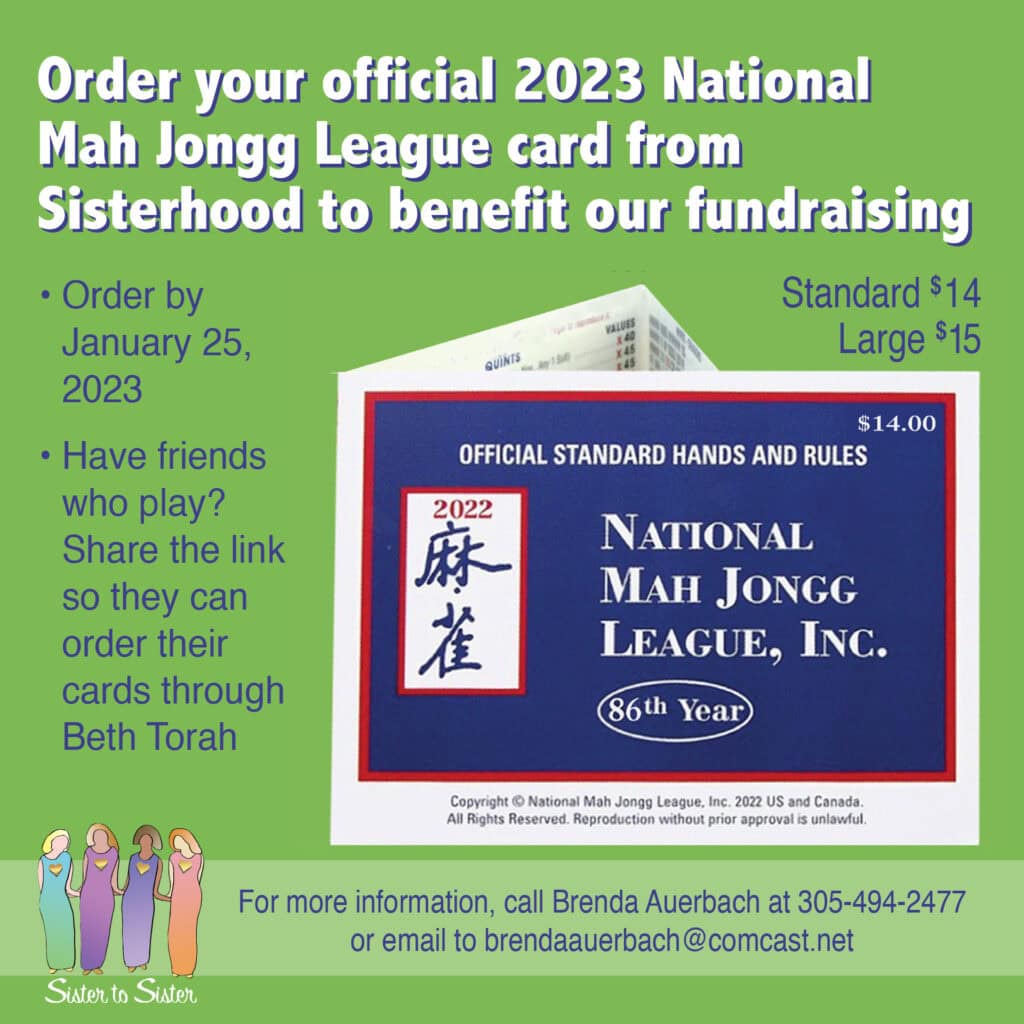 Support our fundraising by ordering your official 2023 National Mah Jongg League cards from Beth Torah Sisterhood.
If you have friends who play, please share the link.
Cards are mailed directly to each purchaser in February.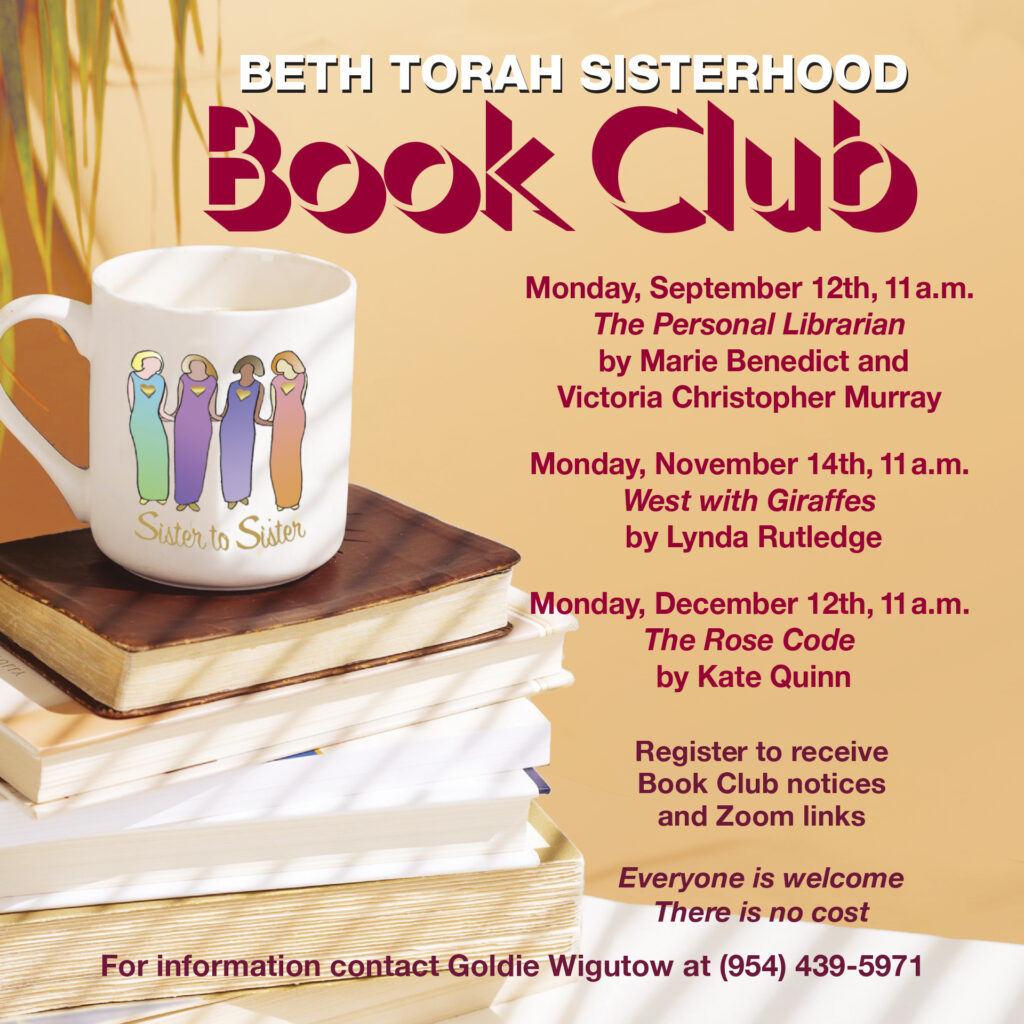 Sisterhood Book Club meets the second Monday of most months. All Sisterhood members receive notices. If you are not a member, register to receive notices.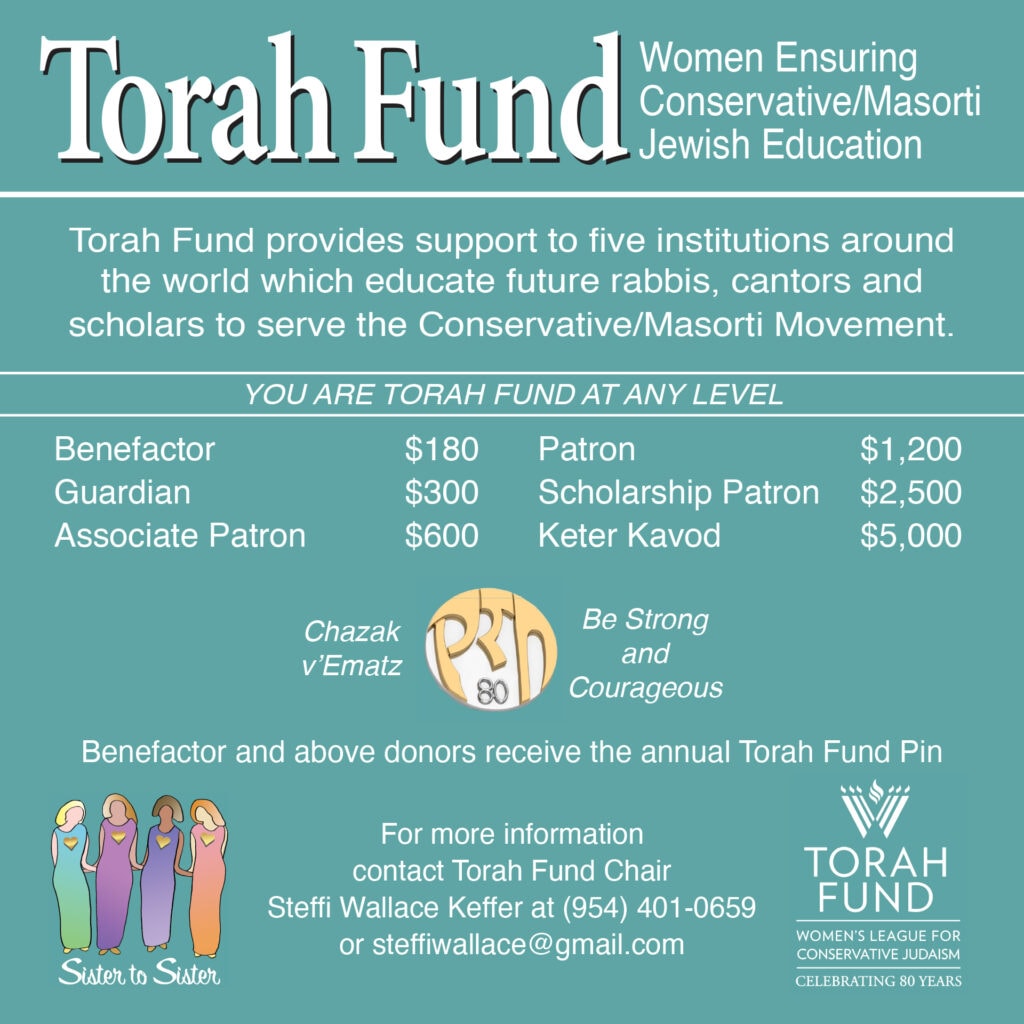 Torah Fund helps sustain Conservative Judaism by supporting the ­institutions that educate future rabbis, cantors and leaders. 
Contact Steffi Wallace at (954) 401-0659 or click the link below to find out how you can participate in this vital effort.
Renew or join today! Everyone is welcome. You need not be a Beth Torah member to join Beth Torah Sisterhood. For questions, contact Adrienne at (305) 761-8189.
WHY JOIN SISTERHOOD?
Beth Torah's Sisterhood is a diverse and vital group within the congregation providing enjoyment and fostering friendships while strengthening our bonds to Judaism.
• Meet and connect with others
• Create a sense of purpose, friendship and involvement
• Perform mitzvot
• Enhance synagogue life
• Raise funds for synagogue and youth programs
BE A PART OF SOMETHING VERY SPECIAL!