Beth Torah Benny Rok Campus
THE MISSION
is to provide an interactive environment for its members which supports the Congregation and Schools. Its Members serve to enrich our Jewish traditions through ties to Israel, education in Conservative/Masorti Judaism and national participation in the Women's League of Conservative Judaism.
Join us Thursday, October 14, at 7 p.m. via Zoom to hear from a panel of experts about breast cancer with a special focus on Jewish women.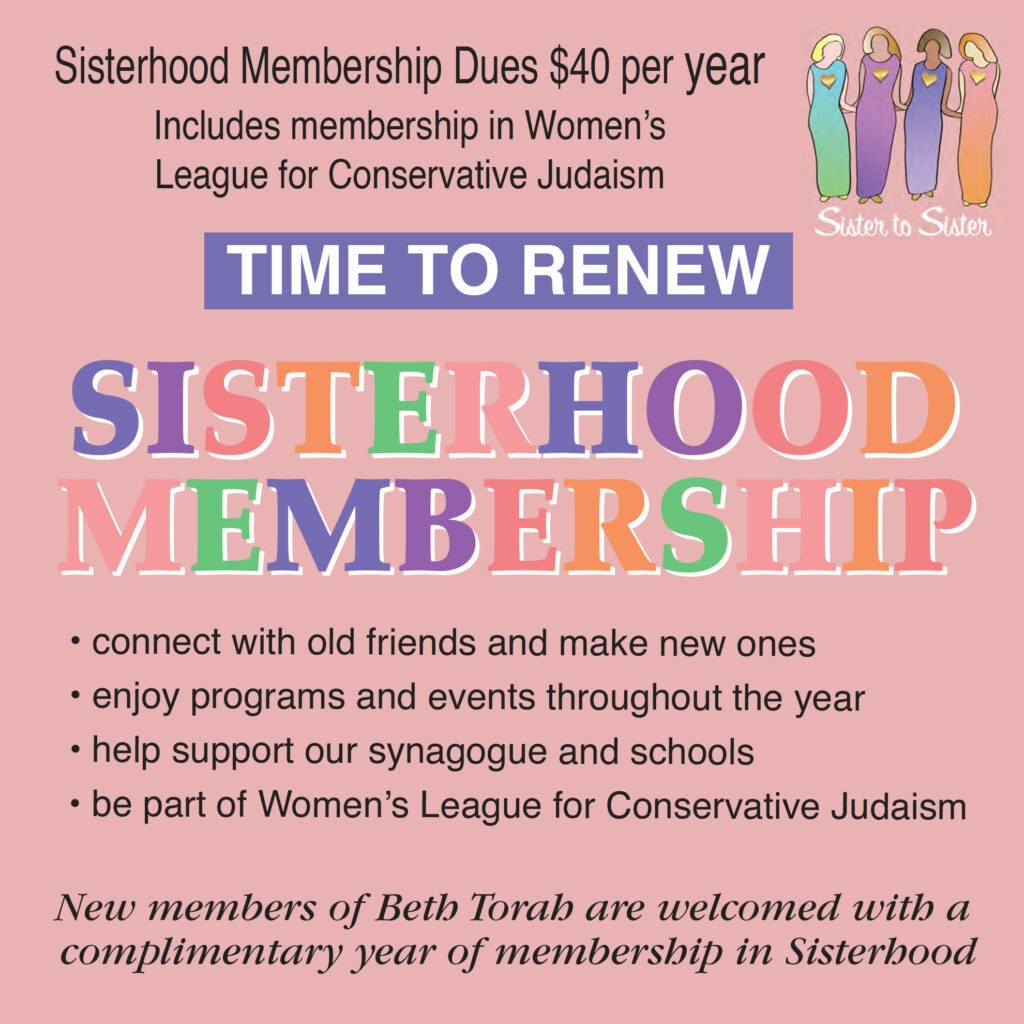 The Beth Torah Sisterhood 2021-2022 year begins on July 1st. Renew or join today! Everyone is welcome. You need not be a Beth Torah member to join Beth Torah Sisterhood. For questions, contact Adrienne at
(305) 761-8189.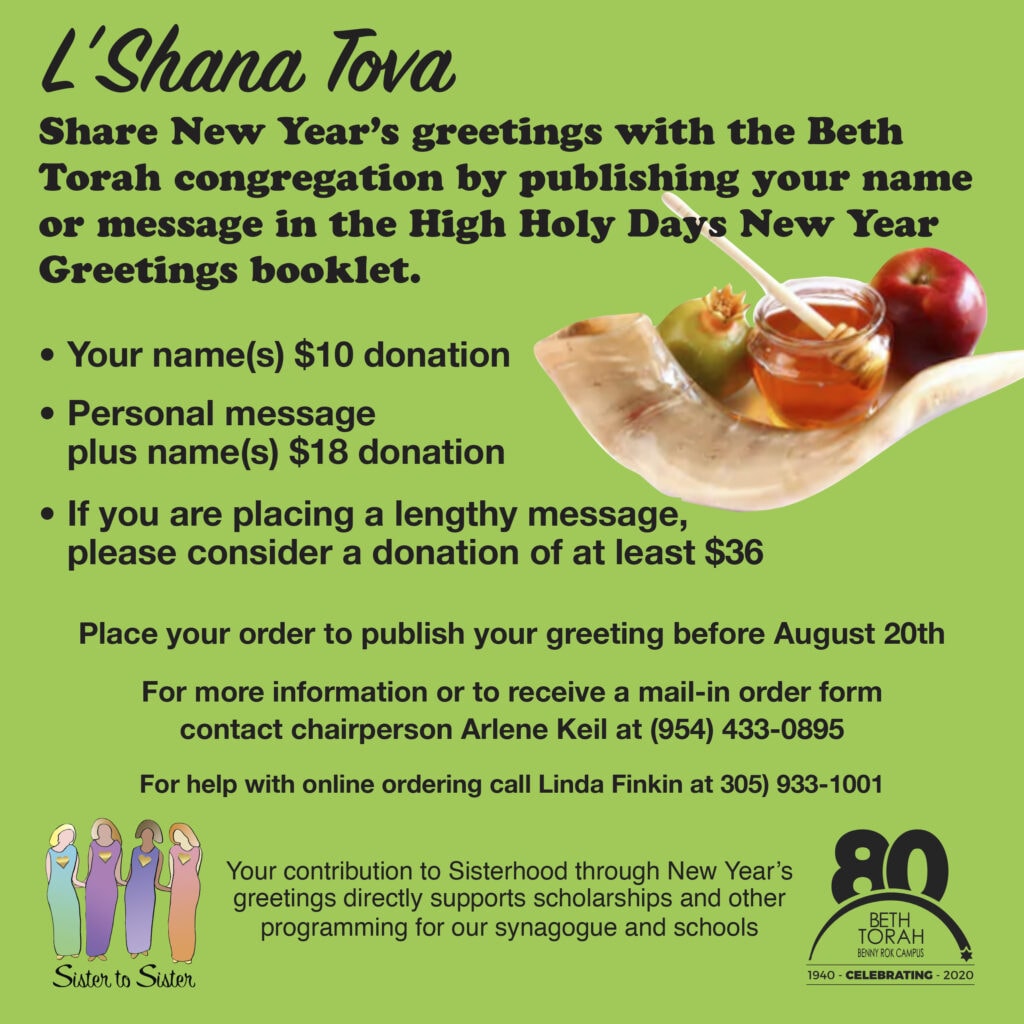 Share a "Shana Tova" with the rest of the Beth Torah community by adding your name and message to our online High Holy Days New Year Greetings booklet. Listings begin at only $10. Order by August 20th. For questions call Arlene at (954) 433-0895.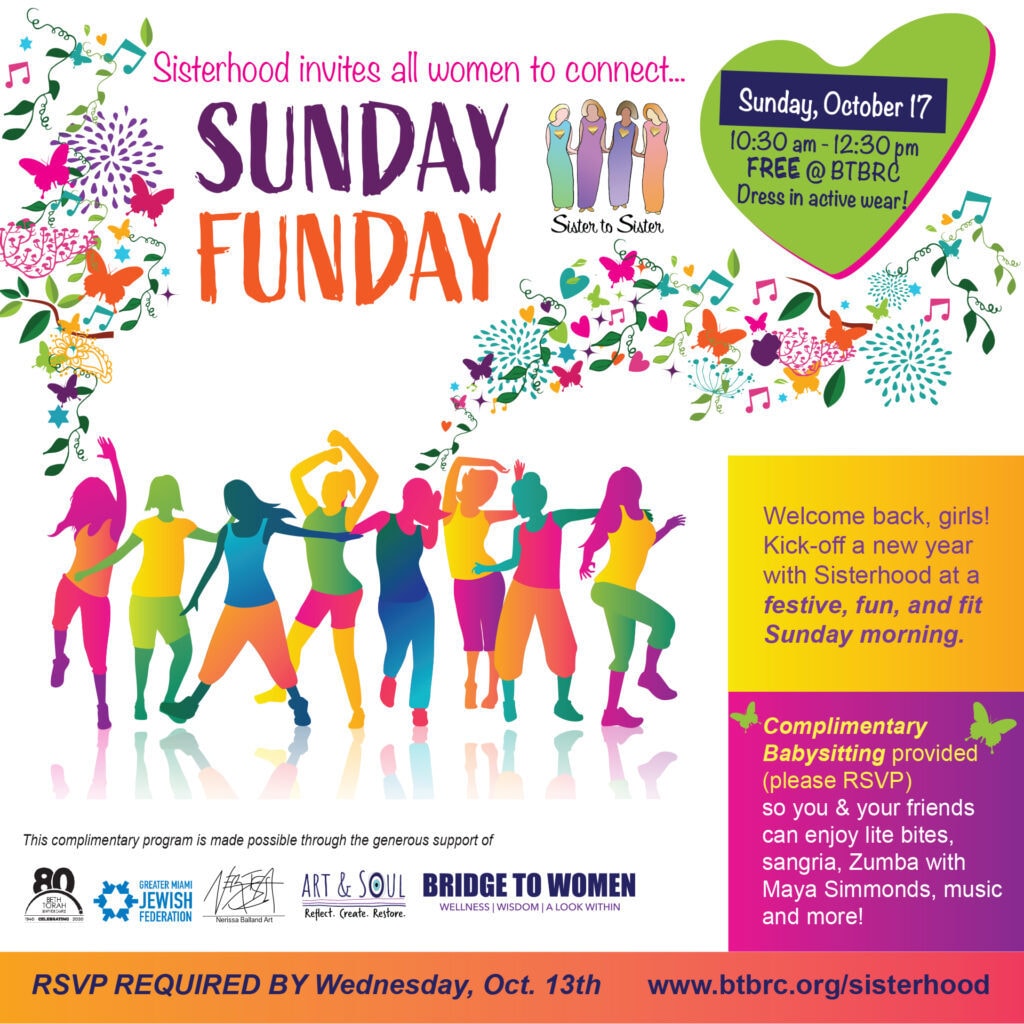 Welcome back!
A festive, fun, and fit gathering Sunday, October 17 at 10:30 am. Enjoy lite bites, sangria, Zumba, music, and more. For those who need childcare, complimentary babysitting is available along with snacks and fun activities for your little ones. Members and non-members welcome. Register by October 13 — especially if you need childcare!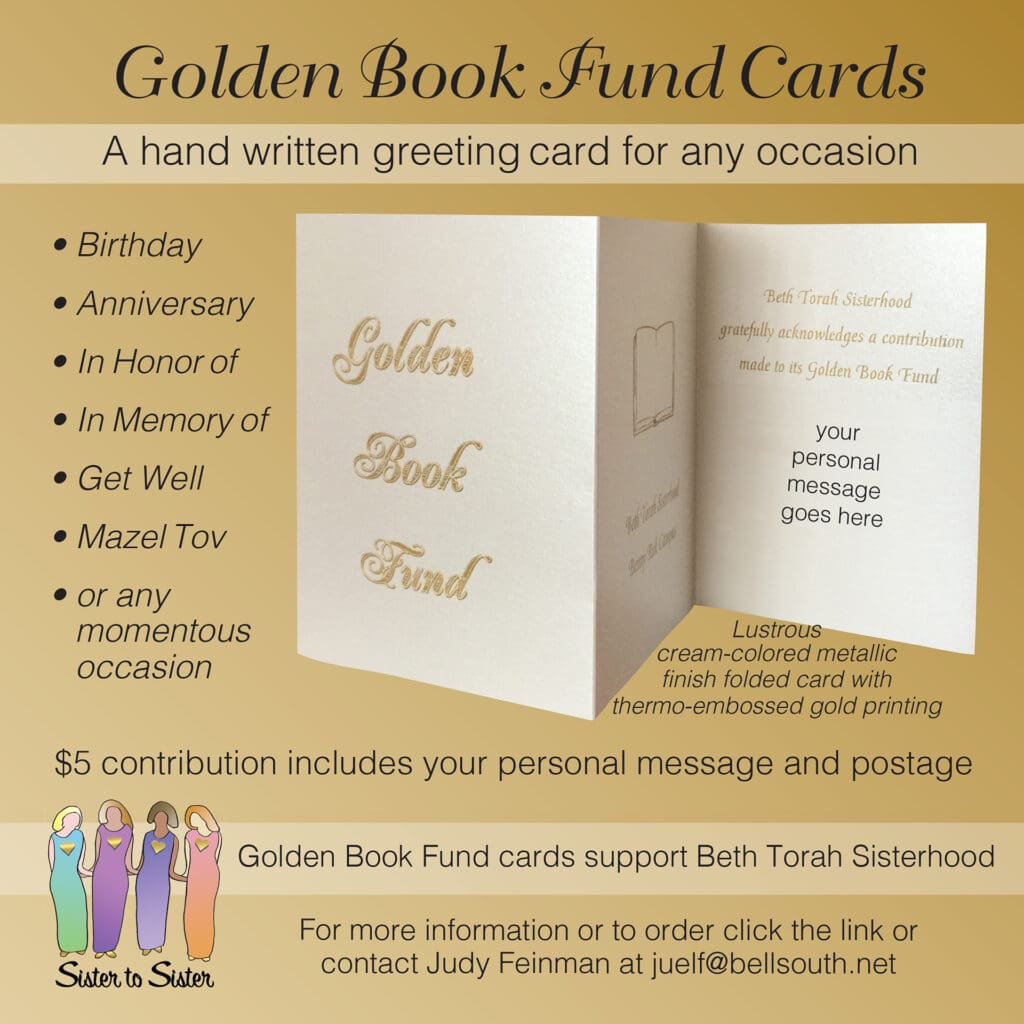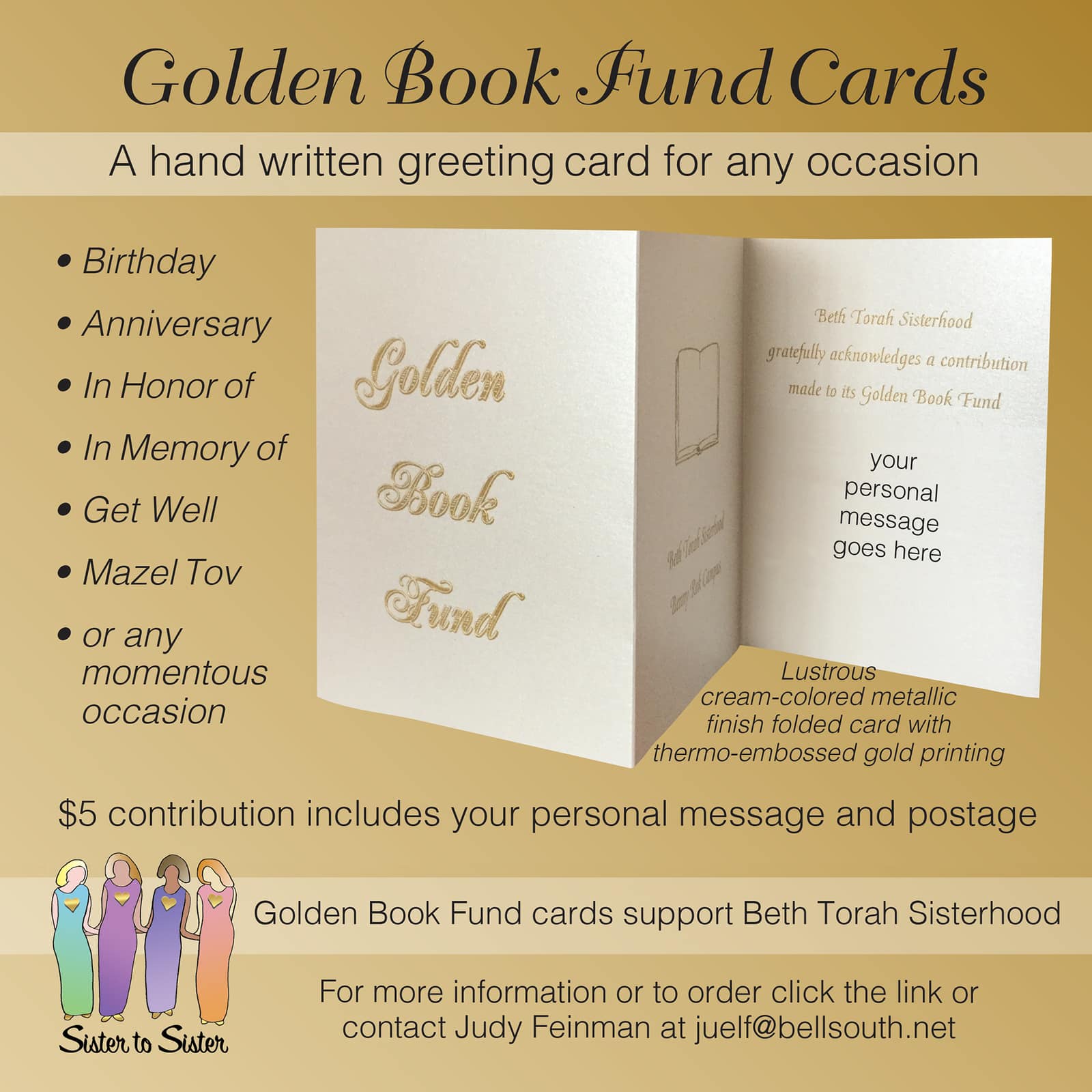 Next time you need to say Thank You or Happy Birthday, or to offer condolences or congratulations, consider a Golden Book Fund card. Your message will be beautifully handwritten on an attractive card. The cost of $5 includes postage. Payment can be made online or by mailing a check.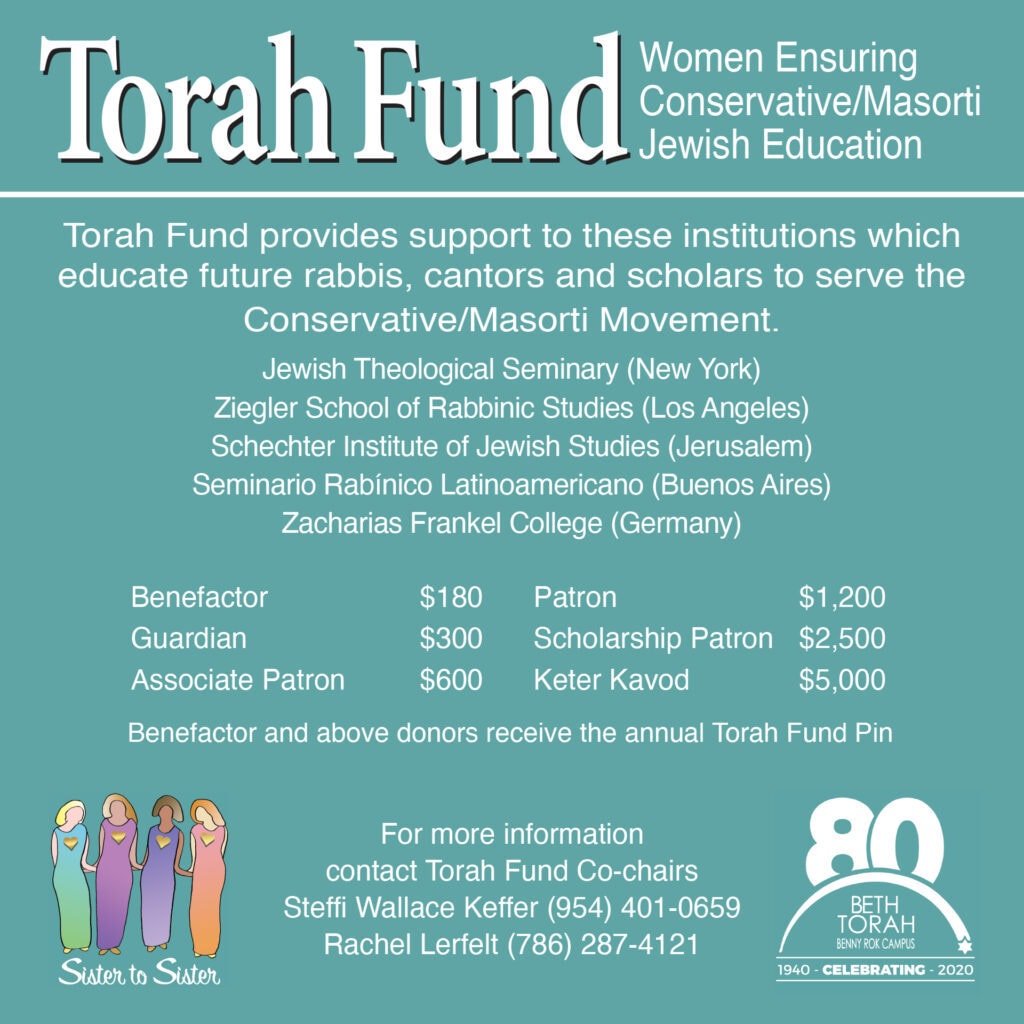 Torah Fund helps sustain Conservative Judaism by supporting the ­institutions that educate future rabbis, cantors and leaders. 
Contact Steffi Wallace at (954) 401-0659 or click the link below to find out how you can participate in this vital effort.
WHY JOIN SISTERHOOD?
Beth Torah's Sisterhood is a diverse and vital group within the congregation providing enjoyment and fostering friendships while strengthening our bonds to Judaism.
• Meet and connect with others
• Create a sense of purpose, friendship and involvement
• Perform mitzvot
• Enhance synagogue life
• Raise funds for synagogue and youth programs
BE A PART OF SOMETHING VERY SPECIAL!