Beth Torah Benny Rok Campus
THE MISSION
is to provide an interactive environment for its members which supports the Congregation and Schools. Its Members serve to enrich our Jewish traditions through ties to Israel, education in Conservative/Masorti Judaism and national participation in the Women's League of Conservative Judaism.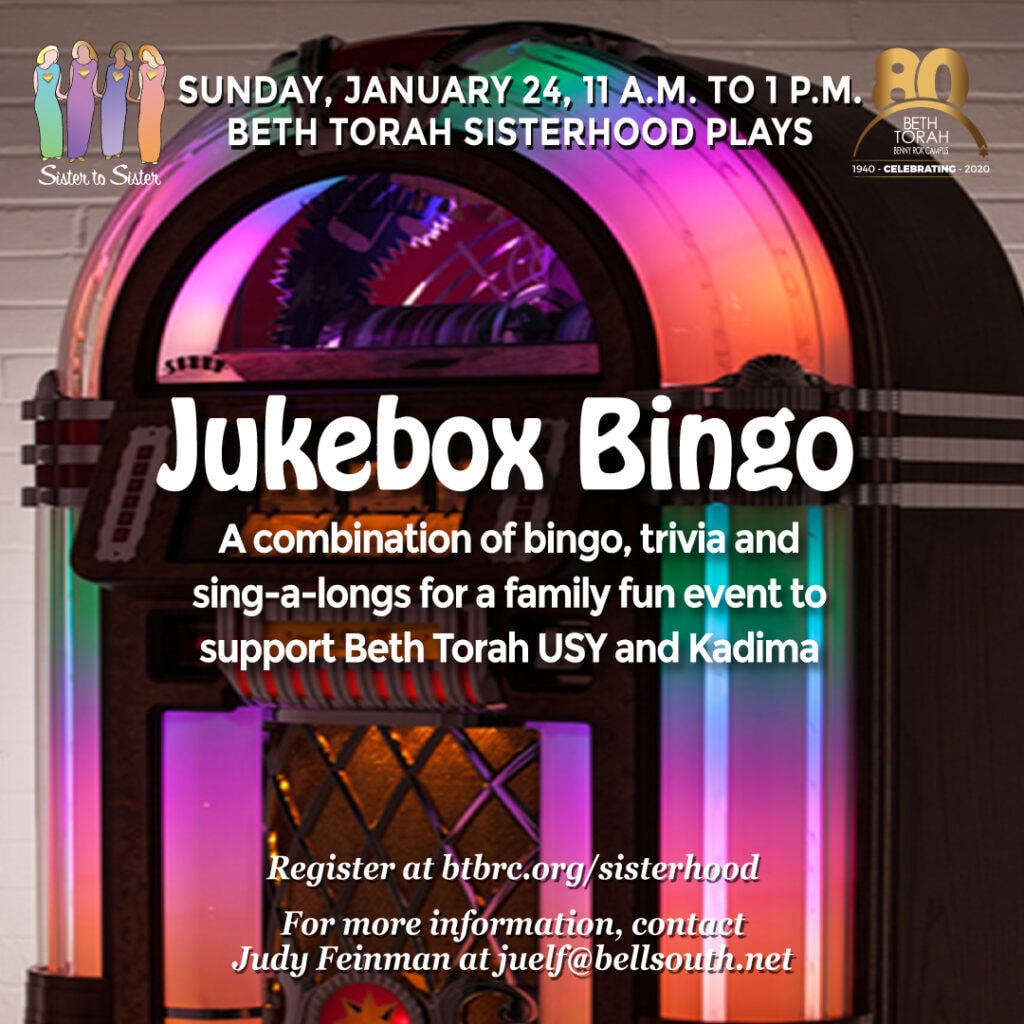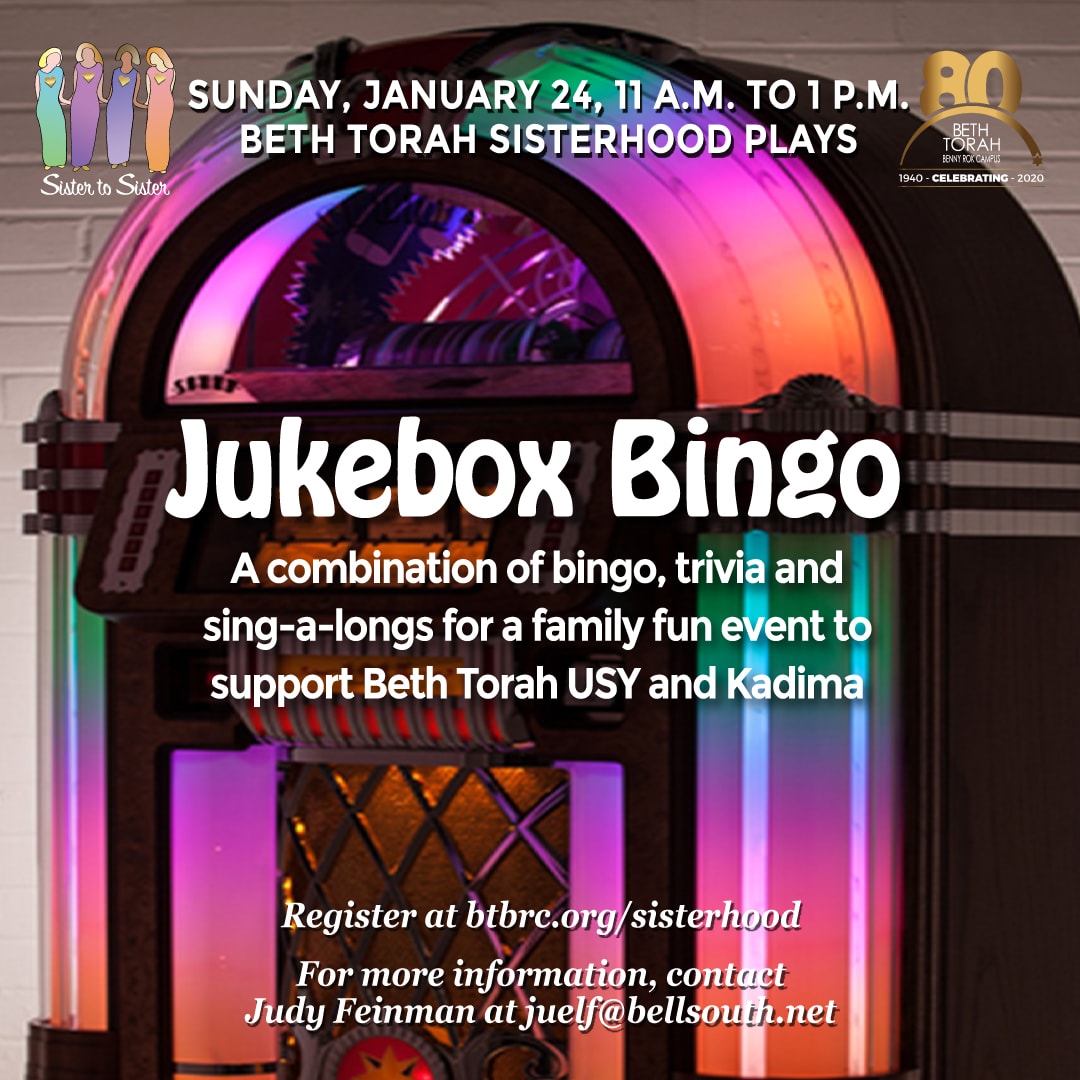 In place of our traditional annual Game Day, join Sisterhood Sunday, January 24 at 11 a.m. for our online Jukebox Bingo "fun"draiser to support Beth Torah USY and Kadima. Music and music trivia create entertaining games appropriate for the whole family with prizes for winners.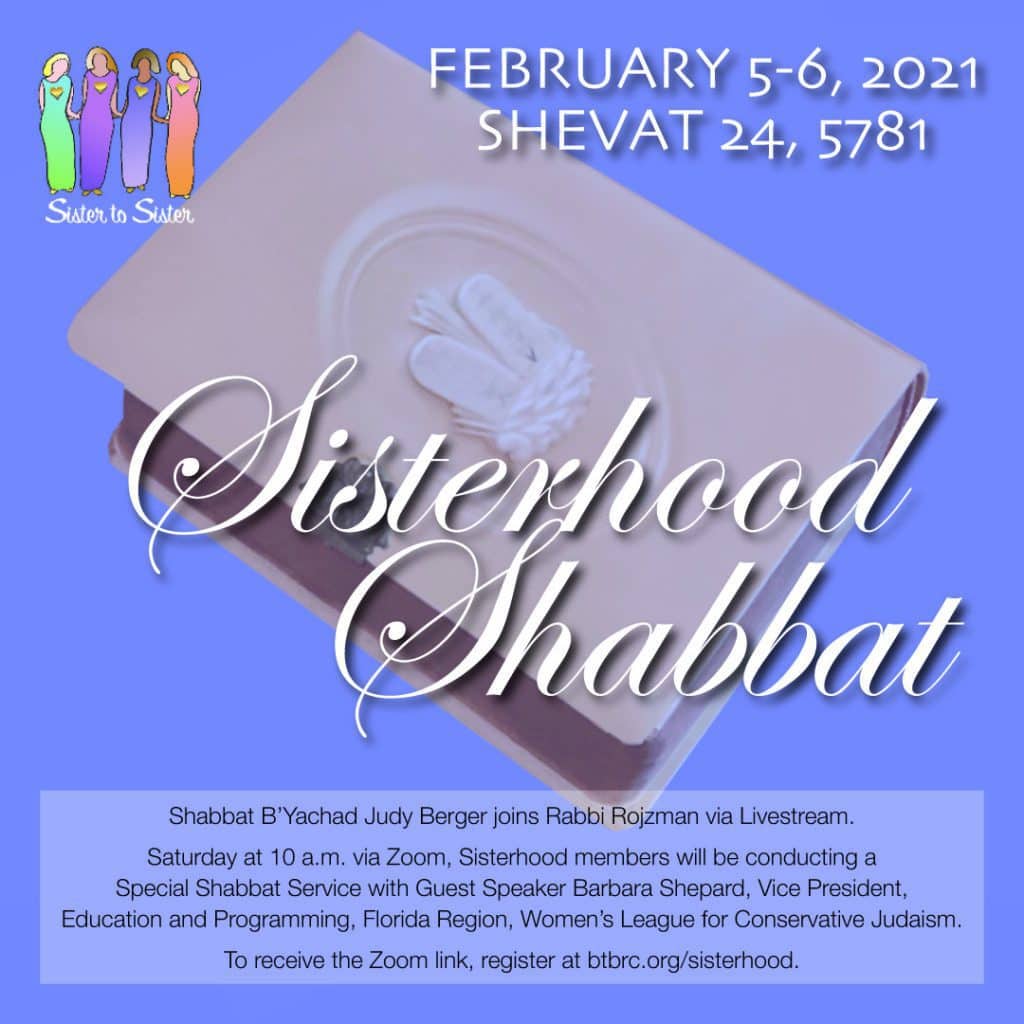 Shabbat B'Yachad Judy Berger will join Rabbi Rojzman in song and prayer at the regular service to be broadcast via Livestream.
Saturday morning, in addition to the regular morning service at 9:30, Sisterhood members will conduct a separate, special morning service starting at 10 a.m. via Zoom. Registration is required to receive the Saturday zoom link.
The Beth Torah Sisterhood Book Club is open to members and non-members alike. Everyone is welcome and there is no charge. Upcoming books are listed above. Register to receive notices and Zoom links.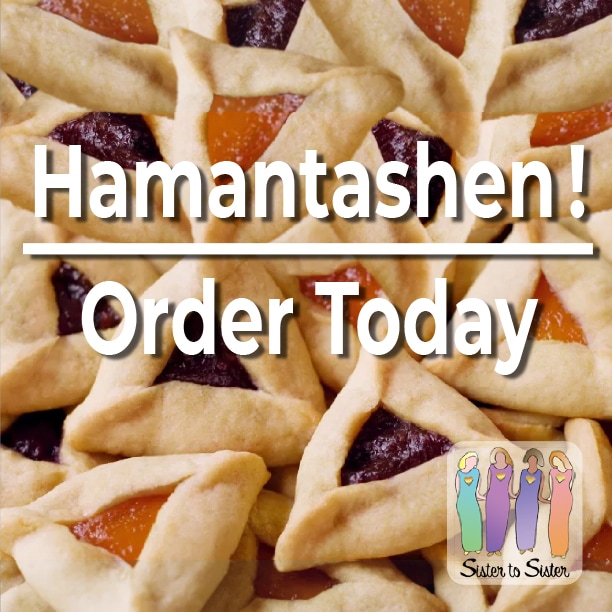 Sweet, golden, gooey, delicious ­Hamantashen from our favorite bakery in six great flavors: Apricot, Chocolate, Guava, Poppy, Prune and Raspberry. Hamantashen are $2 each with a minimum total order of six (6) pieces.
Orders must be received before February 17th and will be available for pickup February 25th. For information or assistance call Goldie Wigutow at (954) 439-5971 or Arlene Keil at (954) 232-6171.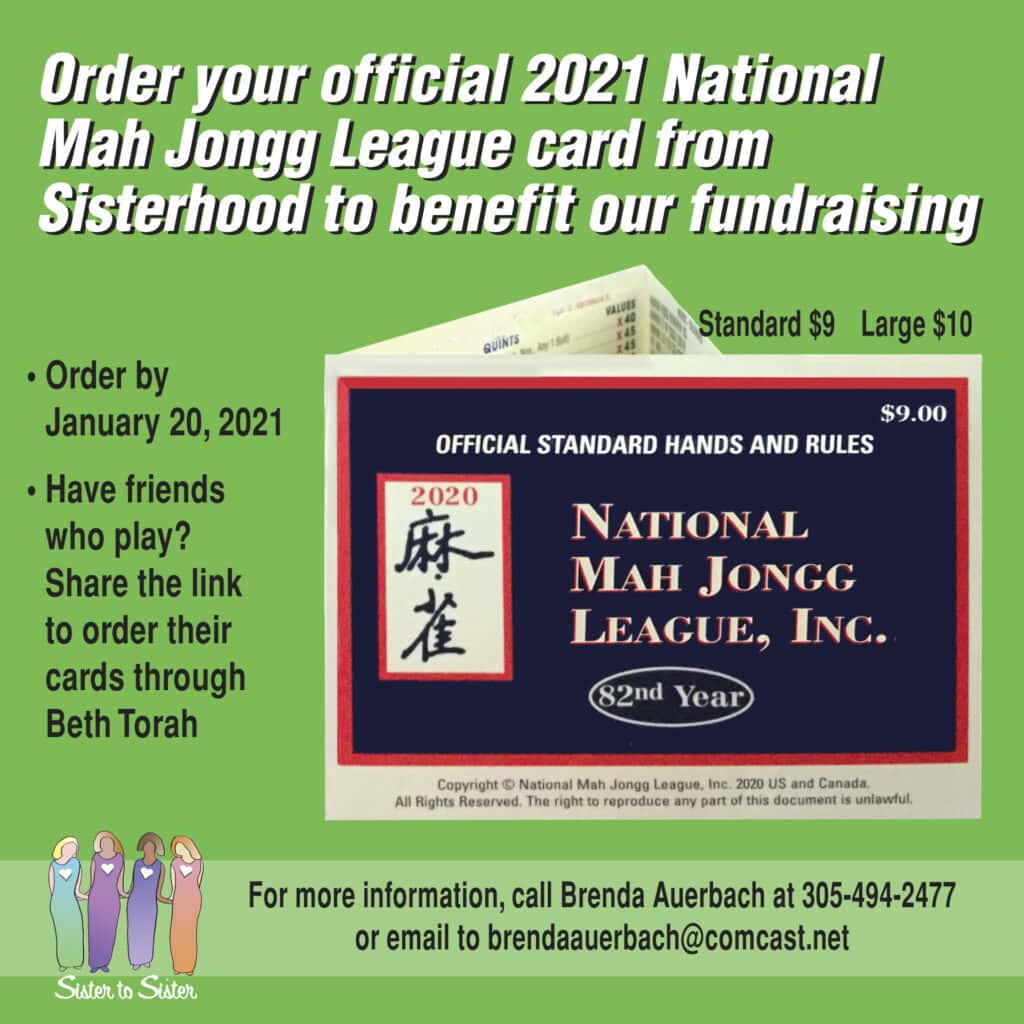 Order your 2021 Official National Mah Jongg League cards from Beth Torah Sisterhood to support our fundraising. Share the link with your friends who play!
Sisterhood is pleased to welcome Helene Herman to speak on the subject: Secrets of the Shanghai Ghetto Wednesday, February 17th, at  7 p.m. via Zoom. This presentation will explore the history of Jewish Shanghai from the turn of the 20th century through the creation in 1943 of the Shanghai Ghetto.
Registration is required, but is free for Sisterhood members. All others $5.00 per registration.
A Chinese New Year gift pack is included with each registration.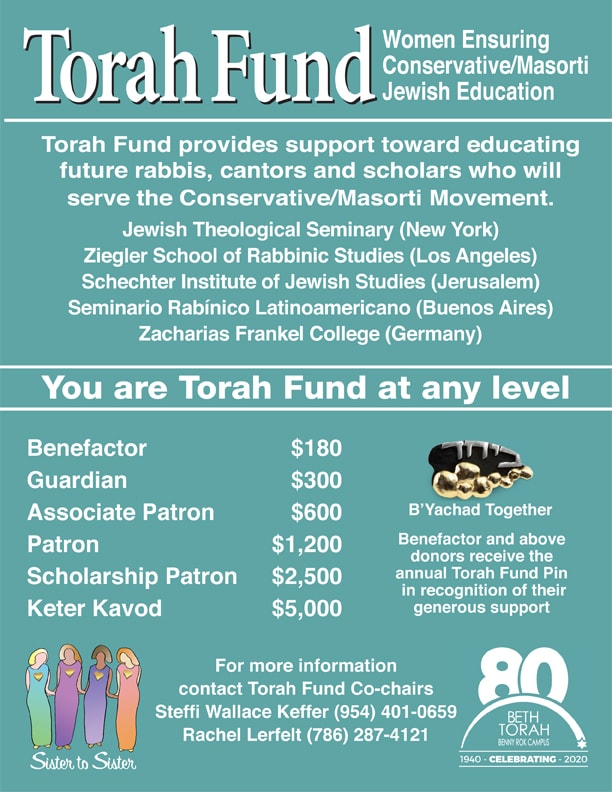 Torah Fund is vital to Conservative Judaism by supporting the education of future rabbis, cantors and educators who serve us.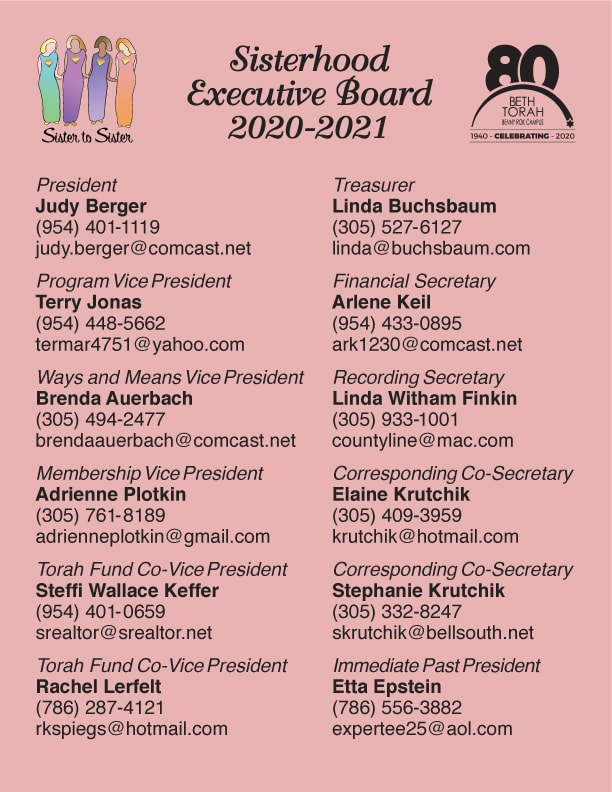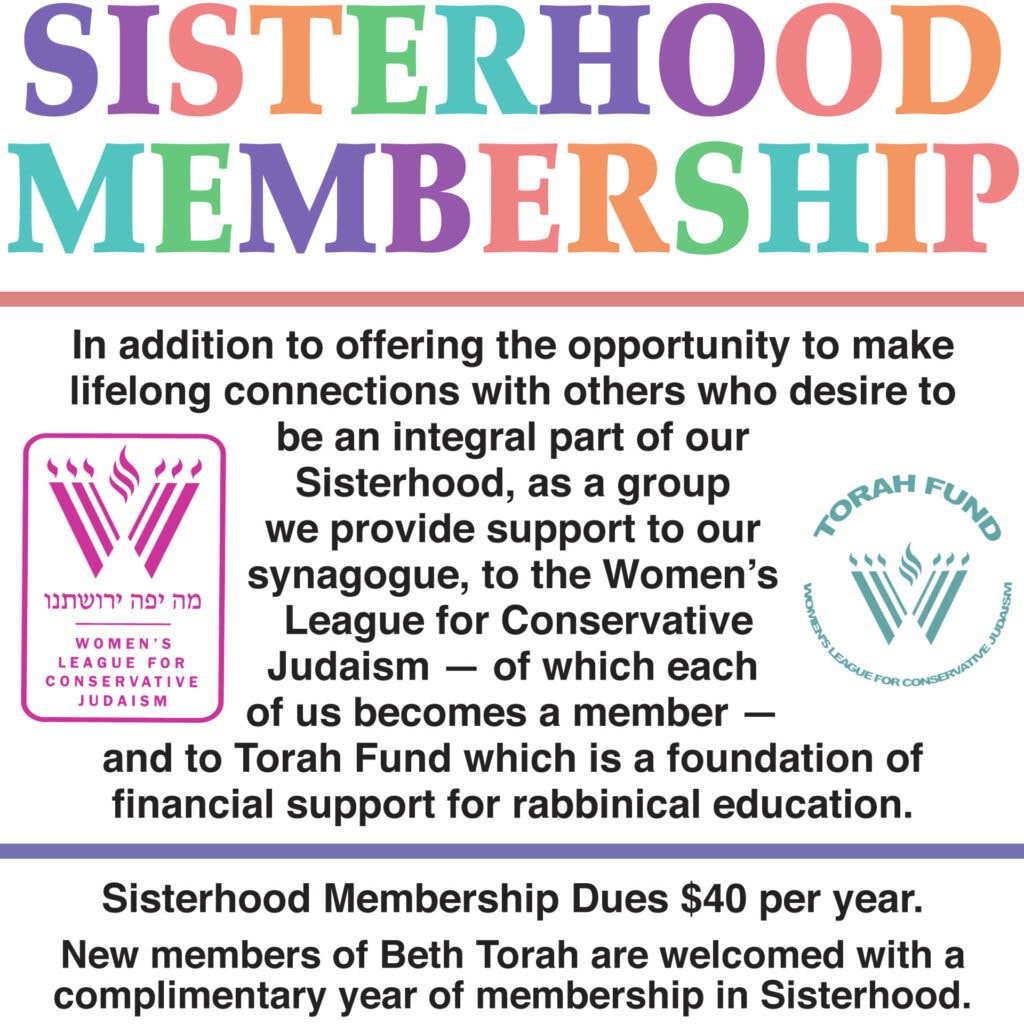 No need to be a Beth Torah member to join Beth Torah Sisterhood. We welcome everyone!
Golden Book Fund is an elegant way to acknowledge someone's life event while supporting Sisterhood fundraising. To place an order or request more information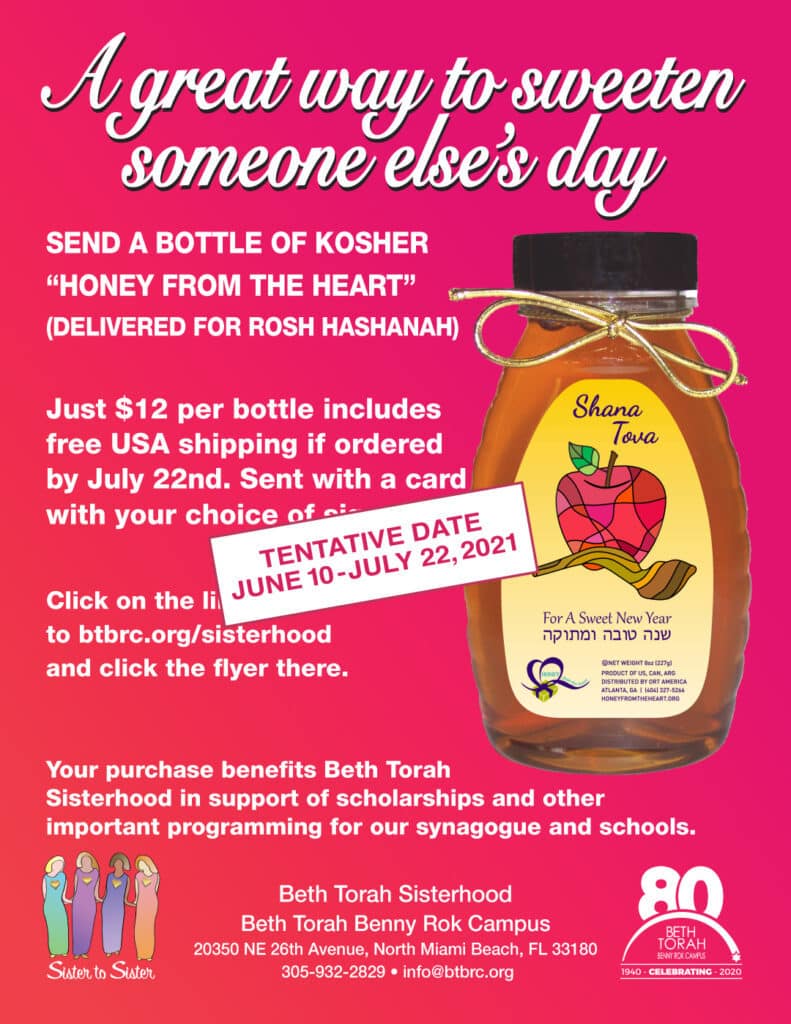 WHY JOIN SISTERHOOD?
Beth Torah's Sisterhood is a diverse and vital group within the congregation providing enjoyment and fostering friendships while strengthening our bonds to Judaism.
• Meet and connect with others
• Create a sense of purpose, friendship and involvement
• Perform mitzvot
• Enhance synagogue life
• Raise funds for synagogue and youth programs
BE A PART OF SOMETHING VERY SPECIAL!