Enrollment now includes membership to
Beth Torah Benny Rok Campus
"At Beth Torah's Suzy Fischer Early Childhood Academy, our learning environment includes high-quality programming within the framework of a Jewish setting with an experienced and caring team of teachers who create opportunities for your children to be active participants of their education"
SANDRA KOPP, M.S. - Director of Early Childhood Education
Beth Torah's Suzy Fischer Early Childhood Academy is the premier Jewish preschool for children 12 months-5 years old located in South Florida's North Miami Beach / Aventura area. Our programs have touched the lives of thousands of families in our community with our innovative, high quality programs and flexible schedules. Our experience and consistent commitment to excellence have made Suzy Fischer Early Childhood ready to meet the ever-changing needs of young children as they begin their educational journey
Classes of all age levels take advantage of several outdoor learning spaces, where teachers mindfully create experiences with natural materials, conduct science experiments, storytime, and more.
Our trained and culturally diverse professionals, the vast majority members of our Early Childhood team for decades, celebrate each child's uniqueness and facilitate creative opportunities for learning through various modalities.
The Suzy Fischer's "whole child" curriculum encompasses the following six areas of development that contribute to your child's growth within a nurturing, safe, and enriching environment.
Enrollment now includes membership to
Beth Torah Benny Rok Campus
Curriculum and Milestones​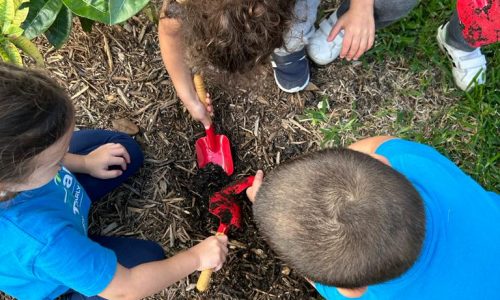 SOCIO-EMOTIONAL DEVELOPMENT
Developing social and emotional skills, specifically while attending school, is the basis for children to understand how they function as part of a larger community; it begins to set the stage for understanding who they are as individuals, regulates their feelings, and helps them interact with others. Our Early Childhood program provides children with opportunities to nurture positive relationships, build empathy, and foster independence. Socio-emotional skills have a strong impact on all other areas of development.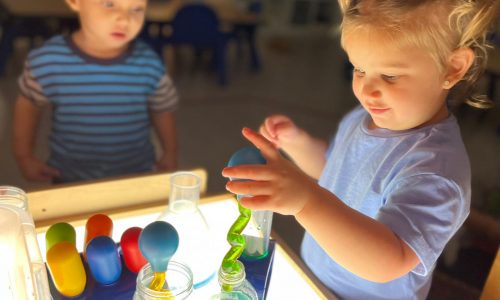 Cognitive development embodies how children think, explore, and make meaning of their experiences. It includes the development of knowledge, skills, problem solving, exercising executive functions, and actively engaging children in their learning. Throughout our school day, teachers intentionally provide children with choices to encourage exploration, they ask open-ended questions, rotating materials to spark their curiosity, and encourage collaboration.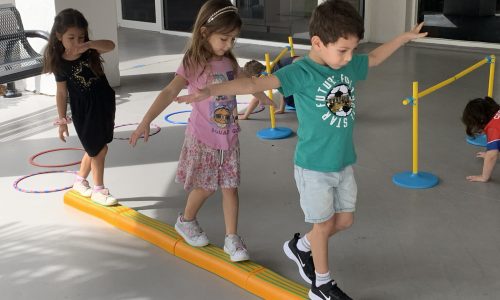 Gross motor development refers to a child's physical skills that require the use of large body movement. Our Early Childhood program intentionally provides opportunities for the children to strengthen those skills both in and out of the classroom and in our spacious outdoor spaces.
Fine Motor development refers to a child's physical skills that engage in smaller, more precise movements, using the hands and fingers. Our classroom centers have materials for the children to develop fine motor skills independently. Teachers work in small groups to ensure proper pencil grip, cutting skills, and correct use of materials that require precision to manipulate.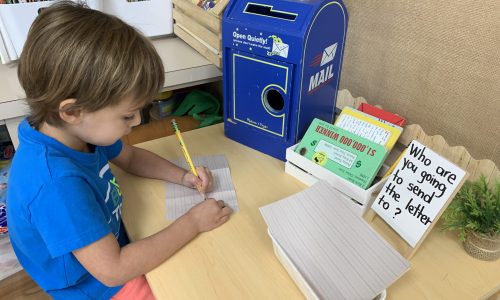 Language and literacy development are pillars of early childhood development. They are defined as the skills used to communicate and understand others (expressive and receptive language development) as well as the ability to recognize and form letters, phonemic awareness, environmental print- in sum, developmentally appropriate reading and writing readiness (literacy development).  Our classrooms are print-rich environments, where teachers often chart what the children share in order for them to make the connection between the spoken and written word.  Storytime is a daily part of the school day.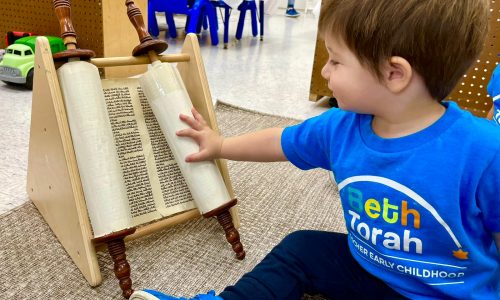 Jewish experiences are an important component of all programs at the Suzy Fischer Early Childhood Academy. Rituals, holiday celebrations, Shabbat, Hebrew language, and Jewish culture are an essential part of our curriculum and weaved into our daily activities, so students experience the richness and beauty of Jewish life each day.
Through CAJE, with generous funding from the Greater Miami Jewish Federation, the Jewish Resource Specialist (JRS) Initiative brought together five congregations and JCC's and established a teacher-leader position, whose focus is to strengthen the engagement of families with young children and deepen the Jewish learning within our Early Childhood Education Academy. We are thrilled to be working alongside Marissa Halle and Myriam Azubel, our liaisons in this endeavor. Through intentional work and programming, we are transforming our Jewish Early Childhood program into a center of engagement and significant learning that will impact our children, parents, and the community at large.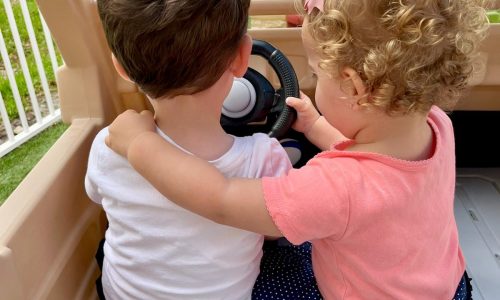 Judaics/Hebrew Specialist –
Our program is enriched by an engaging and interactive Judaics and Hebrew program. Children are active participants and learn Jewish values and holiday celebrations through various modalities including dance, storytelling, Hebrew vocabulary, and a connection to the values that guide our teachings.

Music -The children participate in a weekly music program that is integrated into what the children are experiencing in the classroom. In addition, our music program weaves in holiday tunes, Shabbat celebrations and movement.

Physical Education – Our program includes a weekly physical education program that strives to strengthen the children's gross motor skills as well as balance and coordination. 

Home School Connection – We offer many opportunities throughout the year for school families to be part of their children's educational journey. From holiday celebrations, Kabbalat Shabbat, Generations' Day, and more, families are our partners in enriching and elevating the children's school experience.
We offer small class sizes in both full-day and half-day programs to meet your early childhood education needs.
*Your child will be placed in the appropriate program based on their age as of September 1st in accordance with Miami-Dade district guidelines. Half-day programs are available for all programs, except Junior Kindergarten.
HALBERSTEIN TODDLER LEARNING PROGRAM
Our pre-toddler program is designed for children ages 12-18 months to support growth, build self-esteem, and encourage communication skills, while transitioning to a structured and safe school environment.
HALBERSTEIN TODDLER LEARNING PROGRAM
Our toddler students are introduced to the school environment in a nurturing, fun, and exploratory manner.  Songs, rhymes, movement, and games are an integral part of our classroom environment and help make learning engaging. Our year-long emphasis is to foster independence, develop social skills, and create a community of kindness. 
WHITEBOOK FAMILY BRIGHT BEGINNINGS PROGRAM 
Our PK2 program is taught through an integrated approach to learning.  Students learn how to collaborate with others, build confidence, develop skills in problem-solving, and become better communicators.  Cross-curriculum integration is incorporated into science, mathematical thinking, literacy, arts, music and movement, Hebrew, and dramatic play.
EARLY CHILDHOOD EDUCATION PROGRAM
Our PK3 program incorporates "hands-on" activities as a way to introduce authentic and meaningful learning.  Our students develop cognitive, physical, social/emotional, and critical thinking skills.  Moreover, teachers intentionally create opportunities for decision making, sharing ideas, problem solving, following directions, and collaboration. Our students learn how to apply the learning to their daily life.
EARLY CHILDHOOD EDUCATION PROGRAM
The goal of our Jr. Kindergarten program is to set the foundation to prepare children for the demands of kindergarten and beyond, using our innovative inquiry-based curriculum activities and open ended materials. 
Our experienced  Jr. Kindergarten teaching staff supports and challenges our students through their educational learning. 
Children who graduate from our Jr. K are consistently at the top of their Kindergarten class, and in many cases are welcomed in all gifted programs.
Request a Tour & More Information
Thank you for your interest in Beth Torah's Suzy Fischer Early Childhood Academy. Please fill out the form below and we will get back to you with more information and/or to set up a tour of our campus.
I am deeply committed to the field of Early Childhood Education and the families and children of the Suzy Fischer ECA at Beth Torah—it energizes me to lead this school of excellence as it continues to reach new heights!  Over the last three decades, I have dedicated my career to establishing meaningful, long-lasting relationships with children, parents, and staff, while creating a partnership – a brit – to enrich the fundamental years of early childhood. 
Giving children the tools to teach them how to learn is our ultimate goal.
Our learning environment includes high-quality programming within the framework of a Jewish setting with a nurturing and qualified teaching staff; our classrooms enable children to be active participants in their learning—engaging critical thinking skills, reaching developmental milestones, and acquiring knowledge "hands on."  Ours is a journey that engages the whole family.
It is my hope that as you learn more about the Suzy Fischer Early Childhood Academy, you will also become part of our special community!
To wonderful beginnings,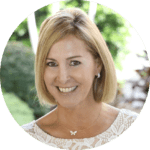 SANDRA KOPP, M.S.

Director of Early Childhood Education
Your Child's Educational Journey
Begins Here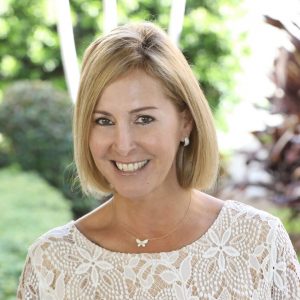 SANDRA KOPP, M.S. 
DIRECTOR OF EARLY CHILDHOOD EDUCATION
Sandra Kopp, M.S., is the Director of Early Childhood Education at the Suzy Fischer Early Childhood Academy. Originally from Argentina, Sandra has worked in the field of early childhood education for over three decades, including five years in Mexico City. She has presented at several national conferences such as the National Association for the Education of Young Children (NAEYC) and has served on the board of the National Jewish Early Childhood Network.
A leader in her profession, Sandra is continually active in the field of Early Childhood education in various educational endeavors.  Sandra is a results-driven change agent and is committed to high-quality programming and best practices; her passion and dedication to education inspire her quest for excellence in the field.  Sandra has a master's degree in Pre-k/Primary Education from Barry University and is a graduate of the JECEI-Covenant Fellowship for Excellence in Jewish Early Childhood Education (2007-2009) and of the Covenant Foundation Fellowship (2009-2010).  Sandra was also a participant in the Harvard's Graduate School of Education's program: Leadership – An Evolving Vision.
Sandra can be reached at skopp@btbrc.org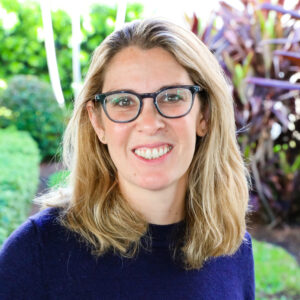 AMY ALDERMAN
ASSISTANT DIRECTOR
Amy has worked at Suzy Fischer Early Childhood Academy for 6 years as the Assistant Director of Early Childhood and before that as a Jr. Kindergarten teacher. She graduated from the Ohio State University with a B.S in Child Development and has 13 years of teaching experience. Currently, Amy is completing a master's degree in Early Childhood development.
Her goal is to continue growing as a professional to give the children at our school the best possible learning experiences to help them grow and develop.
Amy can be reached at: aalderman@btbrc.org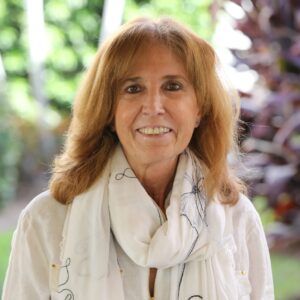 GRACE ERDFROCHT
SUPERVISOR OF TODDLERS AND PK2 PROGRAMS
Grace Erdfrocht has been the Toddlers and Twos Supervisor for the past 10 years.
Grace grew up in Argentina, where she discovered at an early age that her mission was to work with young children. In 1985 Grace moved to the United States and began to work facilitating parent-child and music programs at Beth Torah. 
Grace holds an Associate degree in early childhood education and a Directors Credential from the State of Florida. Grace's favorite thing about working with children is having the unique opportunity to watch them grow and develop. It is inspiring to see a toddler develop into a preschooler and know that I played an important role in their journey.
Grace can be reached at: gerdfrocht@btbrc.org
CLAUDIA MOZES
ADMISSIONS COORDINATOR
Originally from Brazil, she moved to the U.S. in 2019 with her husband and youngest son. Claudia speaks Portuguese, English and Spanish and holds a bachelor's degree in Advertising and Marketing as well as a master's degree in Business Administration.
Claudia joins our team after working in OHLA- Open Hearts Language Academy, an accredited English Languageschool with 7 campuses in Florida. Her responsibilities included Admissions and operations of the campus. She brings to our BTBRC family 15 years of experience in sales and strong marketing skills in upper management. Throughout her professional career, she has worked with companies in the field of education, oil and gas, communication, maritime transportation and pharmaceutical.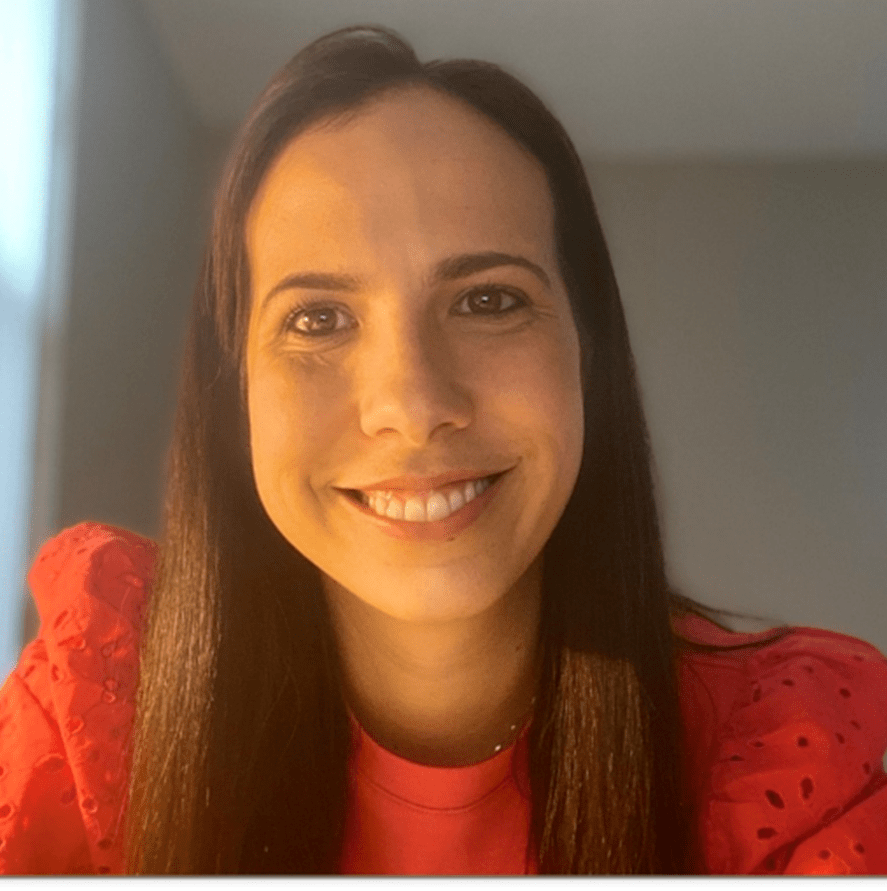 ASTRID BORREGO, LPN
SCHOOL NURSE
Astrid joined Suzy Fischer in 2020 as our school nurse and has over 16 years of experience in her field working with children. She is knowledgeable in obtaining accurate vital signs, medication administration, wound care, and CPR certified. Astrid is a compassionate LPN who is a great communicator and is dedicated to providing the best care for our children and has been instrumental in overseeing and guiding our COVID-19 mitigation plan.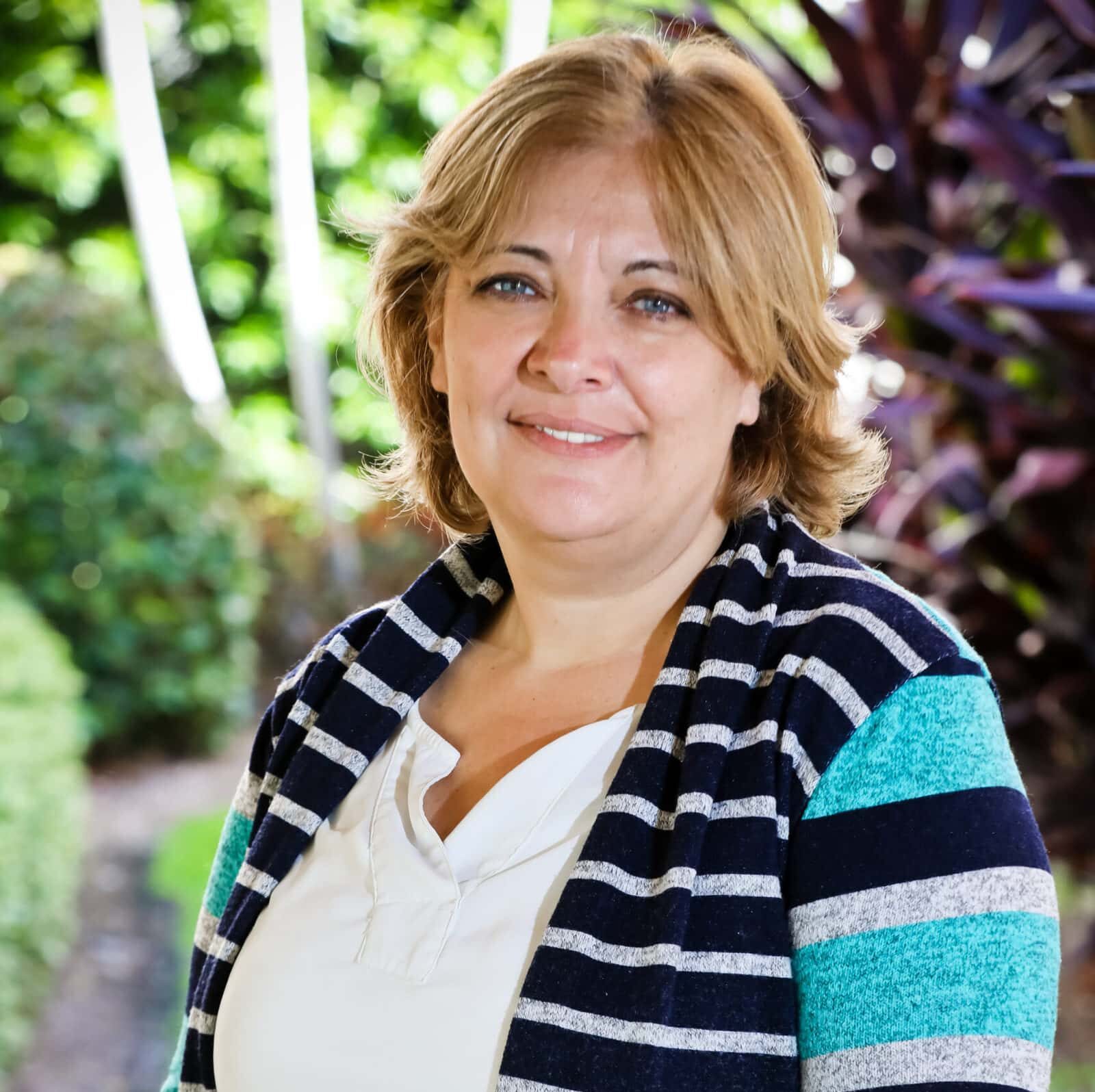 ERIKA LEWINSKI 
ADMINISTRATIVE ASSISTANT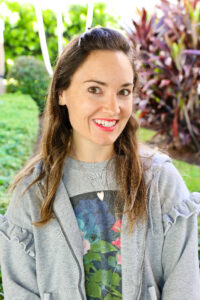 PAMELA SALABI
RECORDS SECRETARY
Thank you so much for all your support in these challenging times. You have been amazing and it really warms our heart to know that you are there for us.
We greatly appreciate your help and we send all our love.
I wanted to personally thank you for making the transition back to school really seamless. I am already seeing subtle changes in [my daughters] mindset and attribute this to both of you and of course her wonderful teachers Jessica and Gaby.
I'll take this opportunity to share with you how happy our family is at Beth Torah. Our kids are happy, thriving and learning. I am also so impressed with the way the school has managed Covid and our new reality.

Your entire staff has been so welcoming and helpful through the transition to your school. Our kids feel safe and loved there.
Thank you, thank you, thank you for everything you, the entire staff and most importantly, the teachers do every day for the students.
I feel very comfortable and thankful to have you as the Principal and Ms. Linda as his teacher more than you will ever know ... you all are very very special to us.

Knowing how happy our child is there makes our lives happy... that is priceless. Can't wait to put the new little guy there as soon as he's ready!
Ms. Lucia and Ms. Dora My gratitude for you and all you do is endless!
Thank you for doing all you do to keep our kids happy, healthy and safe!
Thank you Beth Torah ECA teacher and staff for being such an important part of our life during the last few years. Sharing the journey of educating our child with you has been a true blessing. You have provided the most caring, fun, personalized and stimulating environment we could have asked for. Your school is full of happy kids and that speaks for itself!

In 2020 when a pandemic impacted all of our lives, you proved that you go above and beyond for our children. Our son counted the days to go back to school and since then, has never stopped smiling. Seeing him flourish with your partnership has been a joy. Please know with certainty that from the little things to be big things, nothing has been unnoticed. Thank you.
I can certainly say that this has been my son's best year ever!!! and of course this all happens over the amazing Beth Torah platform and staff working behind the parents' eyes to make all of this happen.

Thank you all for all the hard work and loving work you put in everyday for our families.
I'm writing to you to congratulate the school for having such an amazing teacher and human being as Miss Kattia.

As a mom who through the years tried different schools and get to know different teachers, she has exceeded our expectations by providing my son with emotional and academic support throughout this difficult year.

My son is a happy boy and always goes to school with a smile. He learned so much about Jewish values, learning, behaving, expressing, creating, and so much more because of her. She is one of a kind!

She is a great value to the school and has been a blessing to each kid that has the privilege to be in her class!
I'm sure this has been a very difficult year for all teachers, but your staff and your teachers are amazing. Just to take the risk to go back to school even when vaccines were not out there and standing up and putting the kids first said a lot about the passion and professionalism.
Yesterday we had our parent teacher conference. It was such a beautiful conversation, my daughter loves her teachers and has grown so much since she started school. Her language, her skills and her confidence have grown a lot. We are beyond grateful for making our daughter feel loved and safe in such a crazy year. We love the school, our teachers and the amazing community you have created.
After yesterday's Parent Teacher Conference and our conversation about our daughters, I felt so reassured to have them at Suzy Fischer ECA.

During these unprecedented times, with COVID-19 still lingering, I just wanted to take a moment to say how thankful I am to have both our daughters in this school with such amazing and committed teachers.
EMAIL  SANDRA KOPP, M.S.,
DIRECTOR OF EARLY CHILDHOOD EDUCATION