Adult Education; Yehuda Michael: Start-Up Nation; How did Israel become a world leader in technology?
Monday, November 27 @ 7:30 pm
Join us for our next Adult Education session on Monday, November 27th at 7:30 pm! Explore the excellence of Israel's science and technology and understand the impact of the war on its economy with Yehuda Michael. Come, learn, and engage in a thought-provoking discussion!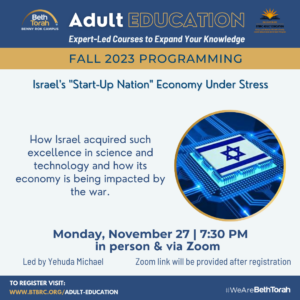 Related Events
Dates, times, and details subject to change