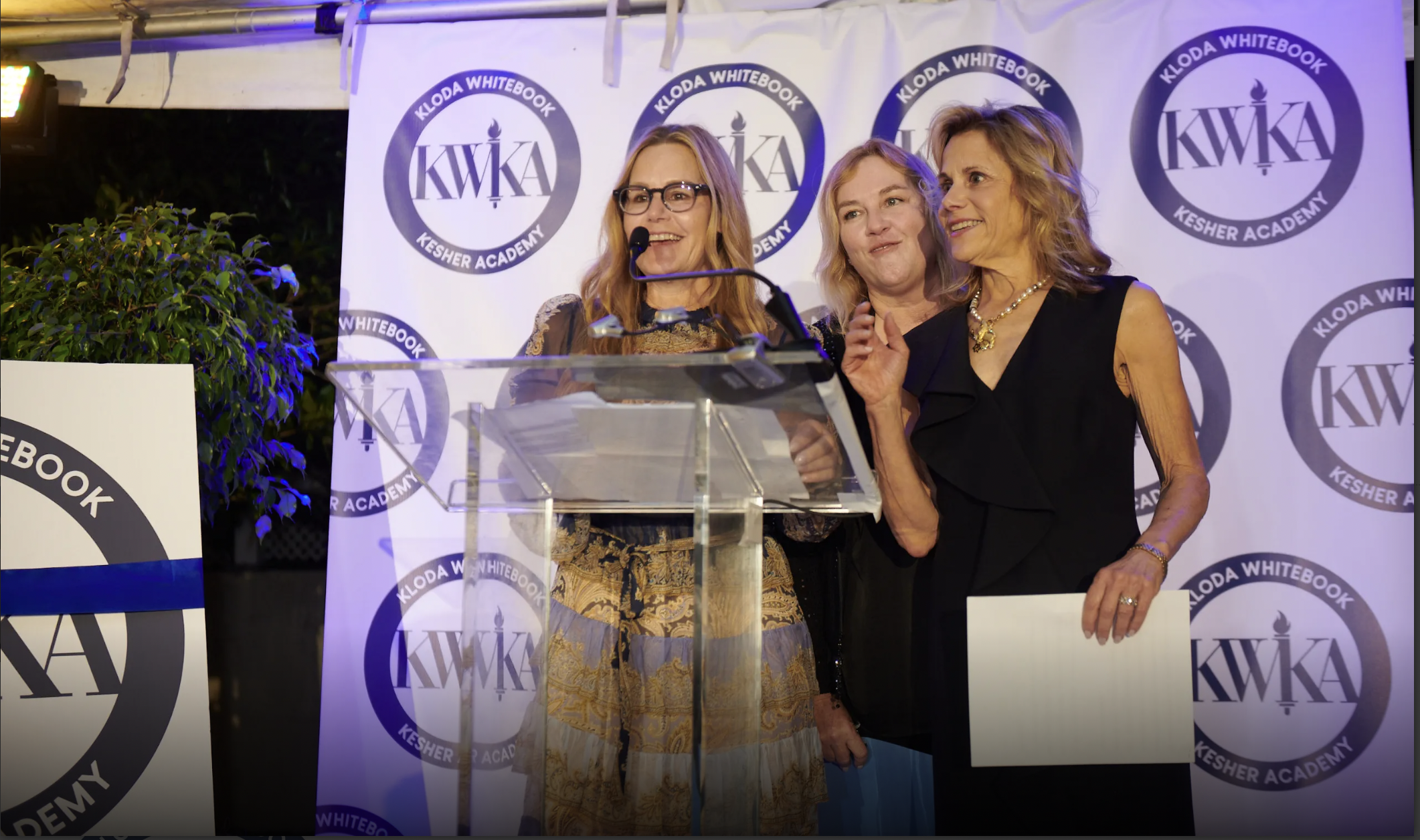 School Rededicated as Kloda Whitebook Kesher Academy at Elegant Outdoor Gala
Kesher, the premier independent Jewish Day School serving children with learning disabilities and developmental delays, hosted its 26th annual Chai Society Scholarship Journal Dinner. It was a beautiful outdoor event at Beth Torah Benny Rok Campus in Aventura. The evening also served to showcase the school's re-dedication as the Kloda Whitebook Kesher Academy (KWKA), in honor of Cheryl and Ruben Kloda's and Hedy and Danny Whitebook's magnanimous and enduring contributions to the school over the last 25 years.
Rabbi Dr. Ezra Levy, Kesher's esteemed Head of School, stated, "The rededication is just one way to recognize the selfless determination of Cheryl and Ruben and Hedy and Danny, whose son Adam is a proud Kesher Alumnus.  Together this family have helped shape a generation of our students."
Levy added, "While the name Kesher has been synonymous with special education in South Florida since 1995, the Kloda and Whitebook names are synonymous with community leadership, thoughtfulness and caring for others."
Dr. Diane Wander, Kesher's Board Chair "I feel so very proud to be at Kesher's helm at this very significant moment in our school's history. Once Kesher opened its doors on the Samuel Scheck Hillel campus in 1997 where I was then serving as Elementary General Studies Principal, I worked closely with Kesher staff to ensure that Kesher students were mainstreamed as much as possible into Hillel classes and activities. Twenty-five years later, Kesher has become an institution of learning that serves as a model for Jewish day schools nationwide seeking to provide for the academic, social, and emotional needs of every Jewish child.'
Following a two-year hiatus due to the Covid pandemic, Ilene Weinkle, Director of Development and Admissions Coordinator, assembled an amazing and dedicated dinner committee.  The annual dinner therefore returned with a packed house and an extra dash of elegance. In addition to the rededication, Romi Artzy was honored with the 2022 Student Volunteer Award. She, along with other current and former Kesher students, publicly expressed their gratitude to Kesher for the opportunities afforded them to learn, grow and thrive in a unique environment.
The largest program of its kind in the United States. KWKA offers the finest quality Judaic and secular education within a day school environment. The school is fully accredited by SACS (Southern Association of Colleges and Schools) and AISF (Association of Independent Schools in Florida). Students, in grades 1-12, learn in self-contained classrooms and, where appropriate, are mainstreamed into traditional day school classes and campus life at Scheck Hillel Community School, where KWKA is hosted.
As part of KWKA's mission, the school also aims to guide other schools in providing an education in both Jewish and secular studies to meet the needs of the individual student and empower each student to reach his/her highest level of independent and interdependent functioning. The school will soon be launching a vocational initiative for graduates who cannot continue to traditional college or university.
A large percentage of KWKA, students, receive financial aid through the generous support of the Greater Miami Jewish Federation as well as foundations and private donors. The annual dinner provides much needed additional scholarship funds.
Hedy Whitebook, offered, "Our family only hopes to continue to provide children with special needs with a program of this caliber and devotion to its student population."
For more information on Kloda Whitebook Kesher Academy, please call (305)792-7060 or visit https://kesherld.com/