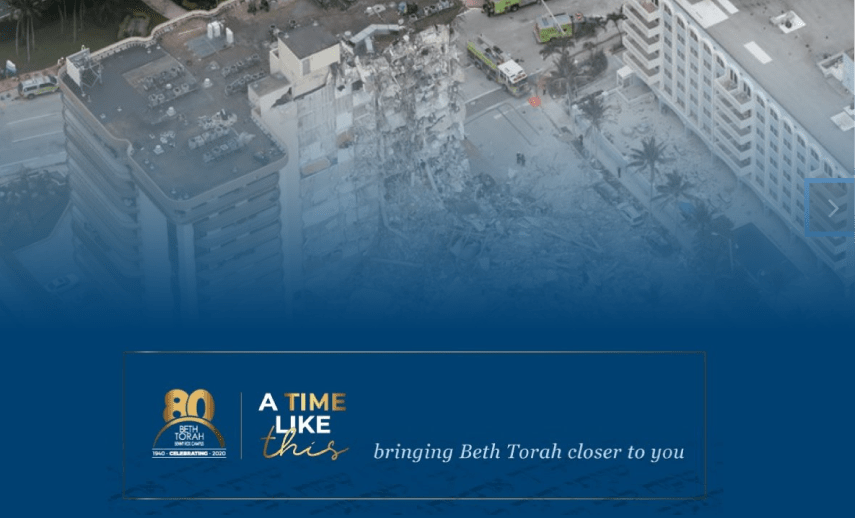 6/25/2021
Friends:
As the search and recovery efforts continue at the Champlain Towers South Condo building in Surfside, the Jewish community continues to provide hope and support to those in need, in partnership with local and state officials and other community organizations. We are grateful and inspired by so many Beth Torah members who have made contributions and provided goods to help those impacted by this tragic event. In the face of unimaginable tragedy, there has been a true expression of solidarity.
Beth Torah Benny Rok Campus and other synagogues and community organizations are demonstrating how important it is to belong to a community – even when someone feels alone, they are embraced by unbridled support and love. That is the power of community. That is the power of the Beth Torah community.
We continue to offer strength, love, and prayers to all the Beth Torah families who are impacted. Beth Torah's clergy are available to support you and everyone at this challenging time; contact Marla Cohen at (305) 932-2829 or mcohen@btbrc.org to be connected with a member of our clergy.
Since this is a developing situation, we want to continue sharing additional details that are available:
Donations – items
At this time, we've been asked to stop collecting items in order to provide time to get the items already donated to those who need them. Should this change and we learn of needs for specific items, we will resume collection at that time.
In lieu of donating items, you may consider purchasing gift cards from Target or Marshalls that we will collect at Beth Torah and make available to families, as needed. Gift cards may be dropped off at the security checkpoint.
Donations – monetary
Beth Torah is accepting monetary contributions to support those impacted. Please go to the Beth Torah Donation page and indicate "Champlain Towers" on the donation form.
Power of Prayer
During Shabbat, we have the unique opportunity to come together to pray for the safety and wellbeing of all who have been recovered, those who are still unaccounted for, and those who are involved in the search efforts. Please join us in person or online for Shabbat services on:
Friday, June 25 at 7 p.m. (Facebook Live or YouTube)
Saturday, June 26 at 9:30 a.m. (Facebook Live or Livestream)
We will share additional information regarding the situation and what we can do to help those impacted as it becomes available.
May God bring continued strength to all in need of healing.
Shabbat Shalom,
Rabbi Mario Rojzman
Rabbi Ed Farber
Cantor Gaston Bogomolni
Jill Koch, President
Michael Cotzen, Executive Vice President
Matthew G. Halpern, Executive Director