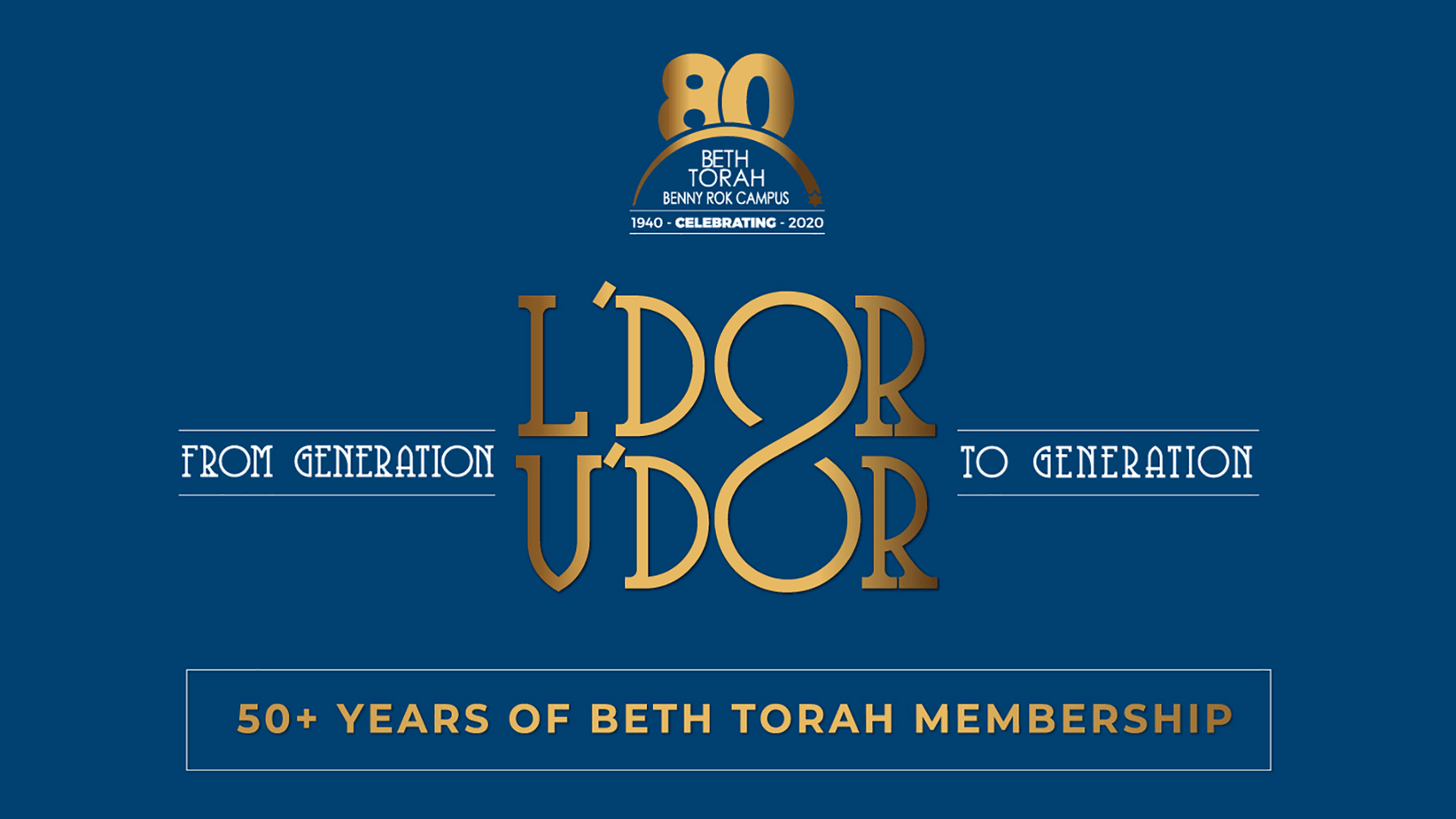 RECOGNIZING THE BALTUCH FAMILY
Take the ingredients of two Jewish families, one transplanted from NYC to Miami Beach and the other from Washington Heights, NY, moving to Bayside, Queens.  The eldest child from each family loved their Yiddishkeit, their youth groups and got involved in both formal and informal Jewish education.  Very similar motivation and commitment to Jewish causes brought together Marshall Baltuch and Rochelle Fluxgold.
Marshall grew up at North Shore JC on Miami Beach (now Temple Menorah) with Norma Rabinowitz Ralby (Rabbi Max's sister) & Abraham Gittelson being his religious school and Bar Mitzvah teachers. He went through the ranks of USY.
After graduating Beach High he attended University of Florida. He went to an inaugural convention of a college-age organization. The first chapter of ATID in the country was at UF and he became the Founding International 1st VP.  It was at the five-year convention that he first met Rochelle Fluxgold, who was much younger than he. It was a casual acquaintance.
During these years, Marshall's career as a Youth Director blossomed.  After serving as a USY Advisor at Beth David, Emanu-El and B'nai Raphael (all at the same time), he was drafted by Beth Torah to come as their first full-time Youth Director and built the youth program, which was recognized as the outstanding youth program in the Movement.  Rabbi Lipschitz, Abraham Gittelson and Marshall Baltuch worked together as a team to make it all happen.
In 1968, Marshall was invited to serve as the Metropolitan NY USY Regional Youth Director where he stayed for the next two years. One of his six field workers was Rochelle Fluxgold who he connected with on a more regular daily relationship.  Rochelle had become an ATID International officer and then staffed the ATID Bookmobile, traveling to college campuses throughout the country.  Marshall moved back to Florida in 1970, as Southeast Region Youth Director.  Rochelle visited, they became engaged and then after a seven-month long-distance love affair, they were married in NY on Father's Day, Sunday, June 20, 50 years ago this Sunday.
This young couple immediately became involved in synagogue life and served on the Board of Governors of the new Hillel Community Day School. In 1973, Marshall became the first Executive Director of the school where he remained for the next 30 years.  The school grew from 65 to 1,400 students during his tenure and the friendships they made are their friends and community of today. Rochelle became the PTA President for three years.
Robyn was born in 1973, followed by Aleza in 1977.  This committed family came to services, programs and almost daily meetings. Robyn became the first Seudah Shlisheet baby naming in the old social hall behind the sanctuary. They attended USY LTI's and conventions as infants and were always in the forefront of USY leadership at Beth Torah and on the regional level. They both attended Hillel for 16 years from PK thru High School; Robyn, President of the first Senior Class in 1991, and Aleza, President in 1995.  Robyn went to Indiana University and then earned a degree in Interior Design from the Art Institute.  Aleza graduated Syracuse University in three years and attained her M.A. in Child Life from Wheelock College in Boston.
Rochelle was a most pleasant addition to the Beth Torah community, and everyone fell in love with her immediately and she fell in love with Beth Torah.  Within five years, at age 28, she became Sisterhood President and a member of the Congregation Board of Directors.  Together Rochelle & Marshall went up the leadership ranks of the synagogue ultimately becoming the first husband and wife to both serve as President of Beth Torah.  Rochelle served as President of the Florida Branch of Women's League and as a National Vice President.  Marshall continued his leadership as President of Southeast Region United Synagogue, a National Vice President and Chairman of the National Youth Commission for eight years.  He was appointed among the first lay members of the Jewish Theological Seminary Law Committee and was also on the Board of Directors of Mercaz and the World Council of Synagogues. Rochelle was on the Southeast Region Board, Executive Vice President and on the National Board for many years.
Rochelle was a Religious School teacher at Beth Torah, then became Education Director of Adath Yeshurun.  With the merger of the two synagogues, Rochelle moved on to CAJE in Broward County, helped start the March of the Living nationally and staffed the first March in 1988.
Robyn attended the March in 1990 and staffed three additional times.  Marshall staffed in 1992, and Aleza participated in 1994.  Rochelle became the Director of the March for Broward County and has been leading the program for the past 33 years.  Marshall staffed 19 March programs for teens, adults and college Birthright experiences. He joined with Leo Martin and was the Founding Executive Director of Friends of the March of the Living and directed the program for CAJE-Miami and the GMJF from 2006-2010.
     Robyn became an Event Planner and began Baltuch Designs, a company which plans, manages, creates and consults for events for individuals and corporations worldwide.  Aleza's career started as a Child Life Specialist in Pediatric Transplant Surgery at Jackson in Miami and then transferred to Bellevue Hospital in NY.  She met and married Lance Winslow in 2004. While having five children –  Zachary, Ariela, Avi, Joshua & Yakira z"l – in 4 years and 3 weeks, Aleza went to nursing school at Pace College and received her Masters in Nursing and became a Labor & Delivery Nurse at Mt. Sinai Hospital.  The family moved to Bergenfield, NJ, and the children attended Moriah Day School.  Aleza developed a brain tumor, had successful surgery and went into remission for two years. She became the "receptionist and front face of Moriah" and was loved by everyone.  Unfortunately, the tumor reappeared and Aleza lost her battle with cancer on March 15, 2015.  She is missed by all who knew her.
Marshall was called back to Beth Torah in 2010 as Executive Director and then Director of Development.  In 2012, the former USYers over the decades at Beth Torah and throughout the Region honored Marshall for 50+ years of changing Jewish lives.  The Shalom Garden was dedicated in his honor and the Marshall Baltuch Scholarship Fund was established.  Beth Torah named the Marshall Baltuch Gateway to our Youth, Jewish Life and Learning for 50+ years of changing Jewish lives. He is culminating his career with the 80th Anniversary Celebration of Beth Torah and the Campaign Director of the Sanctuary Rededication Project. Rochelle continues her career as Vice President of Jewish Engagement & Director of March of the Living at the Jewish Federation of Broward County.
Rochelle & Marshall Baltuch, the "committed couple," have served Beth Torah and Klal Yisrael their entire lives.  We recognize their service and leadership for the past 58 years and we thank them for enriching our lives and the lives of our future generations.  Happy 50th Wedding Anniversary!
________________
Each week one of our generational families will be recognized by our congregation blessed
by the rabbis at both the "virtual" Friday evening and Shabbat morning services.
Over 50 families have been identified with 50 + years of membership at Beth Torah and another
25 families as their children, grandchildren and great-grandchildren who are currently members of Beth Torah Benny Rok Campus.
To view the Services:
Friday night: https://btbrc.org/livestreaming/ 
Click on Perez Chapel at 7:00 pm
Shabbat Morning: https://btbrc.org/livestreaming/
Click on Perez Chapel at 9:30 am