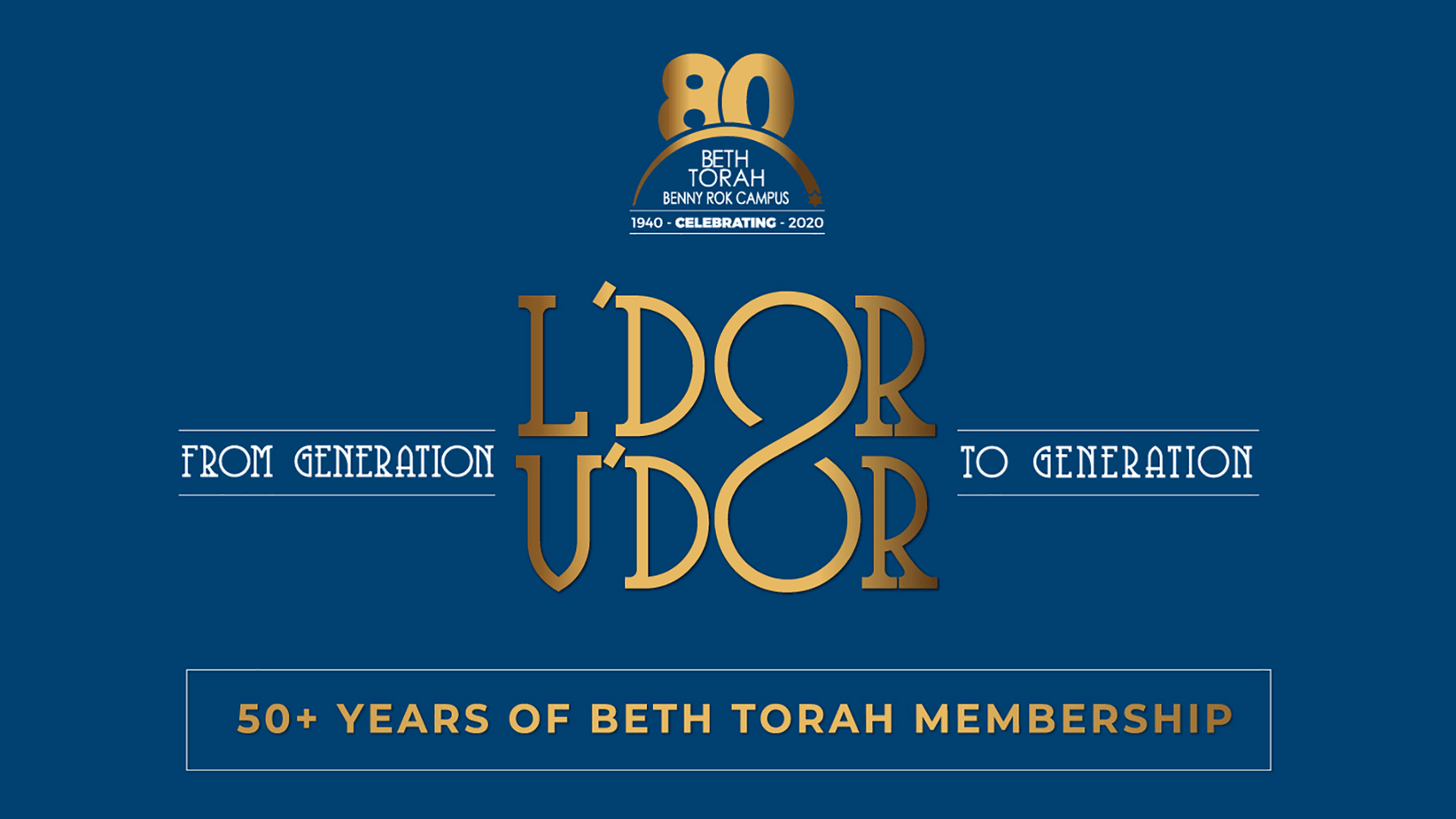 RECOGNIZING THE HILDEBRANDT & LASKIN FAMILIES
Lois, from New York City, and Sanford "Sandy" Hildebrandt, from Newark, NJ met in Jr. High School on Miami Beach in the 1940's and tied the knot for their future life together in 1953.  They moved to North Miami Beach in 1954 with their infant daughter, JoAnn, and joined the Jewish Center of Monticello Park.  Mark & Lisa were born later.  All three children grew up and attended Nursery School, public school and Jewish education at Beth Torah where they became a Bar & Bat Mitzvah.
Sandy worked in government subsidized low-income housing management around the country and Lois stayed home to care for their three children.
Elnora "Ellie" & George Laskin met in Miami Beach in 1946.  Ellie came from Waco, TX and George was raised in Manhattan. 
George served as a Mess Sargent in the Army during WWII and came to Miami Beach to find a new life.  Ellie came to settle in a new area and chose Miami Beach.  Little did they know…    
George opened various restaurants and night clubs on Miami Beach and gave Ellie a job as a waitress.  It wasn't long that they got married and started raising a family.  Melvin was first and then along came Roni in 1955 and Linda after.   They grew up in Little Havana where they lived and went to Beth David where the kids went to Religious School and Jr. Congregation.    
The Laskin Family moved to North Miami Beach in 1966 and joined Beth Torah where Roni became a Bar Mitzvah.  He met JoAnn in high school in 1970 and they were married ten years later.  They had Jonathan and Stephanie and moved to Weston for almost 20 years.  They then moved to East Hollywood where they live today overlooking the serenity of the ocean and rejoined Beth Torah where they have been ever since.     
Lois & Sandy were always supportive of Beth Torah growth and development.  They were Mt. Sinai Society members and active at Sylvester Cancer in the early years, as well as being actively involved with the AMC.  Sandy was an Honorary Trustee of Beth Torah until his passing in 2009 when Lois was named to continue his position which she did until her recent passing last year.  They were blessed with caring children, JoAnn & Roni, Mark & JoAnn and Lisa z"l & Kenny, who gave them six grandchildren, Stephanie & Jonathan z"l, passed away from cancer at age 17 in 2003, Jamie and Jessica, Kevin & Courtney and four great-grandchildren; Jayden, Shane, Skyler & Jordan.
After JoAnn graduated USF, she went to work as a teacher in Dade County and Palm Beach County schools; after having her children, JoAnn was hired to direct and teach  the Elementary Gifted Program.  Both Stephanie and Jonathan attended the Samuel Scheck Hillel Community Day School (now Scheck Hillel Academy).  After her tenure at Hillel, JoAnn became Principal at the Sagemont School in Weston until her retirement in 2014 when she began Fusion by Design; a fused glass business where she creates beautiful, fused glass art pieces which can be found in homes throughout South Florida.  Roni was a CPA for the past 45 years.
JoAnn & Roni have become Life Members of Beth Torah as were Sandy z"l & Lois z"l and continue the family legacy.  This wonderful family has been part of our generational history for the past 68 years.  May they continue to show our future the way as we celebrate Beth Torah's 80th Anniversary.
________________
Each week one of our generational families will be recognized by our congregation blessed
by the rabbis at both the "virtual" Friday evening and Shabbat morning services.
Over 50 families have been identified with 50 + years of membership at Beth Torah and another
25 families as their children, grandchildren and great-grandchildren who are currently members of Beth Torah Benny Rok Campus.
To view the Services:
Friday night: https://btbrc.org/livestreaming/ 
Click on Perez Chapel at 7:00 pm
Shabbat Morning: https://btbrc.org/livestreaming/
Click on Perez Chapel at 9:30 am