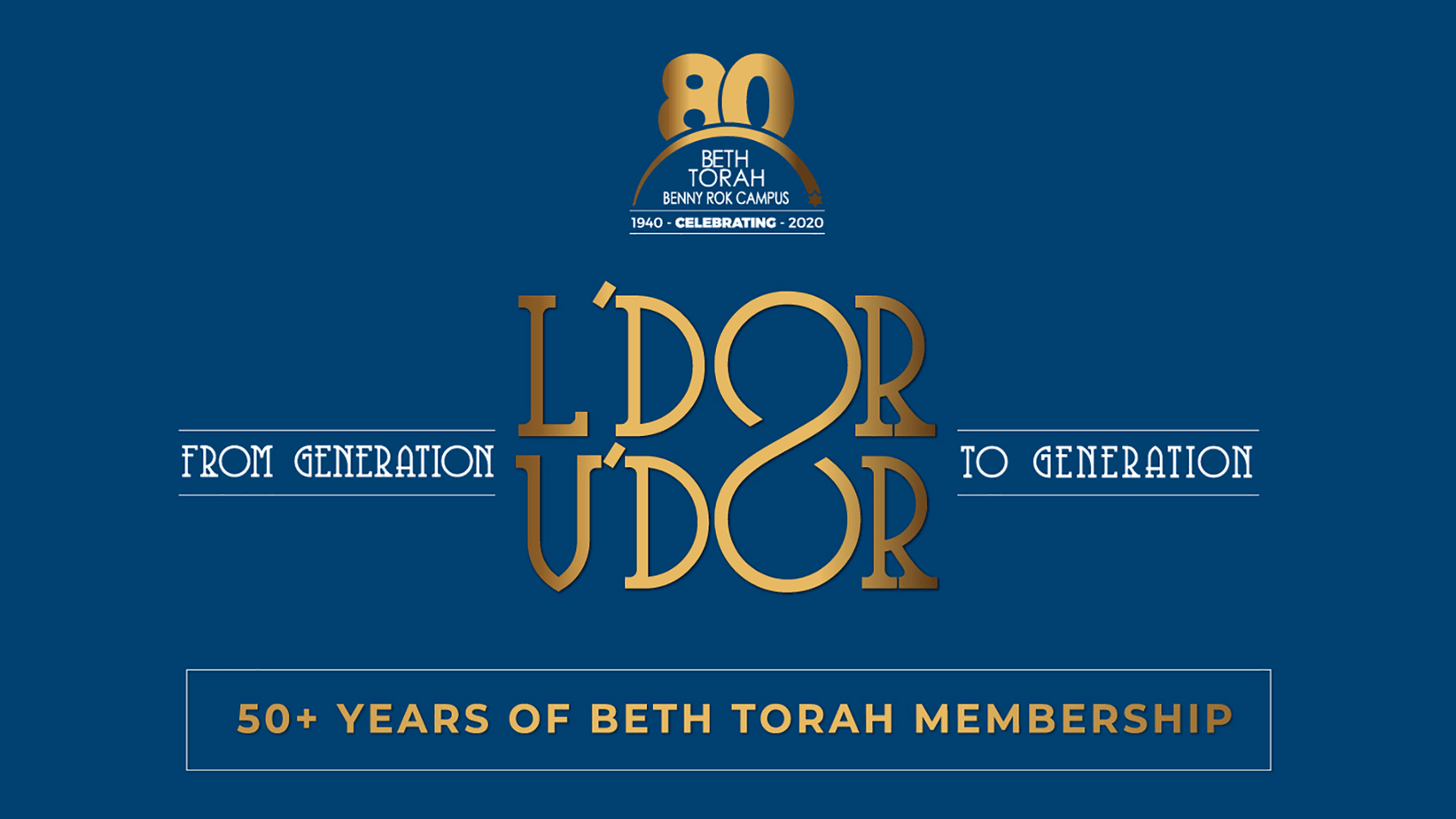 RECOGNIZING THE ENGEL FAMILY
Lester Engel was born in New York City and raised in Brooklyn, growing up at the East Midwood Jewish Center. After high school he attended the City College of New York and then to University of Miami Law School. It was there that he met Peggy Ann Griffin, a native Floridian, in 1957.
Peggy and her girlfriend had two blind dates with Lester and his roommate. When they showed up, it was "instant love." Peggy and Lester got married in 1959. The family moved to North Miami Beach with three young children, ages 6, 4 and 1. They joined Beth Torah Congregation in 1967 where Marcie, Marc and Lesli attended nursery school where their early Jewish education began. All three children became a Bar & Bat Mitzvah at Beth Torah. They all attended the Hebrew Academy on Miami Beach for an intensive day school education.
Lester was a practicing attorney until his retirement in 1993. He joined the Beth Torah Board of Directors in the 1970s and went up the ranks in various leadership positions and became Executive Vice President from 1981-1983 and then President from 1983-1985. He was an avid boatsman and named his boats for Peggy, the love of his life. He also enjoyed white-water rafting.
The children pursued their college education out-of-state. Marcie went to Sarah Lawrence College in Bronxville, New York and married Michael Lewitt. They have three children, Alessia (Louis) Giorgi with infant Grace, Lester's first great-grandchild, Alex and Preston.
Marc attended Emory University in Atlanta and the University of Miami Medical School. He married Mariela and they have four children, Gabrielle, Ariel, Danielle and Aaron. Marc is in private practice as a neuro-radiologist.
Youngest daughter, Lesli, went to Boston University and has two children, Samantha & Zachary, which gives Lester nine grandchildren and one great-granddaughter.
Peggy z"l, passed away in 2015 and is sorely missed by family and friends. Family is the most important ingredient in Lester's life and he is very thankful to the members of Beth Torah for everything they have done for so many years to keep Beth Torah strong.
We are saddened to share the untimely news of the passing of Lester Engel on Sunday. He was laid to rest on Wednesday, his birthday, next to his college sweetheart, Peggy Ann. May his family cherish the memories they shared with him.
The Engel Family and especially Lester's vision as Congregation President, has been an integral part of the growth and development during the past 54 years as a generational family.
He will be missed.
________________
Each week one of our generational families will be recognized by our congregation blessed
by the rabbis at both the "virtual" Friday evening and Shabbat morning services.
Over 50 families have been identified with 50 + years of membership at Beth Torah and another
25 families as their children, grandchildren and great-grandchildren who are currently members of Beth Torah Benny Rok Campus.
To view the Services:
Friday night: https://btbrc.org/livestreaming/ 
Click on Perez Chapel at 7:00 pm
Shabbat Morning: https://btbrc.org/livestreaming/
Click on Perez Chapel at 9:30 am