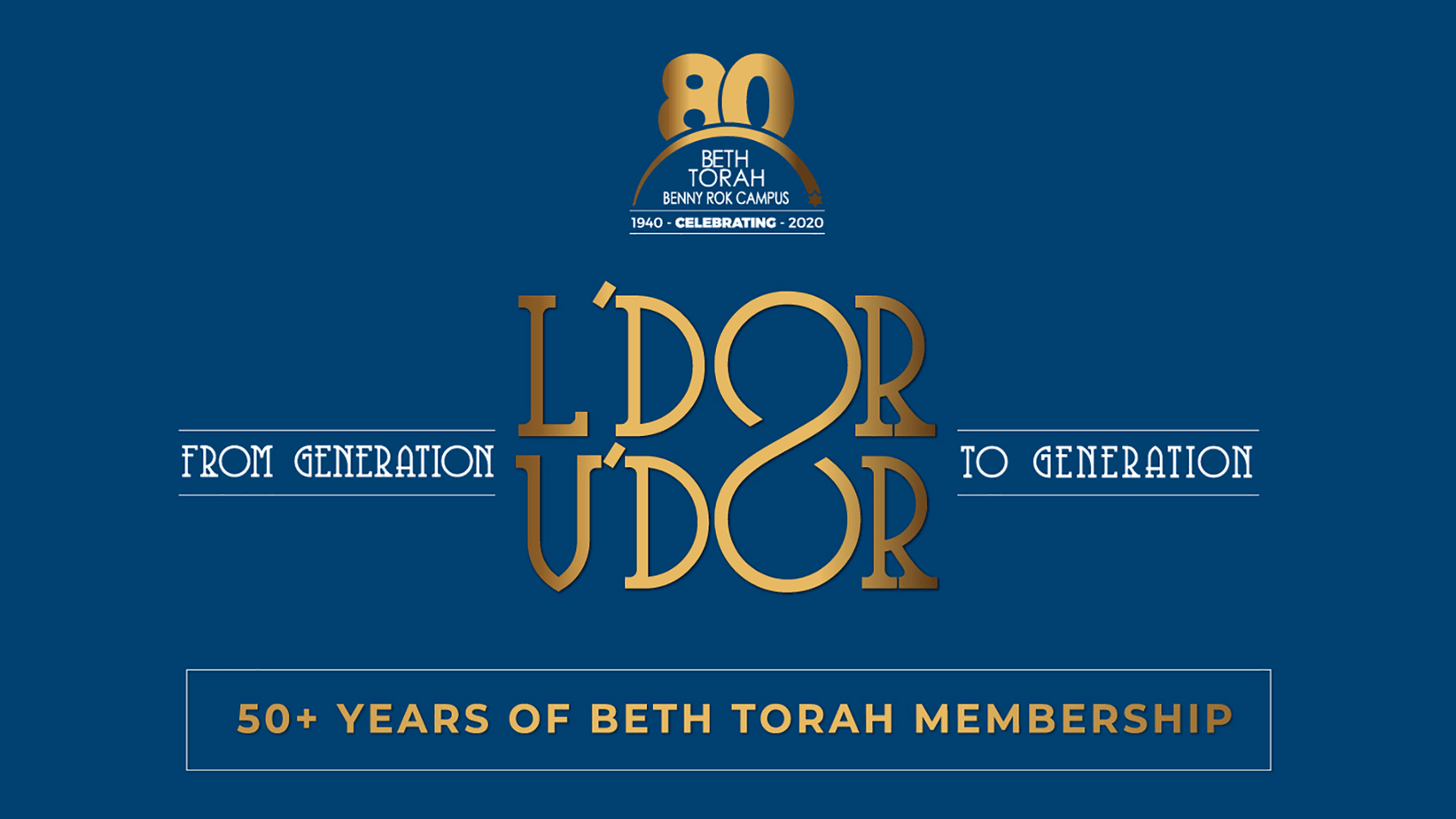 RECOGNIZING THE EDELSON z"l, WINTON & BLOOMBERG FAMILIES
Arthur and Florence Winton were married on December 24, 1949 in Rochester, New York. David was born after Arthur was in his first year of law school at Columbia.
    
In May of 1951, after finishing his second year at Columbia, David, Flo, and Art drove to Miami Beach to see Flo's mother and brothers. They were only planning to stay for a couple of weeks, but Flo's mother, Pearl, was having some health issues and Flo did not want to leave her.  Sooo, Arthur drove the car back to NYC, packed up the apt. and drove back and S. FL. was to be "home" for the rest of their lives. 
     
Arthur walked into the admissions office at the University of Miami with his transcript from Columbia and asked if he could transfer.  The admissions officer said no one had ever asked to transfer from Columbia. He was admitted that day and the rest is history.
    
They all moved in together with Grandma, Flo's two brothers, and then Arthur's younger brother. His older sister came down from Rochester to work as a private nurse for Rabbi Lipschitz's father. This would be the first of several connections with Rabbi Max. 
    
After being admitted to the bar in 1952, Arthur went to work for Harold Ungerleider and soon became partner in the firm.  His law office was on Lincoln Rd.   For six years, just before Lisa was born, Flo worked for Jewish Federation on Lincoln Road. Most of her responsibilities centered around fundraising.
    
In 1953, Arthur & Flo moved the family to NMB and joined the Jewish Center of Monticello Park along with Grandma Pearl.  In 1954, Arthur was appointed one of the first judges in NMB along with Arthur Snyder.  He also served as General Counsel for the NMB Water Board.
    
David started Sunday school in 1955 when Monticello Park was raising funds to build a new synagogue.  David remembers buying miniature concrete bricks to symbolize the new construction.  Lisa was born in 1958 and had her baby naming at the synagogue. Shortly after Rabbi Lipschitz came to Beth Torah in 1959, David started Hebrew School.  Mrs. Diamond was his teacher over the next few years until his Bar Mitzvah in November of 1963, and later taking confirmation classes taught by Mrs. Seidel…powerful educators of the past.  Both husbands were former Presidents of the synagogue.
    
In 1962 the family moved to Skylake where they lived for the next 55 years.  Flo was very active with the National Council of Jewish Women and became President of the Greynolds Park Chapter of Women's American Ort.  As if that wasn't enough, she was pregnant with Donna.
    
It was during an ORT luncheon when Rabbi Lipschitz was the guest speaker, he and Flo found out how much they had in common.  They were both born on the same day and the same year.  If that wasn't coincidental enough, the Rabbi's sister, Florence, was married to Flo's cousin Jerry Gordon.  After that they referred to each other endearingly as "kissing cousins."
    
David joined USY in 1963 shortly before his Bar Mitzvah after a year of studying with Cantor Kirshenbaum. Through David's involvement with USY, Art and Flo became a part of the leadership fabric of Beth Torah. As a USYer, David served as a chapter officer, sub-regional VP, regional convention chair, regional VP, and international VP.  David also represented Beth Torah and Southeast Region USY at CAMP USY in Glen Spey, New York in 1966, and on Israel Pilgrimage in 1967.
    
In 1971, Lisa became a Bat Mitzvah with Hazzan Renzer as her teacher. Lisa attended Hebrew School  and waited at the gift shop until Flo was ready to close. Lisa was also very involved with USY serving as BT President and International VP.  She went on USY on Wheels in 1973 and attended Camp Ramah in 1974 and again in 1975 as a staff member.
    
Donna grew up at Beth Torah.  From her baby naming in 1962, Donna went to nursery school, Hebrew school, became a Bat Mitzvah, belonged to Kadima, was confirmed and participated in High School in Israel.
    
The Winton Family attended Shabbat services regularly where Arthur. AKA "the Judge" would usher until he moved backstage to help prepare the kiddush with Arthur Moyel, members from Sisterhood, and the kids.  During the summer Lisa and Donna loved day camp at Beth Torah. 
     
During this time and until his passing in 1991, Arthur held many offices including, House VP, Youth VP, and 1977-79 President  as well as serving on the Board of Directors as a Vice President of Southeast Region United Synagogue and Regional Youth Commission Chair.  He also served on the National Board of Directors and National Youth Commission for a number of years.  Flo ran the gift shop for Sisterhood for many years as well as serving on numerous fundraising activities for the Congregation.  One would always see Art and Flo helping out at regional USY conventions and LTI.
    
In addition to their commitment to Beth Torah, they were Founders of the Hillel Community Day School in 1970. Donna was in the first 3rd grade class at the Hollywood Campus on Monroe Street with a total of 65 students from PK-6th grade.  Arthur could always be found spending time with Elizabeth in the kitchen. They both served on the Board of Governors for decades and Arthur served as a Vice President on the Executive Board. They started the Hillel Thrift Shop and spent most days and Sundays actually operating the Shop.  Flo continued to manage the Thrift Shop until 1999. As managers of the Thrift Shop, they raised over $100,000 annually for scholarships for the students which enabled Hillel to ensure a Jewish education for all those who desired to attend. 
    
In December 1998, Rabbi Max and Rabbi Farber officiated at Donna's wedding to Ron Bloomberg. Ron and Donna welcomed daughter Veronica in 2002.  Keeping with the family tradition, Veronica had her baby naming by Rabbi Max in November. Veronica attended Pre-K and Kindergarten. It was then that Donna served as PTO President.  Veronica celebrated her Bat Mitzvah in 2015.  Both Donna and Veronica share a passion for volunteering at the Kosher Food Bank.
    
Flo passed away in 2016, twenty-five years after "the Judge".  It's now been over 67 years spanning four generations since the Edelson & Winton Family first joined Beth Torah. They truly appreciate being a part of this 80th Anniversary Celebration and the legacy Beth Torah has given to them.
 ​​​​​​
---
​​​​​​​Each week one of our generational families will be recognized by our congregation blessed
by the rabbis at both the "virtual" Friday evening and Shabbat morning services.
Over 50 families have been identified with 50 + years of membership at Beth Torah and another
​​​​​​​25 families as their children, grandchildren and great grandchildren who are currently members of Beth Torah Benny Rok Campus.
To view the Services:
Friday night: https://btbrc.org/livestreaming/ 
Click on Perez Chapel at 7:00 pm
Shabbat Morning: https://btbrc.org/livestreaming/
Click on Perez Chapel at 9:30 am