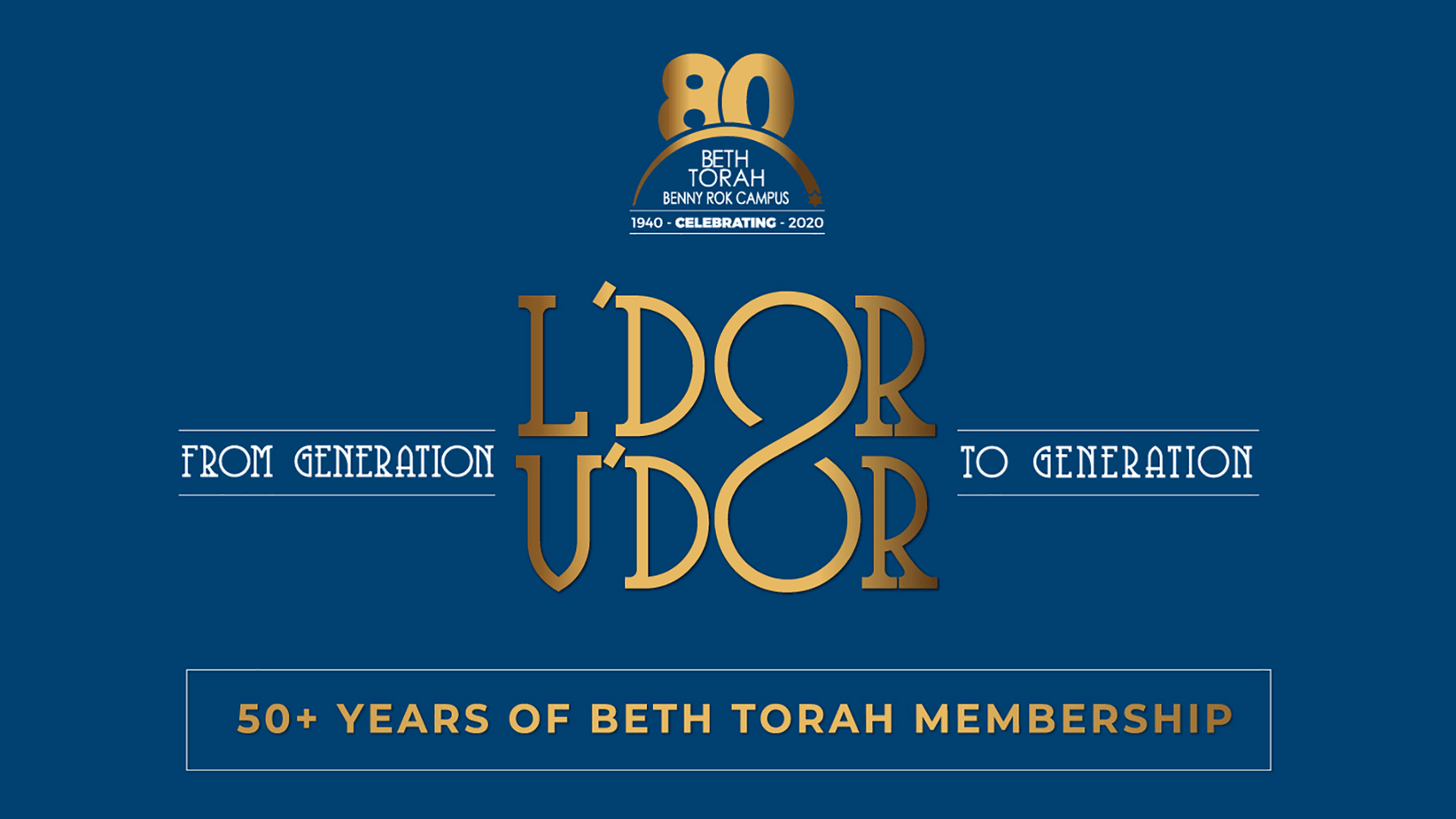 RECOGNIZING THE TOTH z"l, FERREIRA & BUCHHOLZ FAMILIES

Geraldine "Gerri" and Michael Toth were both born in New York. Gerri, in the Bronx, an only child, and Michael from a poor family with 10 siblings in Brooklyn. Michael went to Trade School and then joined the Volunteer Navy. They met in a bowling alley on VJ Day. Gerri, 16 at the time, got someone in the bowling alley to introduce Michael to her. They were married on Valentine's Day, two years later. Gerri called him "Michael Darling" and their special relationship remained through 69 loving years of marriage.
The Toth's moved to Florida in 1950, to Government Housing on Miami Beach by South Shore Park across from Joe's Stone Crab Restaurant. Yes…it was here 70 years ago. Cheryl was born in 1952 and David, of blessed memory, in 1953. Gerri worked for the phone company and did a lot of volunteer work. Michael was the Cabana Manager at the Shore Club, Delano and Lucerne Hotels on Miami Beach.
The family moved to N. Miami Beach and joined the Jewish Center of Monticello Park in 1957. The synagogue was home to Cheryl and David, growing up in ECE, Religious School, Bar & Bat Mitzvah Confirmation and very active in USY. David starred in many of the USY shows. Cheryl fondly remembers her years at LTI in Camp Blue Star, Conventions and the many friends she still has today from those Beth Torah USY times in her life. Cheryl and David both went to the University of South Florida and David continued at USF for his medical degree.
In 1975, David was diagnosed with leukemia and told he had 2-5 years to live. He finished Medical School, did Residency in Charleston, SC, married Joyce in 1978, welcomed their daughter, Anna, and passed away six weeks later. Anna (Brandon) living in Asheville, NC, has kept the Toth name. She never had the chance to know her father but still has a connection with the family 40 years later.
Cheryl met Nelson in 1973 at Flamingo Park on Miami Beach. They married in 1974 and both got jobs in the City of Miami Beach Parks & Recreational Dept. They met at a swim meet. Six weeks later they became engaged and got married the following summer…a big "park" romance. They lived in South Beach for 4 ½ years before moving to N. Miami Beach in 1980 with their two infant daughters, Jeni & Dana. Nelson coached at Crespi Park and worked part-time at Shorty & Fred's as a mechanic. He had the opportunity to buy into the shop and Nelson took over more and more responsibility and eventually became the owner/operator. The shop remained at 1520 Alton Rd., still there in same location but shut its doors on March 31, 2020, due to COVID 19.
Jeni & Dana grew up at Beth Torah, went to Religious School and became a Bat Mitzvah and Confirmation at the 163rd Street Campus. Jeni & Dana were both active USY'ers with Jeni serving as Beth Torah USY President and winning the Phil Pill Award as Best USY'er twice. They both went to High School in Israel and Jeni also participated on USY On Wheels, USY Italy/Israel Pilgrimage and March of the Living. They both went through public school and graduated NMB Senior High. Jeni went to FSU and graduated in 2000 with a Bachelor of Science in Recreational & Leisure Service Administration, Dana graduated Tallahassee Community College.
Jeni became the Youth Director at Temple Menorah on Miami Beach in 2001. She and Matt met and got married in 2004. Matt was a Personal Trainer for 20+ years and is currently Practice Manager of USA Sports Therapy. Jeni continued her leadership in Youth Activities at Temple Menorah until we stole her away in 2015 to become the Youth & Camp Director at Beth Torah in June 2015. She has kept Beth Torah in the forefront of USY throughout HaNegev Region. Jeni and Matt have two children, Kayla 14 and Dylan 11. Dana, who passed away in 2015, had two children, Addison 12 and London 5. Kayla became a Bat Mitzvah at Beth Torah and she, along with Dylan and Addi, can always be seen at Beth Torah and in dance performances throughout the area.
Cheryl and Nelson are enjoying spending time with Jeni, Matt and their grandchildren…they live one block away. We are happy to recognize a 4 generational family who have been part of the Beth Torah Family for the past 63 years…L'dor V'dor…From Generation to Generation.
 
---
Each week one of our generational families will be recognized by our congregation blessed
by the rabbis at both the "virtual" Friday evening and Shabbat morning services.
Over 50 families have been identified with 50 + years of membership at Beth Torah and another
25 families as their children, grandchildren and great grandchildren who are currently members of Beth Torah Benny Rok Campus.
To view the Services:
Friday night: https://btbrc.org/livestreaming/ 
Click on Perez Chapel at 7:00 pm
Shabbat Morning: https://btbrc.org/livestreaming/
Click on Perez Chapel at 9:30 am