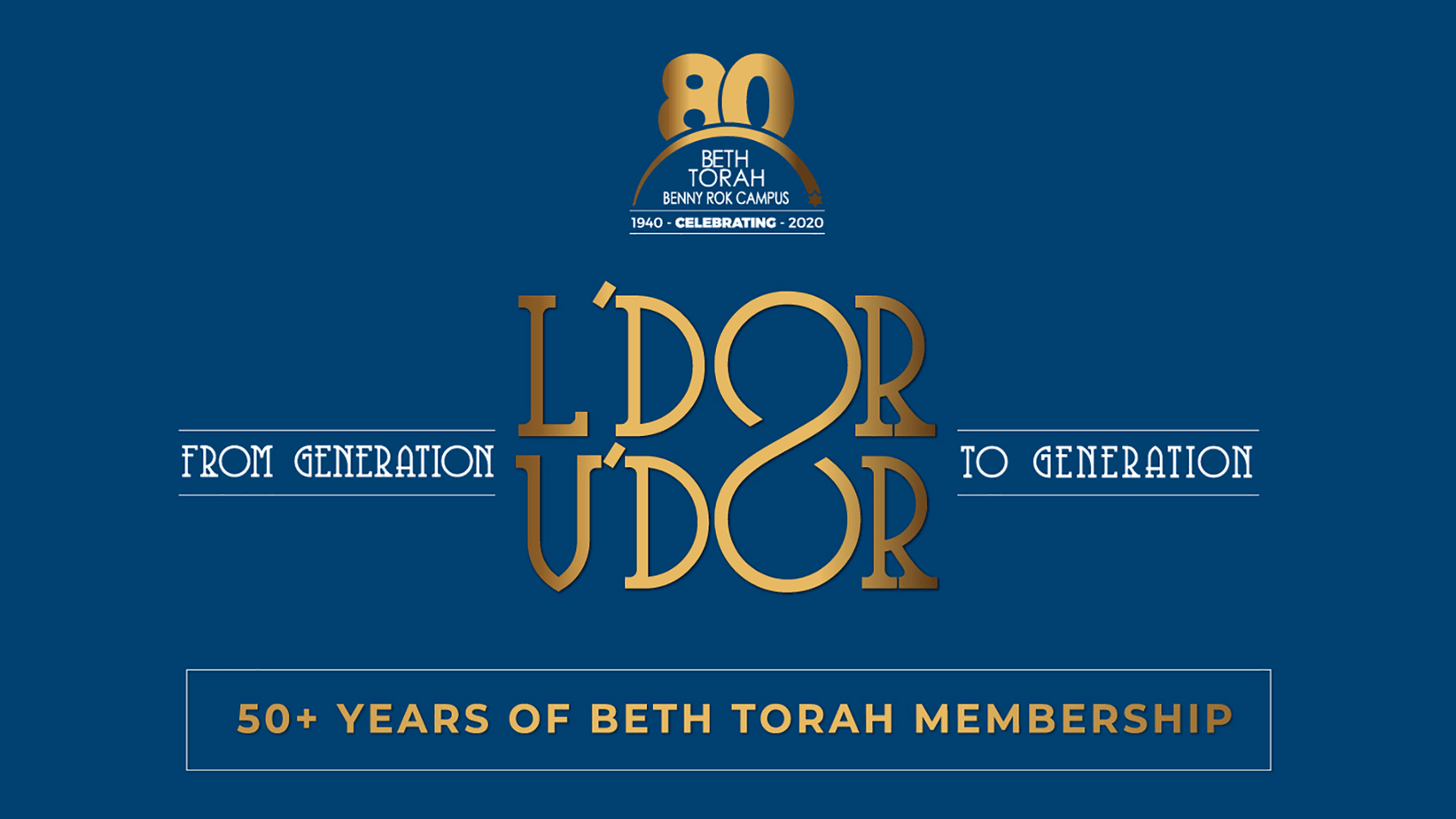 RECOGNIZING THE FELDMAN & SEGALL FAMILIES
Joseph Feldman was born in Poland, near Warsaw. At age 16, he got a message from his parents that his town had been invaded and do not come home. In order to survive, he joined the Polish Army, then the Russian Army, then the Italian Army and, finally, the British Army which brought him to Israel at age 26. While wearing a British uniform he was speaking with a distant relative who put his coat over Joe's uniform and told him "come with me". It was the start of a new life in Israel.
He was a taxi driver and worked for the Haganah (Israeli underground). Eva was born in Palestine (now Israel) and grew up in the Tel Aviv area. In her early 20's she met Joe and on the second date he proposed marriage and the life of the Feldman family began.
David was born in Israel. The family moved to Canada where Elan was born. They moved to the USA about 1961, settled in Miami Beach and then moved to Highland Lakes and joined Beth Torah in 1963. Eva was a second cousin to Rabbi Max. Joe sold used appliances and opened a manufacturing and air-conditioning company. David & Elan both attended Dade County Public Schools and Elan was in the first graduating class at NMB Senior High School. David graduated the UM and the UM Law School as well. Elan graduated UM in Electrical Engineering. They received their Jewish education at the Beth Torah Religious School and became a Bar Mitzvah Elan taught Hebrew School for a while when Rabbi Norman Mussman, z"l, was the Education Director. David met Princess at a fashion show and got married 3-4 months later.
He was a Real Estate Attorney on Miami Beach. They had three children: Paul (Karen) who joined the family practice with David and took over on David's passing in 2003 after a long battle with Cancer. They have 5 children…triplets Elly, David & Joseph; Moshe and Yonatan. Roxanne (Brett) have four children, Ava, David, Leah and Ella. Stefanie (Ikey) have 5 children, Ava, Sophie, Naomi, Jacob and new-born, Daniella. Princess later married Jack Dweck and they live in Aventura. "Pat" E.M. Segall was born and raised in NJ, and Judy Segall, who was born in Boston and grew up in Maryland, both went to the University of Miami where they met. To avoid going into the Army, Pat got a Boxing Scholarship. Judy was Runner-Up for Miss University of Miami where she designed and sewn costumes for Jerry Herman for UM Shows. They graduated and got married in 1955. Judy was a Chemist and worked for NASA on the first flight to the moon. Pat was a prominent developer in South Florida and was the contractor for the original Michael Ann Russell JCC buildings. They moved to NMB in 1962 with their three small children Sandy, Ronald & Nancy and added Alan in 1966.
They joined Beth Torah in 1967 where Sandy & Ron went to Religious School and became a Bar Mitzvah. Nancy attended Lehrman Day School and had her Bat Mitzvah there and Alan celebrated becoming a Bar Mitzvah at Lehrman.
They all went to UM and the boys followed in their father's footsteps as Developers. Sandy has two children, Megan & Lauren; Ron five children, Elliott (Lindsey), Oliver, Arielle (Chase and twins, Elyse & Grace; Alan (Theresa) have three children, Alexis, Damien & Sloan and with Nancy (Elan) and their 5 children, it gives Pat & Judy 15 grandchildren. Nancy and Elan met through her brother Sandy who was Elan's friend from UM and came over to the house frequently. They started dating when Nancy was 17. They raised their family in NMB and have been part of Beth Torah over 50 years. Elan started AC & Refrigeration Mfg, with his father and later became owner and operator of J & J Refrigeration and Gold Flow Air Conditioning. They have five children who all grew up and became a Bar & Bat Mitzvah at Beth Torah and graduated from Hillel. Jessica (Aaron) have 3 children: Lillian, Miller & Kennedy; Erica (Paul, who also graduated Hillel), have two children, Michael & Veronica. Greg (Cassie), Joseph and Ari round out the Feldman Family.
The Feldman & Segall Families are proud of their heritage and involvement in the growth and development of Jewish Life in North Dade. The Feldman Family dedicated a Torah in 1975 and Elan is so very proud to carry it each year on the High Holy Days as he walks around the synagogue with his family. They have been a Generational Family for the past 57 years.
---
​​​​​​​Each week one of our generational families will be recognized by our congregation blessed
by the rabbis at both the "virtual" Friday evening and Shabbat morning services.
Over 50 families have been identified with 50 + years of membership at Beth Torah and another
​​​​​​​25 families as their children, grandchildren and great grandchildren who are currently members of Beth Torah Benny Rok Campus.

To view the Services:
Friday night: https://btbrc.org/livestreaming/ 
Click on Perez Chapel at 7:00 pm
Shabbat Morning: https://btbrc.org/livestreaming/
Click on Perez Chapel at 9:30 am