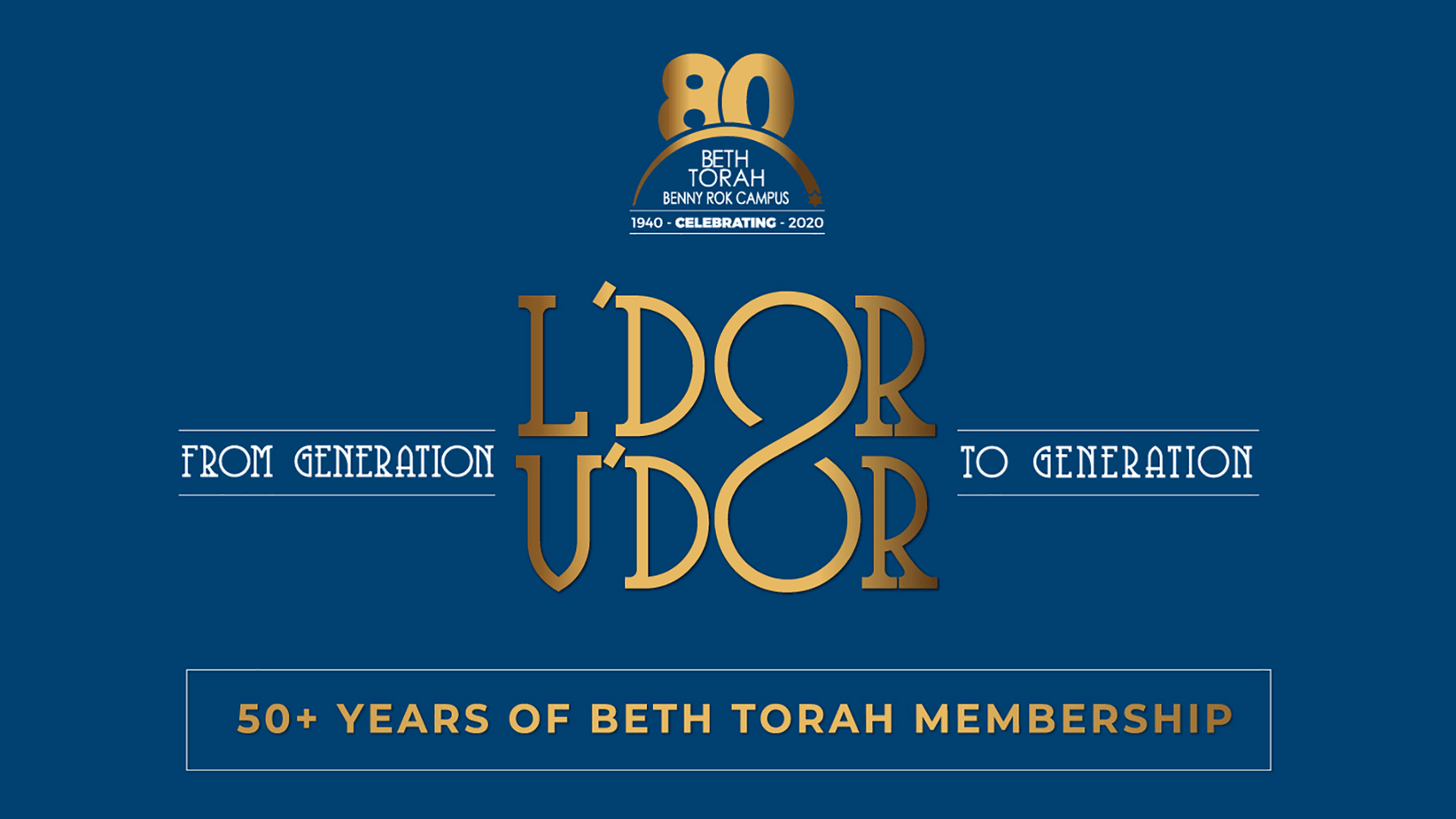 RECOGNIZING SNYDER FAMILY
Arthur Snyder was born and raised in Akron, Ohio and attended undergraduate at Columbia University where he became a pharmacist and then received his law degree from University of Miami around 1953. Arthur met Helen, who grew up in Queens, New York, and they were married in 1949 in Kew
After living in Miami Beach for a short time, they moved to Oak Grove in NMB in 1952 with their two sons, Michael & Richard and joined the Jewish Center of Monticello Park. Most everyone on the block were also members there. Kenny was born in 1955, Diane in 1959 and followed by Randy in 1961. All 5 children went through the Nursery School, the Harold Wolk Religious School, Bar & Bat Mitzvah and Confirmation. Most of their close friends as well as their kid's friends were part of the Beth Torah family.
Arthur opened the law firm of Snyder, Young & Stern on the corner site on NE 164th Street & 17th Avenue and from there became President of the JC of Monticello Park for 3 one-year terms; 1955-56, 1957-58, and 1961-62.  He was instrumental in engaging Rabbi Max Lipschitz z"l as spiritual leader in 1959 and then building the Beth Torah Congregation, as we remember, in 1962-63.
Arthur was elected Mayor of North Miami Beach three times, became a Judge of the Criminal Court-District Court of Miami, and then first Mayor of Aventura. He died in 2004.
Helen was active in Sisterhood and busy raising five children with very fond memories of the Beth Torah Purim carnivals. She died in 2012.
Michael attended University of Florida and received his Law Degree from South Texas College of Law. He is a practicing attorney in Hollywood and was very helpful in the land acquisition and building of Beth Torah Benny Rok Campus current site on Ives Dairy Road in the early 1990's. Michael & Karen were married in 2002 by Rabbi Simcha Freedman z"l.
Michael has 3 children, Abbey (35), Zachary (33) and Brooke (31) and Karen has 2 boys, Justin and Jonathan Gary who attended Beth Torah Religious School. Karen & Michael are both Past President of the N. Dade Bar Association.  Michael is the senior member of the NMB Chamber of Commerce and was President for 4 terms.  He was awarded the Legacy of Excellence within the Miami-Dade County Community.  "Coach Mike" as he is best remembered for over 28 years of service coaching kids in youth sports programs.  Karen & Michael live in Hollywood Beach and have continued the tradition of family membership at Beth Torah.
Richard & Linda live in San Diego and have two children, Stephanie (25) and Alex (22). Richard graduated from University of Florida and University of Miami School of Medicine, did a fellowship at UCLA and is a gastroenterologist in private practice in San Diego.

Kenny (now Connie) also graduated from University of Florida both undergraduate and Veterinary School and has been practicing for over 30 years in South Miami and recently started practice out of state.
Diane received both undergraduate and medical degrees from the University of Florida and specialized in OB/GYN. Diane had a practice on Miami Beach, married Al Steren at Beth Torah with Rabbi Max and moved to Rockville, Maryland. She continues her practice and is a Past President of Congregation B'nai Tzedek (2016-2018) in Potomac. Diane was recently elected to the National Board of Directors of United Synagogue for Conservative Judaism (USCJ). They have three children, David (28), Benjamin (25) and Rachel (22).
Rand still resides in North Miami Beach.
The Snyder family has always been a significant part of Beth Torah's growth and development for the past 68 years. The legacy of Arthur and Helen Snyder continues through their children…Michael, Karen, Richard, Linda, Connie, Diane, Al, Rand and the generations to follow.
———————–
Each week one of our generational families will be recognized by our congregation blessed
by the rabbis at both the "virtual" Friday evening and Shabbat morning services.
Over 50 families have been identified with 50 + years of membership at Beth Torah and another
25 families as their children, grandchildren and great grandchildren who are currently members of Beth Torah Benny Rok Campus.
To view the Services:
Friday night: https://btbrc.org/livestreaming/ 
Click on Scheck Family Sanctuary at 7:00 pm
Shabbat Morning: https://btbrc.org/livestreaming/
Click on Perez Chapel at 9:30 am