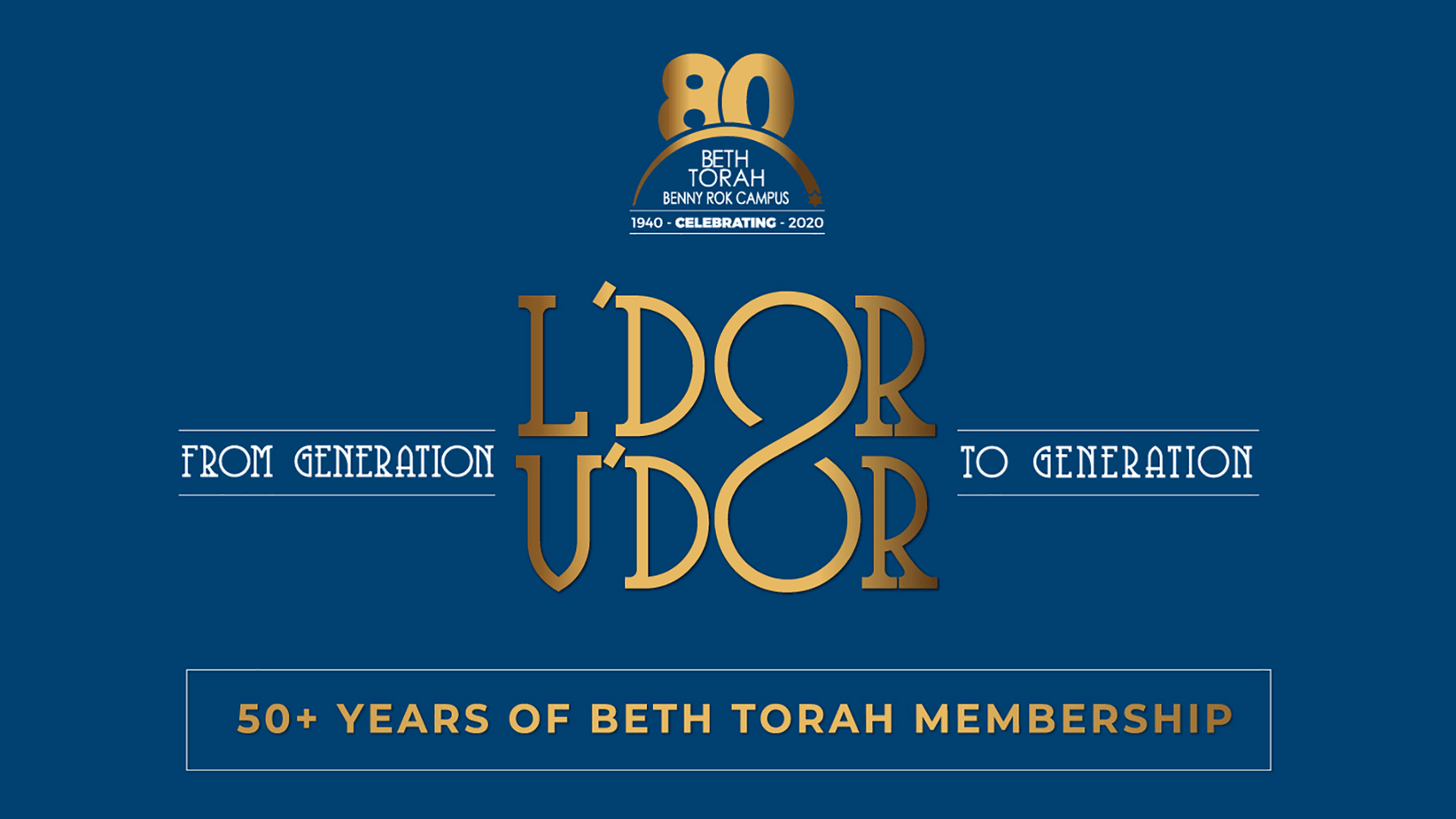 RECOGNIZING THE DEAN KLUGER FAMILY

Esther & George Dean moved to NMB from New York City in the 1950's and joined the Jewish Center of Monticello Park in 1958, with their two daughters, Marcia and Amy. It was then that Amy began her Religious School education and became one of Beth Torah's first Bat Mitzvah celebrants with Abe Gittelson, Mrs. Gilad and Mrs. Seidel.

Alan was born and raised in Plainview, NY, with his parents, Lee & Leonard Kluger and brother, Barry. Here's a bit of trivia…Alan's mother, Lee, and Rhoda Israel (Stein Lipschitz) were college roommates! What a small world! Alan went to Bryant College in Rhode Island and Law School at the University of Miami. The Kluger Family moved to Miami in 1972 where Amy met Alan and they were married in 1975. They settled in S. Dade at Temple Samu-El and Alan was on the Search Committee for a new Rabbi for this young community. That was the beginning of a cherished relationship with Rabbi Ed & Laurie Farber. They followed each other for a brief stay in Miami Beach at Temple Emanu-El and then the Beth Torah Search Committee called Alan for a reference to engage Rabbi Farber as Beth Torah Assistant Rabbi to Rabbi Max Lipschitz. A shitach that solidified the North Dade Jewish Community for generations to follow and brought Amy & Alan back to their Jewish home at Beth Torah.

A graduate of Smith College with a Bachelor of Arts degree in history, Amy was admitted to the Florida Bar and New York Bar. She received her Juris Doctor degree from the University of Miami School of Law. Before being elected to the bench as a Miami-Dade County Circuit Court Judge, she was an attorney with the law firm of Kluger, Peretz, Kaplan & Berlin, and Broad & Cassel. She began her legal career in 1976 as a Miami-Dade Assistant County Attorney.

Alan is a Partner at Kluger & Kaplan, P.A. and serves as a Trustee of Beth Torah. The support and commitment to Beth Torah is a joint effort and in recent years Amy & Alan have dedicated the Entry Garden in memory of Amy's parents, Esther Slonim Dean and George Dean and the Dean and Kluger Family Patio and Sukkah which is used for Sukkot holidays and year round. Most recently, Amy & Alan have dedicated the new Ten Commandments sculpture to be erected as part of the Main Sanctuary Project where Amy served on the Planning Committee.

During her career as a community leader, Amy served as Chair of the Board of Directors of the Greater Miami Jewish Federation 2016-2018 and was General Campaign Chair of the 2014-2016 Federation/UJA Campaign. She previously chaired the Federation's Major Gifts Committee, Jewish Community Relations Council and Local Agencies Allocations Committee. In 1987, Amy served as Chair of the UJA National Women's Cabinet. She is a past Chair of Miami Dade Chapter of AIPAC and remains actively involved in AIPAC, GMJF and Jewish Federations of North America. Amy has served on the Executive Committee of Beth Torah and currently as a member of the Board of Directors.
Amy & Alan raised two children, Lisa, married to Todd Jerles and Jesse Dean-Kluger, whose wife, Stephanie, of blessed memory, recently passed away after a long battle with Cancer. Lisa and Todd have two children, Dagny & Moses, who are the joy of Amy & Alan's life. Lisa is President of FIU Hillel and Todd is Treasurer of Congregation Beth David, following in the "valued volunteer" footsteps of their parents.
The Dean-Kluger Family continue to impact Beth Torah and our Jewish community for 62 years from Generation to Generation.
​​​​​​​Each week one of our generational families will be recognized by our congregation blessed
by the rabbis at both the "virtual" Friday evening and Shabbat morning services.
Over 50 families have been identified with 50 + years of membership at Beth Torah and another
​​​​​​​25 families as their children, grandchildren and great grandchildren who are currently members of Beth Torah Benny Rok Campus.