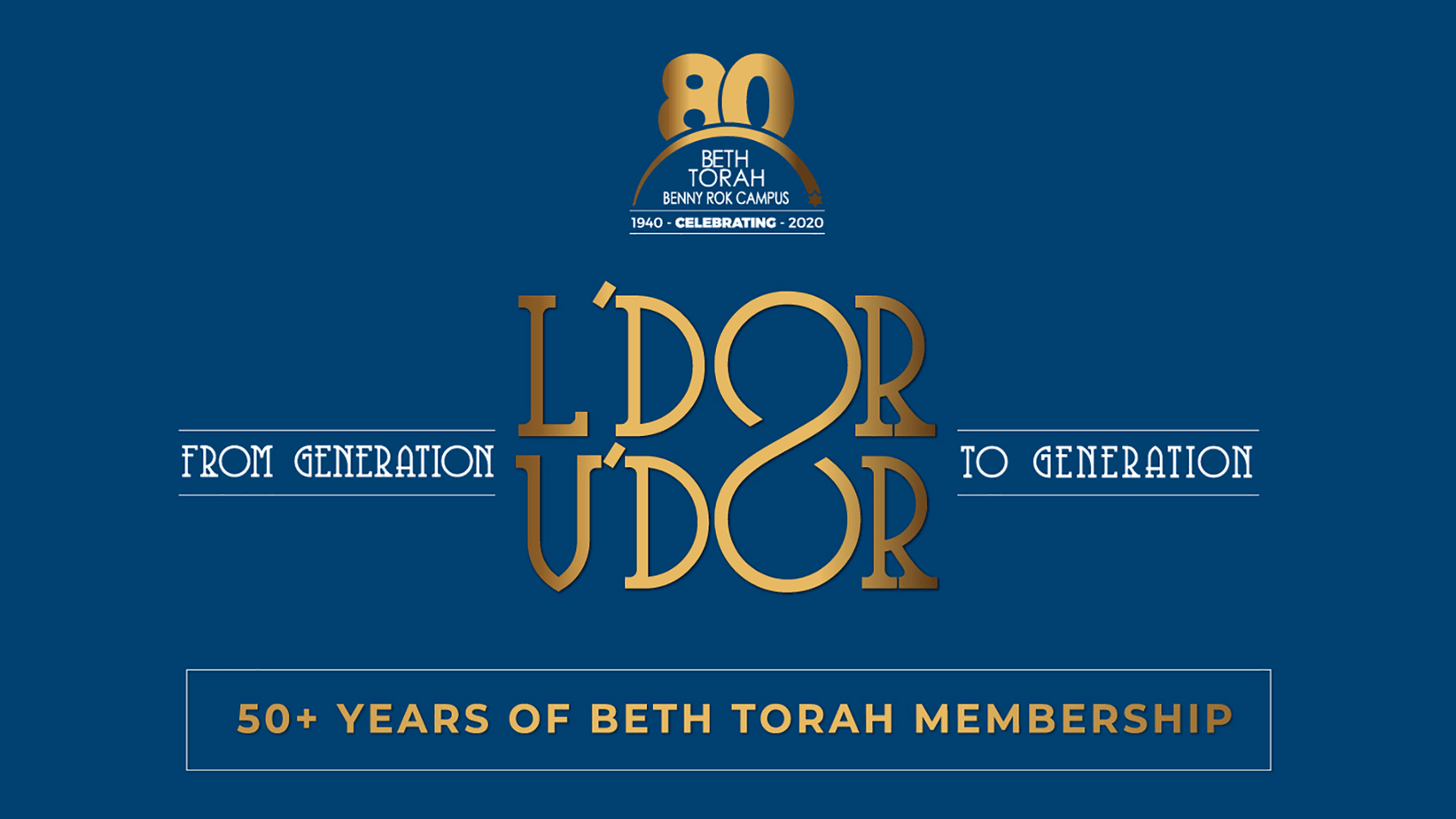 RECOGNIZING THE GOLDEN FAMILY
Henrietta Rosenthal Golden grew up in Miami Beach and graduated Beach High, Class of 1945. Joseph Golden vacationed with his college friends from New Jersey and that's where it all began. It was a storybook romance and they were married in 1950 at the N. Shore Jewish Center (Temple Menorah). Joe, graduate of the University of Miami School of Law, was a member of the Florida Bar.
The Goldens came to NMB in 1954 and joined the Jewish Center of Monticello Park in 1956, with daughter, Debbie, and pregnant with Ricky. Jay was born in 1961.
Henni & Joe helped build the North Dade Jewish Community and Henni was the first woman to serve as an officer of the synagogue as Recording Secretary and was part of the committee to engage Rabbi Max Lipschitz. The rest is history of this committed family to serve the synagogue and community for the next 60 years.
Joe was in the diaper service business and was relocated to NY for 2 years. While in NY he went from diapers to stocks. He trained to be a stockbroker which was to be his career in Miami where he made his impact for the next 48 years until retirement in 1991.
Henni & Joe Golden were synonymous with synagogue life and the champions of youth and USY, first at Beth Torah and then throughout South Florida, the Southeast Region and United Synagogue. They changed the importance and direction of USY and congregation leadership. Henni was a volunteer advisor and Joe elevated the role of a Youth Commission Chair to that of a Youth Vice President and encouraged the synagogues throughout the Region to do the same. He served as President of Beth Torah 1967-1969, and went on to serve as Regional Youth Commission Chairman/Vice President and President of the S E Region (7 southern states & Puerto Rico) and on the National Board of Directors. They could always be seen at USY Conventions and LTI at Camp Blue Star each summer.
They were role models for their children and the other young families at Beth Torah which made youth and USY their priority, providing support and chaperones for every event. Debbie, Ricky and Jay went through Beth Torah's Nursery School, Religious School, Jr Congregation, Bar & Bat Mitzvah, Confirmation, Kadima, USY. Ricky graduated from Judaica High School and served many years on the Board of Directors and as an officer of Beth Torah.
Many synagogue related honors were bestowed on Henni & Joe over the years including the CJA-IEF Campaign Dinner and State of Israel Bonds. Joe was on the budget committee of the GMJF and Chair of N. Dade Combined Jewish Appeal-Israel Emergency Fund.
Henni & Joe remained actively enrolled in Beth Torah life. After Joe's passing 3 years ago, at age 91, one can still see Henni (before COVID 19) at Shabbat services each week, adult education classes, culture club and many events during the year. Henni participated in the Beth Torah trip to Israel with Rabbi Farber last year.
What a treasured family history at Beth Torah for their children, Debbie, Ricky & Susie, Jay & Beth, to emulate. Their grandchildren: Zelick (Lisa), Gena (Max), Adam (Masha), Jamie and Laura mean so much to them and their 4 great grandchildren, Mia & Sammy in Puerto Rico and Evan & Eric in Aventura are Henni's pride and joy. Henni, and Joe of blessed memory, leave a legacy of leadership and love of synagogue for the next generation.
​​​​​​​
———–
Each week one of our generational families will be recognized by our congregation blessed by the rabbis at both the "virtual" Friday evening and Shabbat morning services.
Over 50 families have been identified with 50 + years of membership at Beth Torah and another 25 families as their children, grandchildren and great grandchildren who are currently members of Beth Torah Benny Rok Campus.