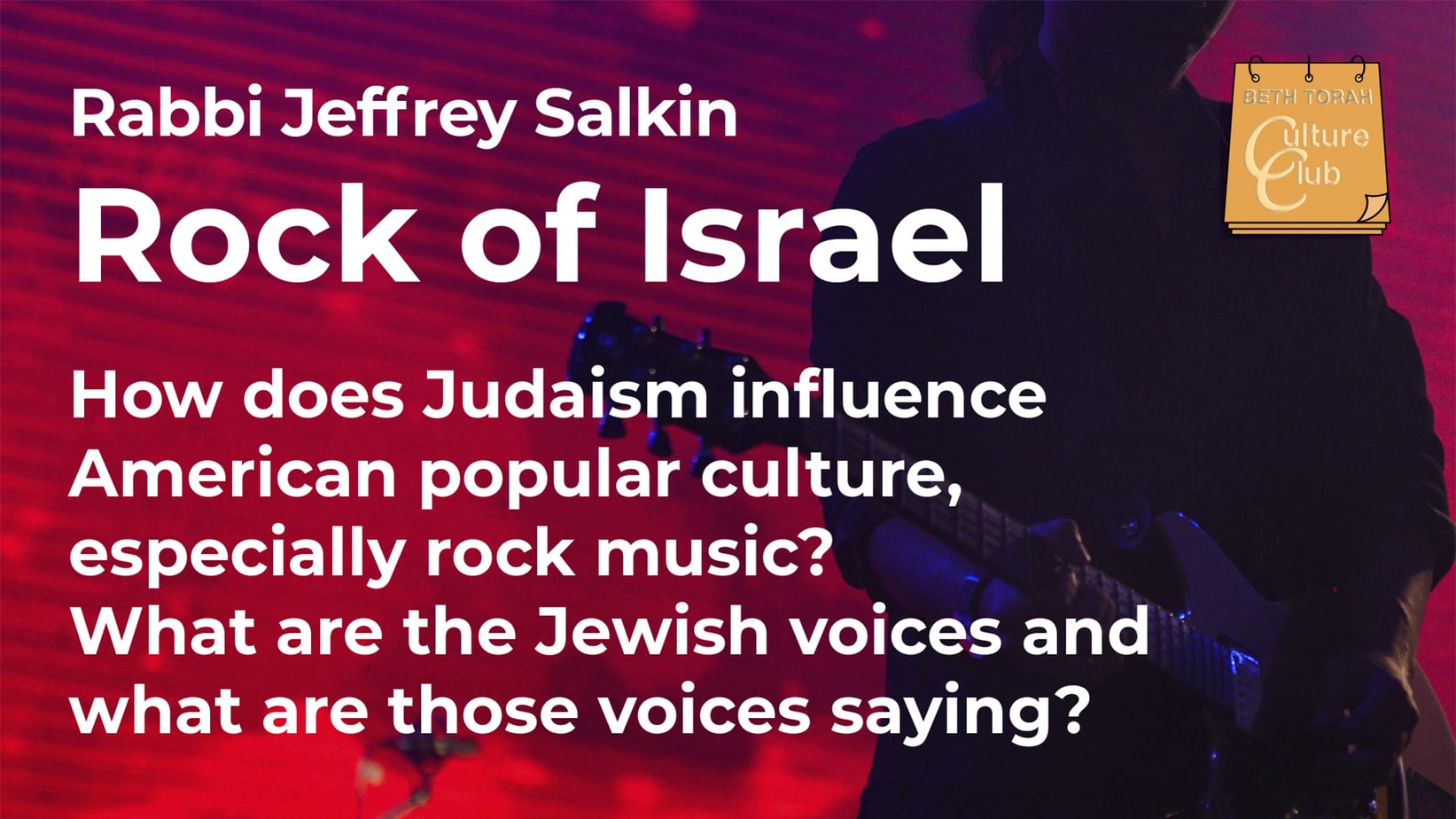 Culture Club –
Rock of Israel
One of the most fascinating and enigmatic singer/songwriters of the late '60s, Leonard Cohen retained an audience until his death in 2016, even though he often temporarily moved away from music. Among musical figures from the '60s who continued to work in the 21st century, Cohen commanded the attention of critics and younger musicians more than any others with the exceptions of Bob Dylan and Paul Simon.
Culture Club is pleased to welcome back Rabbi Jeffrey Salkin — who entertained and informed us at his 2020 lecture focused on Bob Dylan — to do the same with Leonard Cohen.
With the regular appearance of his award-winning blog, "Martini Judaism: for those who want to be shaken and stirred," published by the Religion News Service, Jeffrey Salkin is one of American Judaism's most prolific and most-quoted rabbis and thought leaders.
Since his first book, Putting God on the Guest List: How to Reclaim The Spiritual Meaning of Your Child's Bar or Bat Mitzvah (Jewish Lights Publishing), Rabbi Salkin has been known for his writing, teaching and activism. His books are on such topics as making Jewish ritual meaningful; struggling with the meaning of masculinity in today's world; interpreting Israel and Zionism to Jews and non-Jews; and the task of reclaiming Judaism's central role as a "takes-no-prisoners, speak-truth-to-power-and-culture religious tradition."
Rabbi Salkin's essays have appeared in the Washington Post, The Huffington Post, Tablet, Mosaic, Forward and JTA. He has discussed the American political scene on CNN and the BBC. He has contributed articles to scholarly journals and several of his books have won national awards. In July, 2020, Rabbi Salkin delivered the keynote on religion to the Chautauqua Institution known for its summer program of performing arts, lectures, concerts, interfaith programs, and recreational activities.
Rabbi Salkin serves as the senior rabbi of Temple Israel in West Palm Beach, Florida
THURSDAY, JANUARY 21 AT 7:30 PM